The artist of this week is Louise Nevelson, one of the most innovative sculptors from the past century, and the key figure in history of Feminist art. With regards to the latter, Nevelson once said: "I'm not a feminist. I'm an artist who happens to be a woman", and yet many would argue that her artistic sensibility resonated with a masculine energy, which often made the critics confuse her art for a work of a male artist. This was not, however, addressed as her deliberate intent. It was something that reflected her endeavor to create as an artist without being constrained by the gender-based boundaries - something that was quite hard to achieve during her time. To Nevelson, there were no reasons for art to be divided into the feminine and masculine section, which is exactly how she contributed to a cultural and social liberation of women. Additionally, given that she was often surrounded by men, during her studies and later throughout her career, it is no wonder that her monumental assemblages often come across as "masculine". She was one of Hans Hoffman's students while she was in Munich, and a colleague of many American artists from the 50's, such as Jackson Pollock and Arshile Gorky. She is sometimes associated with Diego Rivera, whom she assisted with his paintings.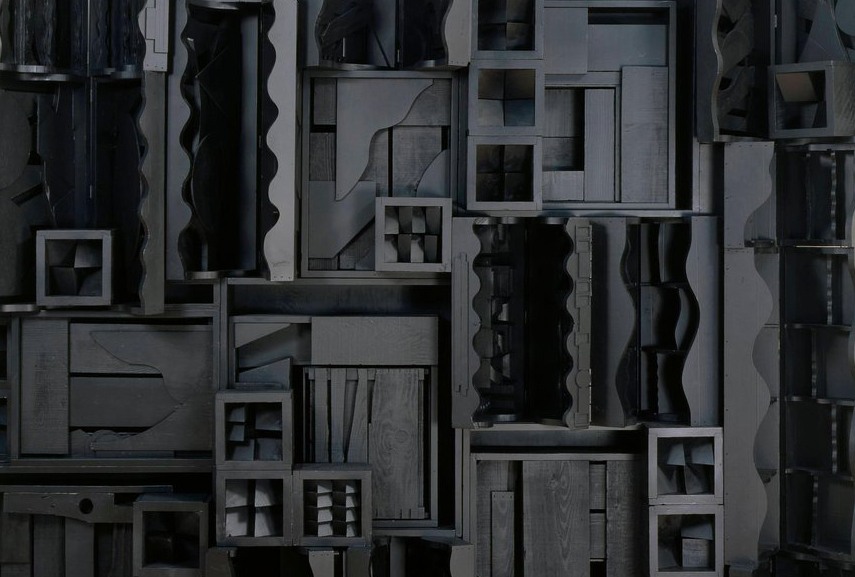 Redefining Sculpture
The career of Louise Nevelson was long and versatile, particularly affected by the fact that she traveled a lot and migrated to the United States twice. Originally from Ukraine, open about her Jewish origin, Nevelson was basically forced to leave Europe in the 1930s. She came back to New York, where she had already lived before with her ex-husband Charles Nevelson. Nevertheless, it turns out that her second time in the United States marked the true beginning of her long-lasting art life. The streets of New York apparently inspired the artist and served as a rich source of all kinds of discarded materials, especially wood, which she later used to realize her sculptures and assemblages. The atypical choice of materials was both a pro and a con for Nevelson, but the risk was worthwhile, and she eventually gained international recognition. The unconventional use of wood not only made her art stand out, it also helped the discipline evolve. Louise was one of the artists who helped the genre to finally break up with tradition, thanks to whom sculpture became an exciting medium once again.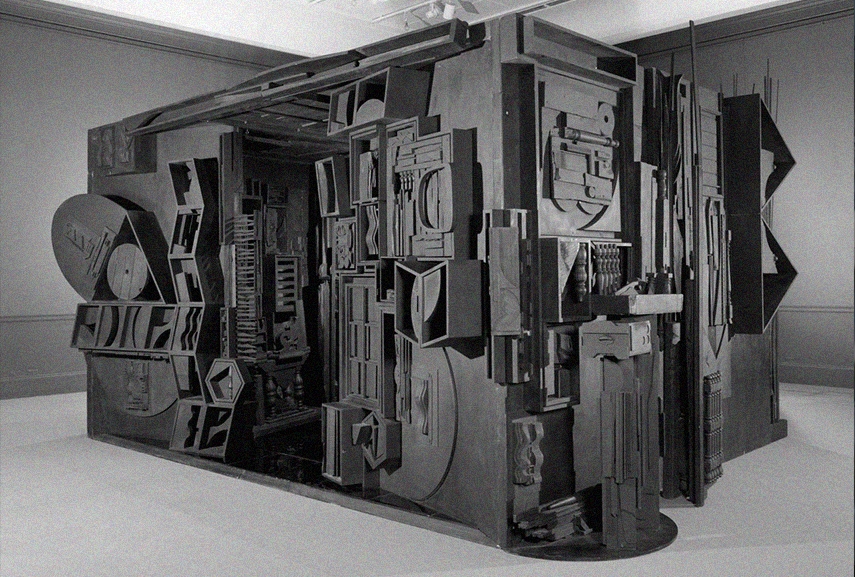 Immersive Environments
Sculpture is a word most of us would use, but Nevelson liked to call her three-dimensional artworks "environments" - which they, indeed, are, especially the large-scale ones that she started producing later. Large, spray-painted walls assembled from found objects became her signature works. All of the wooden pieces, broken parts of chairs, balusters, boxes and scraps were blended into the surface of these unique reliefs, thanks to the color that unified them. Nevelson mostly used black, which she believed was a "total" color, one that contains all other colors in itself.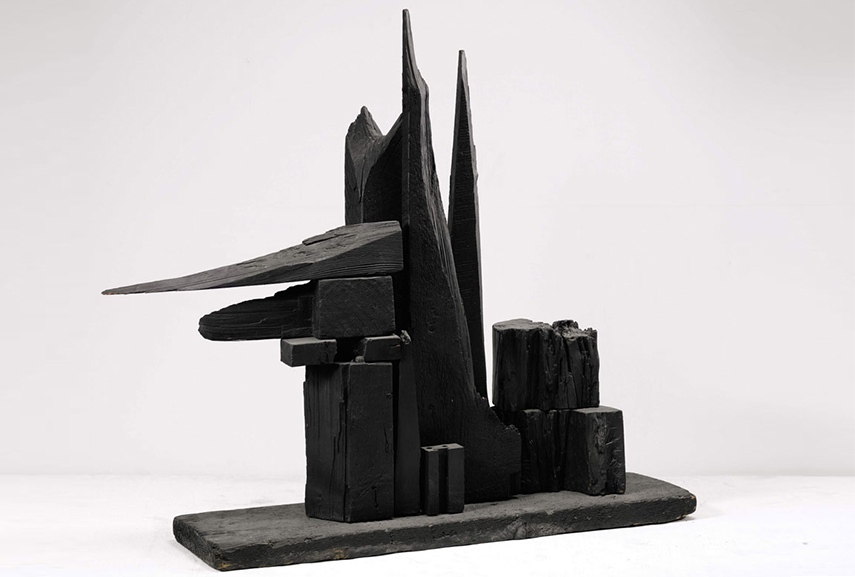 Louise Nevelson Exhibitions Currently on View
Although the black wall sculptures are what she is known for by most of the people today, it should be noted that her entire body of work was a very comprehensive one. In addition, Louise Nevelson was an artist with such unique appearance and character, that her persona could be acknowledged as one final work of art. If you'd like to remind yourselves of her fascinating oeuvre, we suggest you visit one of the shows that are currently on view. There is a survey exhibition of her works on view at Pace gallery in London, and another one in New York as well, running simultaneously and titled Blackness in Abstraction. And in case you're in Denver, its Botanic Gardens will be hosting 13 sculptures by several prominent artists, one of which is our artist of the week, the great Louise Nevelson.
Featured image: Louise Nevelson by Robert Mapplethorpe; Louise Nevelson - Night Flight #1. All images used for illustrative purposes only.