A South African artist, Candice Breitz uses found video footage of popular culture to create her video and photography work. A true storyteller, she is renowned for her anthropological studies of the cult of celebrity, pop culture, the frame of identity, and representation. Using her skills and privilege, the artist amplifies voices that often go unheard, and to help empower and repair dignity.
Her latest video installation is currently on view at the Museum of Fine Arts Boston. Titled Love Story, the seven-channel installation explores which are the stories we are willing to hear and which are the ones that move us.
With this work, the artist questions the mechanics of identification and the conditions under which empathy is produced.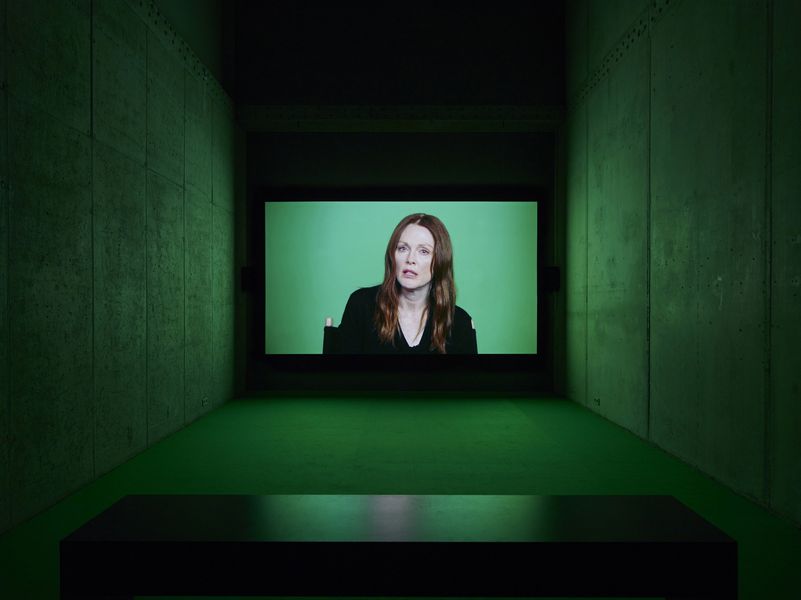 Tackling the Refugee Crisis
Based on the personal accounts of six individuals who have fled their countries in response to a range of oppressive conditions, Love Story by Candice Breitz evokes the global scale of the so-called refugee crisis.
The work reveals stories of Sarah Ezzat Mardini, who escaped war-torn Syria; José Maria João, a former child soldier from Angola; Mamy Maloba Langa, a survivor from the Democratic Republic of the Congo; Shabeena Francis Saveri, a transgender activist from India; Luis Ernesto Nava Molero, a political dissident from Venezuela; and Farah Abdi Mohamed, an idealistic young atheist from Somalia.
Each interview has been conducted in the country where the interviewees have been seeking or have been granted asylum.

Restaging True Life Stories
These six interviews are articulated twice in Breitz's work. In the first space of the installation, the viewers can see certain fragments from these stories re-enacted by Hollywood actors Alec Baldwin and Julianne Moore who are posed on a green-screen set, without the support of fictional backdrops, costumes, props, accents or interlocutors.
In this polished re-staging, these six personal stories are stripped of their depth and nuance, mimicking the way "true-life stories" enter the popular entertainment realm.
In a second space that is accessible only via the first, the viewers can see the original interviews across six suspended screens in their full length and complexity.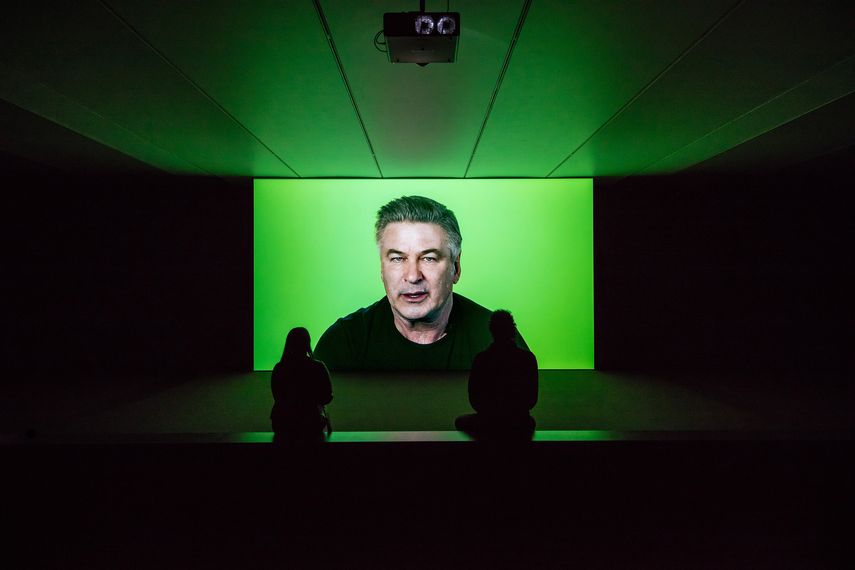 Love Story at the Museum of Fine Arts Boston
By using the voices and hypervisibility of Alec Baldwin and Julianne Moore, Candice Breitz brings forth the stories of individuals who would typically remain nameless and faceless in the media. Juxtaposing Moore's and Baldwin's accessible drama with the gritty firsthand accounts of these people, the artist addresses our ability to identify with fictional characters and celebrity figures and simultaneous lack of interest in the troubles of real-life people.
The exhibition Candice Breitz: Love Story is currently on view at the Museum of Fine Arts in Boston until January 21st, 2019.
Love Story was commissioned by the National Gallery of Victoria from Melbourne, Outset Germany from Berlin and Medienboard Berlin-Brandenburg.
Candice Breitz - Love Story, 2016, trailer
Featured images: Candice Breitz - Love Story, 2016, Featuring Alec Baldwin; 7-Channel Installation 1; Love Story, 2016, Featuring Julianne Moore; 7-Channel Installation 1. All images - Museum purchase with funds donated by Lizbeth and George Krupp. Courtesy Goodman Gallery, Kaufmann Repetto + KOW. Courtesy Museum of Fine Arts, Boston.