Highly polished imagery inspired by cartoon characters and scenery - that is how one could describe Lowbrow art, also known as Pop Surrealism, but the truth is that this unconventional movement is much more than that. Are we even entitled to calling it a movement? Many acclaimed critics and respectable institutions, put in charge to decide what gets to be accepted as art and what does not fit in the mainstream demand of museums, galleries and even collectors, would put Lowbrow in the latter category without thinking twice. But like many movements before it, Lowbrow art does not care about being recognized by the art world as legitimate; if anything, Lowbrow artists wrote their own rules in an unapologetic way, rules that were clear enough to make this whole creative field stand on its own without a single problem. Because of its roots in the underground culture, Lowbrow / Pop Surrealism became a populist matter, inspired by such vast variety of topics and aesthetics that it made itself easily relatable to a large number of artists and admirers. So what exactly is it that makes Lowbrow art so distinct and alluring?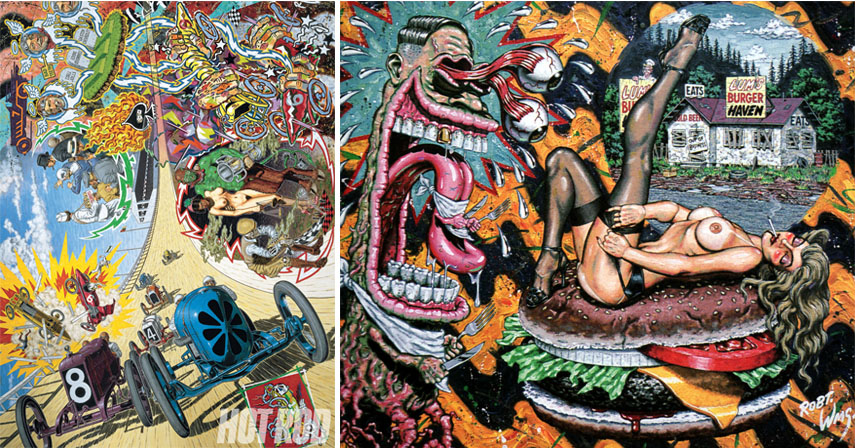 The Advent of Lowbrow Art
Born in the shady corners of Los Angeles in the late 1970s, Lowbrow originated in the artworks of underground cartoonists that were put on display in alternative galleries in New York and California. Because of their particular artistic approach, they weren't perceived as "highbrow" or intellectual art - mainly because they were based on the rawness of underground comix, the rebellion of punk music, the hot rod and surf culture of the West Coast and, of course, stylized cartoons and comics. In fact, it would seem as though Its Highness the art world was not particularly fond of this Lowbrow kind of humor, one that can be found in John Waters movies, or Acid house flyers, circus posters, kitsch art, Kustom Kulture, Japanese anime, second-rate horror movies, psychedelic art pieces and even graffiti and street art. As a consequence, Lowbrow art and its self-taught practitioners joined the club of the "outlaws" like illustrators, tattoo artists and comic book artists, and enjoyed its own status of an academically neglected movement which nevertheless thrived in a self-made environment. As such, Lowbrow art also managed to find home in many places around the globe and reflect their visual tendencies, thus evolving into many different branches and individual aesthetics.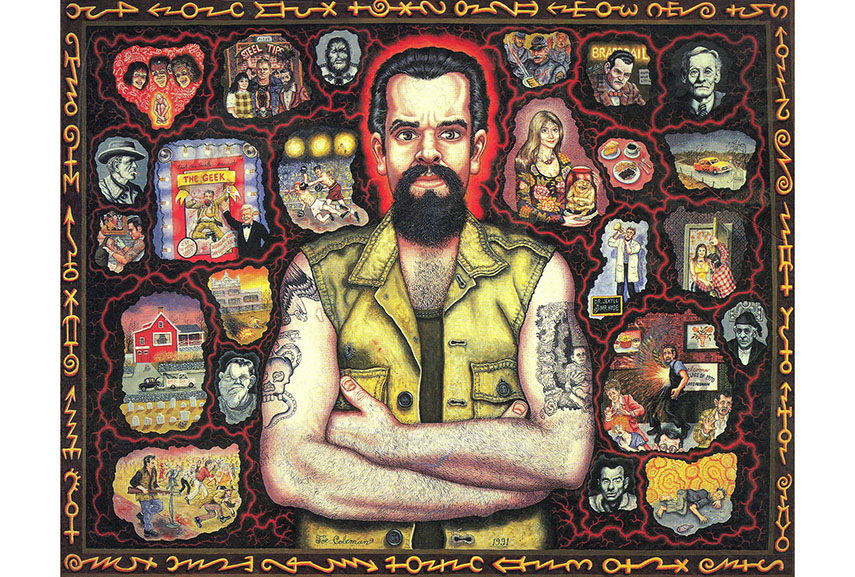 Cartoon-Tainted Abstract Surrealism
Although it did not have an official name until the beginning of the 1990s, Lowbrow art was already somewhat present in popular culture during the 1960s too, as its traces could be found in the works of underground comix cartoonists like R. Crumb, S. Clay Wilson, Victor Moscoso and Robert Williams. Ever since its earliest days, Lowbrow was dedicated to poking fun at the conventional matters of any kind, using humor and sarcasm as its strongest tools. Persistent in vision, Lowbrow created its own subversive culture filled with abstract imagery and dreamy cartoon characters painted and drawn with impressive technical ability - one that surely did not deserve to be ignored. The accomplishments of Lowbrow / Pop Surrealism creatives was firmly recognized, however, by the Juxtapoz magazine, founded in 1994 by the aforementioned Robert Williams. A pioneer and the biggest figure of the movement, he claims to have coined the term "lowbrow" and there is nobody to dispute that, as the support that his magazine has given to the artists and the production at large is still immense and important. Juxtapoz magazine gave these artworks visibility, popularity and a background in writing that was somewhat critical, and it freed this form of art from under the "dictatorship" of the New York scene and its predisposed rules of what art should mean and look like.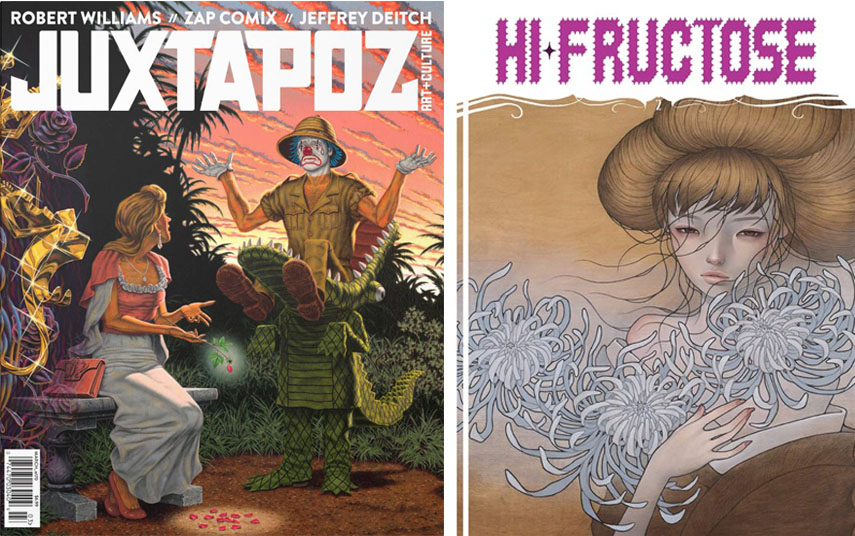 Lowbrow Goes Pop Surrealism
Following the rise of Juxtapoz Magazine, as well as another seminal publication called Hi-Fructose, a number of individuals within the Lowbrow art movement began breaking away from the raw, gritty representation of cartoons and counterculture. Putting their classical artistic training to use, they started creating their artwork with more sophistication; the goal was to produce a "more beautiful" imagery, while at the same time not abandoning the core of Lowbrow - its underground references. Despite their master painter techniques, these creatives did not reach the realms of the "snobbish" Highbrow - nor was this their intention - but they nevertheless managed to blur the line between low and high art, giving way to a new subclass of pieces that could be defined as Pop Surrealism. The invention of the term was attributed to artist Kenny Scharf, who used it to describe his own paintings, an unlikely, yet rather successful mix of Pop art and Surrealism.
Indeed, Pop Surrealism appears to have married the two stances in art that tackle very different topics. While Surrealism was based on dreams and the unconscious, Pop art depicted the mundane and the superficial. What this movement within a movement did was take the best from each and combine it into satirical works that delivered popular imagery immersed in fantasy and addressed political and social issues. With such relatable content depicted with some remarkable artistic skills, Pop Surrealism reached an audience that was not necessarily interested or educated in art and provided them with familiar topics that did not require a particular artistic interpretation. Moreover, the members of Pop Surrealism art movement often referenced other great painters in history, such as Van Gogh or Picasso, which only brought their creations closer to the acceptance of "high art".
Lowbrow and Pop Surrealism Artists
As Pop Surrealism gave its artists a chance to experiment within the fields of two elaborate creative fields, this is exactly what they did. For many of them, it came as a logical next step in their career, like in the case of Todd Schorr, who successfully merged his two great loves: comics and Old Masterpieces. His early Lowbrow paintings and, subsequently illustrations, evoke a unique kind of complexity oozing in metaphors. Similarly, Chilean artist Victor Castillo employs imagery based on the cartoons from his childhood that he infuses with scenes of violence and destruction, and somewhere underneath it all, a careful eye might notice subtle references to painters like Goya and Velàsquez. A fan of the allegorical, Alex Gross paints modern interpretations of works by Hieronymous Bosch, while his Japanese colleague Naoto Hattori draws on the influence of Surrealism of the 1920s and 30s.
With the arrival of the new millennium, many practitioners of Lowbrow art and Pop Surrealism adopted computer-based tools and techniques in order to produce their work, sometimes even using the software as the medium itself. Deriving from Adobe Photoshop or 3D modeling programs such as Maya were artworks nothing short of spectacular, especially those made by Ray Caesar, who proved himself to be the master of this fresh technology wonder. His polished imagery of Victorian and Baroque figures lets us know that there is a dark side to what we thought we knew so well, as the past meets the future in a one-of-a-kind fantasy world.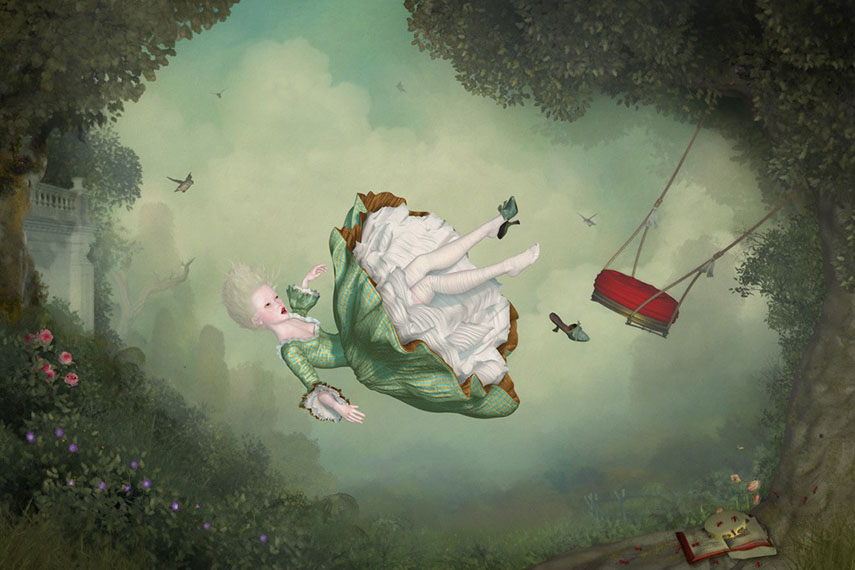 The Lowbrow Art of Mark Ryden
As many Pop Surrealism / Lowbrow art movement fans will agree, one of its most relevant and successful names by far has to be Mark Ryden, an American painter who even earned the title of "the godfather of Pop Surrealism". In his masterfully executed oil paintings, Mark Ryden featured a hauntingly beautiful kind of mythology that takes place in a fairy-tale world filled with historical figures and icons of pop culture. With a strong sense of eerie, carnivalesque sense of humor, he draws our attention to certain issues of contemporary society, such as our treatment of animals and nature at large. His artworks are technically impeccable and highly detailed, which only further emphasizes the alluring power of his scenery and the seductively macabre existence of his calm, at times disquieting characters. Mark Ryden's art is a true commercial success and his creations can also be found on numerous music album covers such as Michael Jackson's Dangerous and Red Hot Chili Peppers' One Hot Minute, and book cover designs like Stephen King's Desperation.
Mark Ryden - Memory Lane
Lowbrow and Pop Surrealism on the Rise
The artworks of Mark Ryden, as well as those of all of those who helped build the vast oeuvre of the Pop Surrealism and Lowbrow art today, have all finally drawn much-deserved attention to the movement that has been ignored for far too long. Still more than accessible to a wide audience, Lowbrow has found its way towards "mainstream" art galleries, respected auction houses and curious collectors alike. Furthermore, many from other contemporary art fields who did not necessarily identify as Lowbrow artists were however attracted by its aesthetics and visions. Among them, of course, a great number of graffiti and street names like Above, Jeff Soto, Kenny Scharf, Ron English and Shepard Fairey, but also bigger names like Takashi Murakami, John Currin, Audrey Kawasaki, Lisa Yuskavage, Barry McGee, Marion Peck and many others. With an ever-growing roster of artists, it is perhaps safe to say that this peculiar art movement is surely here to stay, regardless of the sophisticated opinion of the high art rule-makers.
Editors' Tip: The Lowbrow Art of Robert Williams
Lowbrow's founding father and the creator of Juxtapoz Magazine, Robert Williams helped define the movement as we know it today. In 1982, the artist published his first book, entitled The Lowbrow Art of Robert Williams, with the help of Rip Off Press. In this volume, many of his comix and "Super Cartoon" paintings were included. The suggestive title of the book was meant as a statement about the current highbrow tone of the art world, which was antithetical to his own practice, approach and aesthetics. The books that followed this edition were Zombie Mystery Paintings, which influenced and inspired a multitude of artists with its vibrant, sexy, and ultra-violent images, and Visual Addiction, that contained were rendered more tightly and began to contain detailed background elements and vignettes.
Editors' Tip: Mark Ryden: The Gay '90s
In Mark Ryden: The Gay 90's, the artist casts his skewed perspective toward the turn of the nineteenth century with such creepy yet beautiful pieces as a portrait of Abraham Lincoln dressed in foppish 1890s fashion and surrounded with a heavenly nimbus, Jesus Christ playing a pink piano for an audience of kewpie triplet girls, and a Gibson girl in a tight corset constructed entirely of meat. With masterful painting technique and disquieting content, Ryden's newest paintings display his fascination with the earnest kitsch found in popular art of the end of the 1800s, yet reinforces how his paintings now more than ever are a skewering of both historical and current pop cultural touchstones. Ryden's visual cues range from cryptic to cute, balancing his compositions between nostalgic cliché and disturbing archetype.
All images used for illustrative purposes only.