The lower Manhattan will be the center of a mural painting in the next couple of days, as several acclaimed artists will make 21 large murals during the first Lower Manhattan Art Festival - LoMan. This is New York's first mural festival, and a continuation and expansion of The L.I.S.A Project, that, for three years now, is bringing beautiful wall paintings at neighbourhood of Little Italy. Wayne Rada, its founder and curator, organized this first LoMan festival, where the audience should expect some breathtaking new wall paintings all over Lower Manhattan, in all neighbourhoods below 23rd Street to South Street Seaport, as well as several other highlights of the festival, such as Live Art "Battle", a couple of panels and never before seen cut of "Banksy does New York" documentary movie.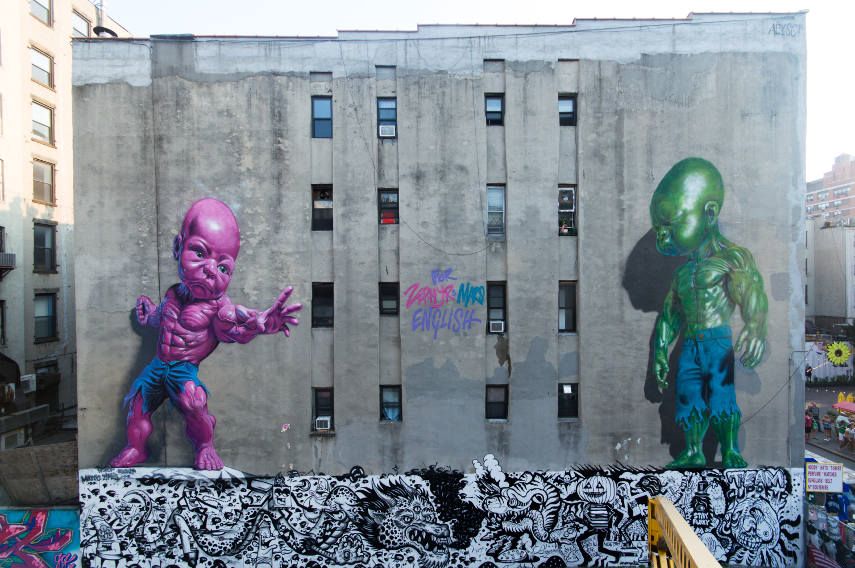 LoMan and The L.I.S.A Project
The stars of LoMan will be famous artists, such as Invader, Ludo, Solus, Beau Stanton, Hanksy, Tristan Eaton, Faith47, and others. The idea of LoMan festival is to expand this New York's first mural district and to leave something permanent on the walls of Lower Manhattan, thus making it more beautiful and more appealing. The L.I.S.A Project first started with just a few walls in just a few blocks in Little Italy, but continuously expanded and now it has spread all the way to East Village, with a goal of creating Manhattan's first and only mural district. It all begun after Hurricane Sandy has hit hard on the neighbourhood of Little Italy. The merchants in this area have realized that these blocks around them must become beautiful in order to attract more tourists and, hence, more work and more customers. So, they asked Wayne Rada to help them, and he introduced the program that produced more than 40 murals throughout downtown, and that number is going to increase for another 21 large scaled wall paintings during the next couple of days, that will further enhance the look of the neighbourhood.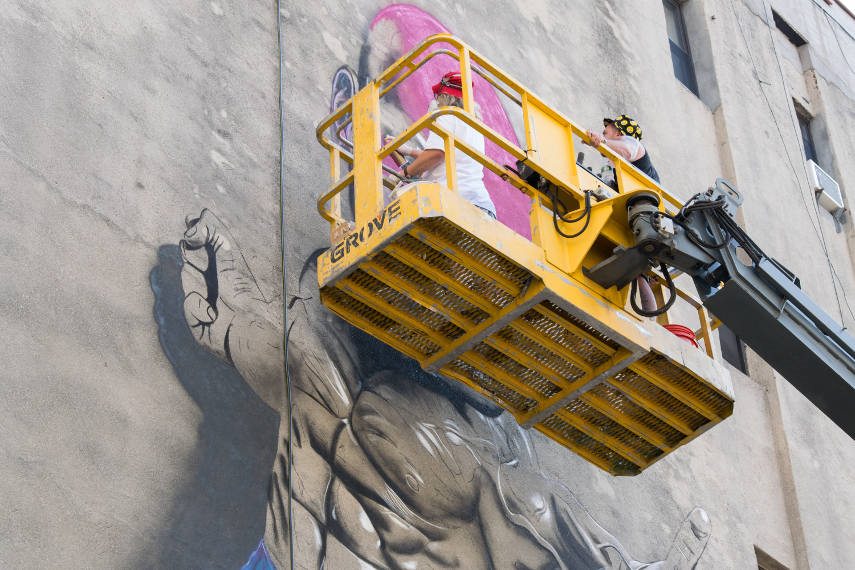 Things to see during LoMan
First of all - murals, obviously. But, aside from that, this festival is going to be a totally family friendly, as guests of all ages are welcome and there will be something for everyone. On Thursday, August 6th established artists will be a part of a panel that will be held at also famous Jonathan LeVine Gallery at 7 PM. Then, on Friday, the sculpture garden will open, featuring the infamous bust of Edward Snowden, a work by Andrew Tider and Jeff Greenspan. In the evening, there's another panel in 7 PM, this time on illegal vs. legal installations, at Con Artist Collective. On Saturday, kids will be able to learn how to create their own signature sticker, while learning about sticker culture. Also, from 5 PM to 7 PM on Saturday, a live illustration battle will be held between Crash and BIO, where they need to cover 25 feet high walls with black and white images in hour and a half. The winner will be decided by the amount of applause by the audience. After that, a never seen European cut of "Banksy does New York" will be shown outdoors, and on Sunday there will be a musical concert, with projection of completed wall paintings from the festival.
LoMan Festival, New York's First Mural Festival
LoMan, Where and When
LoMan is scheduled from August 5th-9th, while wall paintings, of course, will stay permanently on the walls of buildings of Lower Manhattan. It is located in 114 Mulberry Street, New York.
Your opinion is valuable to us! Please join us for a discussion on our Facebook page.
Sign up for My WideWalls for FREE and be up-to-date with contemporary arts.
Photo credits Rey Rosa Photography / The LoMan Art Festival, courtesy of LoMan.