Lubiana Himid, an artist who makes challenging and thought-provoking works that address colonial history, racism and institutional invisibility, has won this year's Turner Prize, one of the best-known visual art prizes and a fixture of the art world calendar.
Aged 63, she made history as the first woman of color and the oldest artist ever to win the Britain's most prestigious art award.
She was given her prize by the DJ, producer and artist Goldie at a December 5th ceremony in Hull, currently UK City of Culture. She will be awarded £25,000 prize, the money which she will spend mostly on commissioning other artists.
Infamous for rewarding outrageous Young British Artists, the Turner Prize 2017 has brought a breath of fresh air into this renowned art competition by changing criteria to include artists over 50.
This progressive shift acknowledges the fact that an artist can experience a breakthrough in their work at any age and that the new ways of saying and doing things often arrive over years, if not decades. Some critics said the change in rules gave the Turner prize a more mature feel.
Unexpected and refreshing, this year's shortlist included Stuttgart-born Andrea Buttner, the film-maker Rosalind Nashashibi, born in Croydon to Palestinian-Irish parents, and the Birmingham painter Hurvin Anderson, who had been the bookmakers' joint favorite with Himid to win the prize. They will all receive £5,000 (or about $6,700).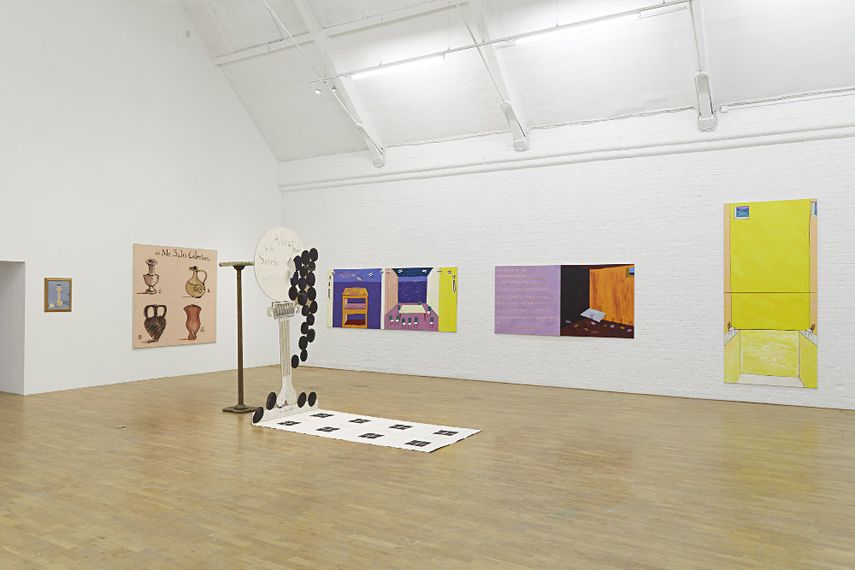 The Practice of Lubaina Himid
For the last four decades, the practice of Lubaina Himid has been addressing questions of personal and political identity, speaking to the politics of race and gender. Through a rich and varied practice, that included vivid installations, painting and prints, she celebrates Black creativity and highlights racism through satire.
Born in Zanzibar and raised in the UK, she has focused on a range of subjects related to race, from matters of the African diaspora to the visibility of black creatives in museums.Whether working on Guardian newspapers or directly onto porcelain tableware, Himid continually subjects painting to the material of everyday life in order to explore Black identity.
In many works, she appropriates and interrogates European painters and combines aspects of her African heritage to question the role of visual power.
Now the professor of contemporary art at the University of Central Lancashire, her support of black British artists, including curating landmark show The Thin Black Line at the ICA in 1986, has made her an inspirational role model in the black arts community.
The artist won the award for her widely-acclaimed trio of shows, the solo exhibitions Invisible Strategies at Modern Art Oxford and Navigation Charts at Spike Island in Bristol, and her participation in the group exhibition The Place is Here at Nottingham Contemporary. Alex Farquharson, the director of Tate Britain and chair of the judging panel, stated:
Together they offered a great summation of her practice over the last few decades and also revealed how vital her work is at the present moment.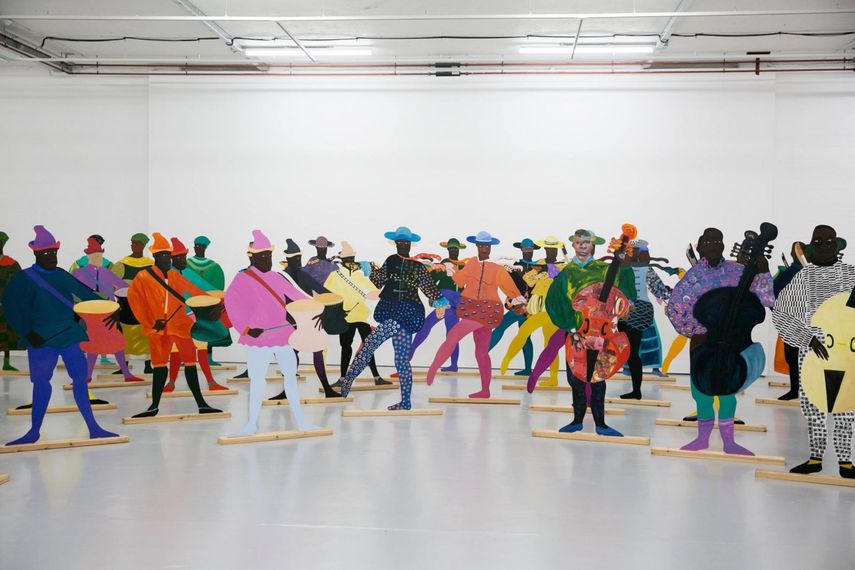 Tackling Difficult, Painful Issues
The artist was praised by the judges for her "uncompromising tackling of issues including colonial history and how racism persists today" as well as her "expansive and exuberant approach to painting, which combines satire and a sense of theatre".
Alex Farquharson stated Himid made works that we courageous, addressing "difficult, painful" issues. He highlighted her works are resonant and relevant today, speaking to the present moment "which has been one of division both in Britain and in America."
In particular, he singled out Spike Island's installation of 100 life-size figures, "each of which had a specific historic identity", of African slaves put to work in 18th-century European royal courts.
In previous years, the prize was judged only on the recent exhibitions for which an artist was nominated. This was the first year in which the prize show itself was formally taken into account.
Besides Farquharson, the jury for the prize comprised Dan Fox, a co-editor of Frieze magazine; critic Martin Herbert; Mason Leaver-Yap, a moving-image scholar at the Walker Art Center and an associate curator at the KW Institute for Contemporary Art; and Emily Pethick, the director of the Showroom gallery.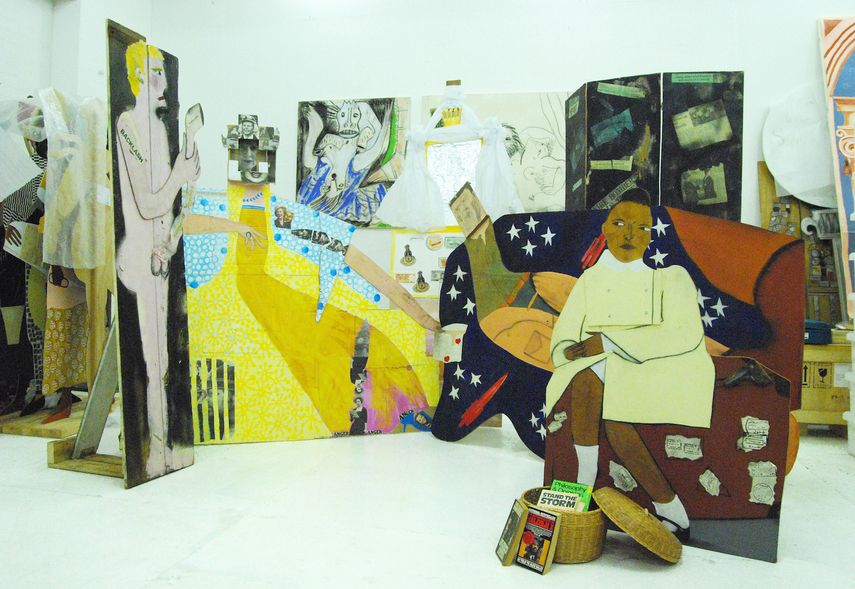 The Turner Prize 2017 Brings Major Exposure
Featuring work from the 1980s to today, including wooden figures, pottery and newspapers that she has painted on, Himid's section of the Turner Prize exhibition at Hull's Ferens Gallery serves as an intimate window on to her intensely thoughtful practice.
The highlight of the section is a piece titled A Fashionable Marriage from 1987, featuring a large-scale tableau of painted wooden cut-outs characters, such as a Margaret Thatcher flirting with Ronald Reagan, blending pop art, caricature and theatre to destabilize notions of high art, ethnic stereotypes and political power. The exhibition will be shown through January 7th, 2018.
Described by The Daily Telegraph as "the under-appreciated hero of black British art"[1], Himid has finally received the recognition she deserves. Yet, she explained she was never overlooked by curators or other creatives, but by critics and press, perhaps because her work "was too complicated to talk about". As she states for The Guardian, the issues she was dealing with "were complex, many-layered, and you've got to sell newspapers". [2]
Normally, The Turner Prize dramatically raises an artist's profile and widens their opportunities. Thus, it is set to bring major exposure to Himid. Explaining how much the award meant to her, she explained she won it "for all the times where we put our heads above the parapet" and "for all the black women who never did win it even though they had been shortlisted".[3]
The artist stated the prize probably wouldn't change people's perspective and attitudes, but added that "it will get people talking, which is the point of my work". For BBC, she stated:[4]
It won't make any difference to the kind of work I make but it will make a difference to…the people who have supported me all these years. That sounds like a cliche, but I've kind of won it for them, too.
References:
Buck, L. (2017) Lubaina Himid: a trio of UK shows shines a light on the under-appreciated hero of black British art. The Telegraph.
Brown, M. (2017) Lubaina Himid becomes the oldest artist to win Turner prize. The Guardian.
The Guardian, Ibid.
Anonymous (2017) Turner Prize 2017: Lubaina Himid's win makes history. BBC News.
Featured image: Lubiana Himid, via ft.com; Lubaina Himid - Swallow Hard, The Lancaster Dinner Service, 2007, via corridor8.co.uk; Installation View of The Place is Here by Lubaina Himid at Nottingham Contemporary, via hollybushegardens.co.uk; Lubaina Himid - Le Rodeur, Exchange, 2016, via modernartoxford.org.uk; Lubaina Himid - Le Rodeur, The Lock, 2016, via modernartoxford.org.uk. All images used for illustrative purposes only.