A young artist with an already impressive career behind him, Luc Waring creates his art without letting any hindrances or questions undermine his creative power. Being selected by an art gallery at the age of 17, and with a first solo show happening two years later, Waring is a promising new name on the contemporary art scene. His work has gone through some significant changes so far. From being more actively engaged in contemporary issues, creating pieces that reference our present condition through an active political stance, to being more concerned with letting his creativity move into spiritual spheres beyond the pressing moment. The artist is primarily interested in intricacies of being human.
Currently based in London, and trained at the University of Brighton, Waring works in different media, including printmaking, mixed-media sculpture, and painting. His eclectic pieces possess spontaneity in execution that complements the represented motifs. He combines images taken from advertisements with those from fashion industry, street art, popular culture in general, and documentary archives, giving us an alternative and provocative view on the visual regime we are surrounded with.
His upcoming solo show this March at Modern Gallery, Registered Trademarks, is about exploration of society's relation to luxury brands through advertisements. We sat and talked with Luc about the show, but also about his career in general, travels he had undertaken recently, his artistic practice, and future plans. Read through and enjoy!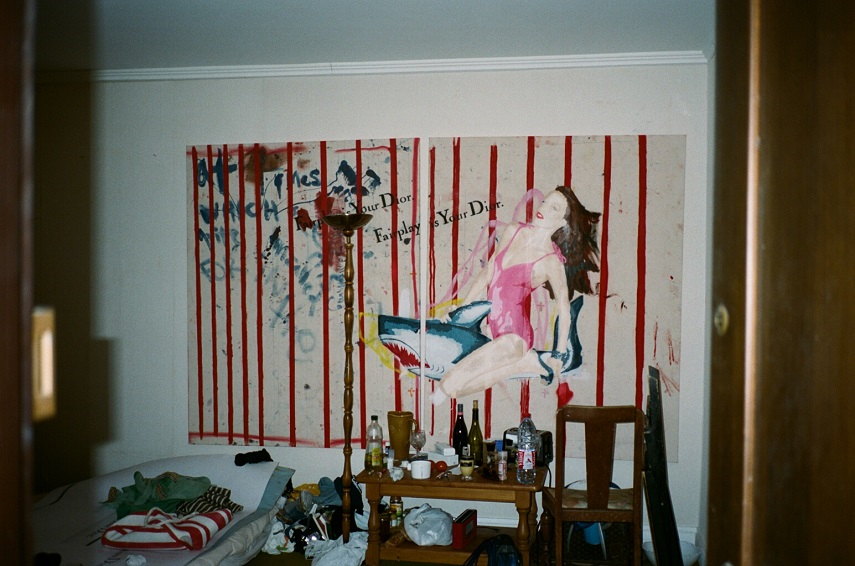 Luc Waring - Registered Trademarks at Modern Gallery
Widewalls: Let us start with the most recent events in your career. You are preparing an exhibition with Imitate Modern Gallery in Mayfair for March. Can you tell us more about the works you will be exhibiting there?
Luc Waring: For me the works in this show are really an illustration of my career so far. The show includes a wide variety of styles and disciplines, from etchings, to oil paintings, and aerosol on canvas. The exhibition is called 'Registered Trademarks' and is a career-long exploration into how we, both as individuals and a society, have internally registered luxury branding through advertisements.
Widewalls: How did the cooperation with the Imitate Modern Gallery come about?
LW: I've been working with Imitate Modern for a while. They actually gave me my first solo show when I was 19, so I owe a lot to them, and to have been exhibited in Marylebone at that age with the likes of Banksy, Romero Britto and Von Kristian Hornsleth was incredible. They obviously saw something in me, and I believe that that initial belief in my work has been a huge driving force to my progression in the art world. Four years down the line and here we are, putting on this show.
As well as the solo show with Imitate Modern, this year also marks a move towards more cultural institutes. I've just had a show at the Mall Galleries, where I was hung alongside Lucien Freud, Sir Howard Hodgkin and Sir Terence Conran, and I've also recently accepted to have my first museum show in St. Petersburg. Much of the confidence it took for these movements is a lot due to Imitate Modern's initial and continued support, and I trust I will be exhibiting with them throughout my career.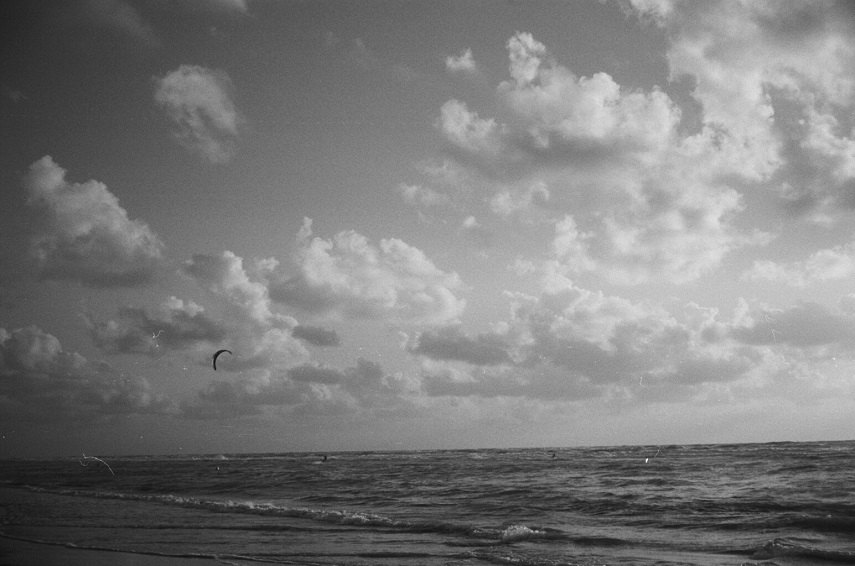 Sculpting Life through Art and Travel
Widewalls: You've mentioned in a preparation for this interview that you recently came back from sailing across the Atlantic. Why did you decide to go on this trip and do you anticipate that this experience will push your aesthetics in new directions?
LW: Experiencing the world from different perspectives is very important to me, and travelling is a great way to do that. I try not to separate my artistic practice from my personal life. For me, art is about one's total experience of the world, and the practice of sculpting my life is the most important practice of all. I guess I believe that ultimately, your life is your message.
In terms of my aesthetics, yes, it did unlock a style of drawing that I hadn't discovered before. I lived on the boat for three months, being in such close contact with nature along with the pace of life at sea allowed for some very unique and deep reflection. I've been travelling for a while now, and the beauty of the planet and stories of people's lives have become a huge inspiration. The drawings I made on that trip serve to this day as precursors to a whole new body of work that I intend to make this summer, living in Spain.
Widewalls: Tell us a bit about what inspires you, and about the unique mixture of artistic styles and popular imagery you use in your works?
LW: My work is about life, and ultimately, about being human. I draw inspiration from everything from personal experiences to movies. Just the very idea that we are here in this crazy world is incredible to me. I guess my art is just a way to attempt to make sense of it all, and express those human emotions and feelings which can never quite be put into words.
Talking of painting, I'm currently looking at a very wide range of artists, from the romantic Modern European painters such as Matisse, Picasso and Marc Chagall, to the abstract expressionists of NY, in particular figures such as William De Kooning and Pollock. My other favourite artists / heroes include Lichenstien, Warhol, Richard Prince, Jeff Koons, Basquiat and Julian Schnabel.
It may seem like a long list (and I could mention many other names) but stylistically, that's what my work is about: a crazy fusion of all these different styles and philosophies. That said, I'm still looking, my visual language is still growing, and as far as I'm concerned my job is to just let my creativity be as free and sporadic as it needs to be.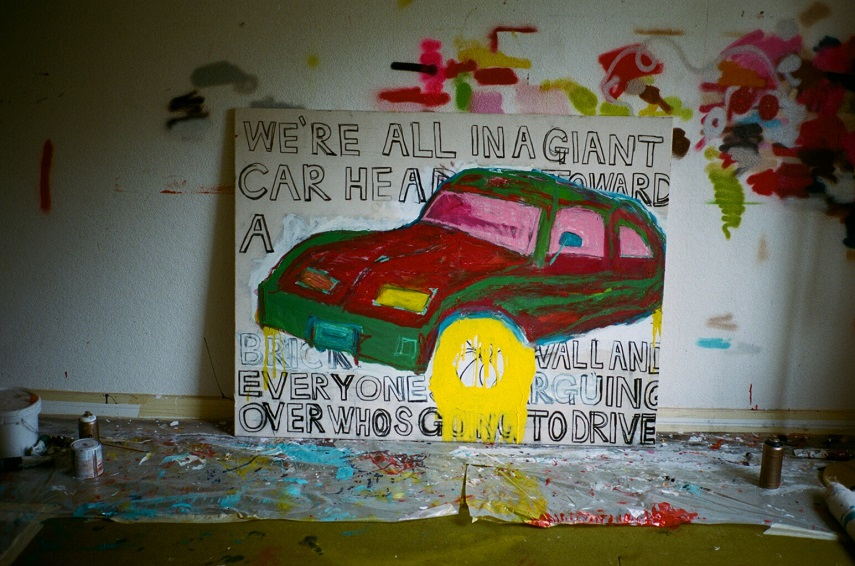 Moving from Political to Spiritual
Widewalls: You are also writing a paper titled The Role of the Artist in Today's Political, Social and Spiritual Climate, which is a part of a broader project. Can you tell us more about it?
LW: As an artist, academia and writing have always been central to my practice. This essay essentially asks whether it's ok to carry on making 'still life' paintings, or whether, as artists, we have a responsibility (as cultural producers in our society) to make work that in some way contributes on a social or political level. This paper is to be part of a larger body of work that includes paintings and sculpture, and I'm currently in discussion with the Jewish museum Ben Uri about exhibiting the project next year.
Over the last few years I've been concentrating on letting my style come together, and I haven't been so focused on the socio-political side of our world. Now that I feel that my style has come together, it's time for me to really assess what I'm doing as an artist, why I am making work, and what my priorities are. I've been on both sides of the essay's arguments so I'm looking forward to spending time exploring them both thoroughly. This paper will act as a foundation and set a direction for my practice.
Widewalls: What conceptual and theoretical underpinnings guide your written work and your art as well?
LW: Today I don't really put the same emphasis on conceptual or theoretical underpinnings as I did in the past. At the moment I am leaving myself open to whatever comes, ultimately it boils down to being human and navigating through the world that I've found myself in.
I used to be very interested in identity, advertisement, media and politics. I still am, but I feel that my work is moving beyond the physical, linear dimension of politics to something more spiritual. These themes still of course come up, but today more as a subject that won't leave rather than as a point to be made.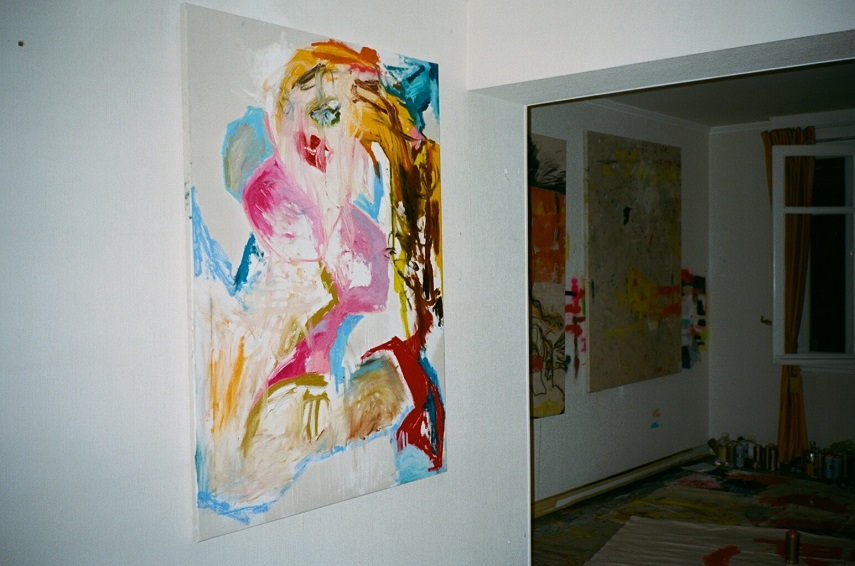 The Sacredness of Artistic Process
Widewalls: You've documented your recent stay in France through a series of photos that include some intimate moments mixed with the images of your works. Why you decided to document the artistic process in the context of the everyday? Does this gesture remove the aura of inaccessibility from contemporary art?
LW: Having taken up documenting trips and life through 35mm film, it was a natural progression for me to document my studio life in France. As I mentioned before, I try not to separate my personal life from my artistic practice, so the intimate aspects of my time there naturally become part of that series of photographs.
Documenting the process of making art, to that extent, is fairly new to me. I see the process of making the work as nothing less than sacred. It's very close to me it's a pleasure to invite people into that space. I have always been interested in bringing people into the studio, whether it's setting up the exhibition space like a studio, or making art in the gallery itself – I do feel it removes a sort of esoteric aura that contemporary art can carry. For me, it also gives the viewer a foot in the door so as to speak, a way into the work.
Widewalls: On one of the photos from the studio we see paintings of a woman 'riding' a shark, and a string toy that resembles Trump(?). Can you perhaps tell us more about these motifs?
LW: The woman on the blow-up shark was actually an image taken from a 70s Dior campaign featuring Jerry Hall. For a period of time, Williem De Kooning painted women as a predefined subject so that he could concentrate on the actual painting itself, rather than the concept. In France I maybe did a similar thing in choosing an advert from Vogue, i.e. imagery I'm comfortable with, that I've written about, and which carries themes I am interested in. I chose this piece in particular because it was a very striking image. The blow-up shark was a little joke to myself, referencing Damien Hirst and Jeff Koons, and the words 'Fairplay is your Dior' were perfect, as I am exploring the idea of sustainable consumerism and using capital as today's democratic tool.
There isn't much to say about the Trump piece really. I made it whilst he was running for president, and it was an instinctual piece. It doesn't have a literal meaning in the way that my earlier political work would have done.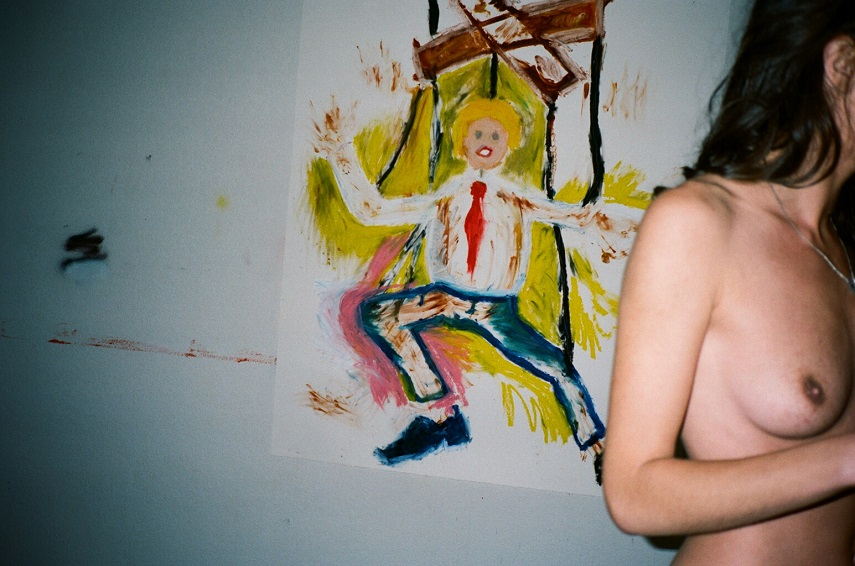 Bringing Together Histories and Heroes
Widewalls: For those who are yet to learn who Luc Waring is, can you tell us something about your background?
LW: Art has always been natural to me. My family all have an artistic background in one way or another, and a lot of the photos taken of me when I was young show me with paint and crayons. One of my most vivid early memories is of my mother explaining to me that people do art at university, I just remember thinking that the idea of being allowed to paint every day was the best thing in the world.
Career wise, my first gallery took me when I was just 17. I was young and ambitious and that was it really, I've been making a living from art ever since. At university I really wanted to change the world through my art. My hero at the time was an artist called John Heartfield, who produced counter-propaganda during the Weimar period in Germany. I was writing a lot of essays back then and had also started street art as I wanted to communicate a message.
Today I'm no longer sending out messages. In the new works I'm producing I've actually become a viewer, left to analyze what my paintings mean after I make them. As I've said, I currently feel my job is almost to keep out of the way of my own creativity, to let it run free without question or hindrance, and to just play. In doing so, I feel the work is at its most honest.
Widewalls: Where would you situate your practice in the contemporary art world, and how would you define it?
LW: To be honest I don't really situate my practice in the contemporary art world, I situate my practice in the history of art. I love the movements of Abstract Expressionism, Graffiti, Pop Art and Street art, and feel that my work is about bringing together the histories and heroes of these movements, and moving them forward with a relevance to the world around me.
I don't know how I would define my practice – I'm just someone who's passionate about the progression of my work. I'm interested in being part of the history of art, and I hope that my art can in some way contribute to people's lives in a positive way.
Widewalls: Your schedule seems to be full for the next few months. Tell us more about the artistic commune you will be joining and your work plans for that period?
LW: The idea of working away from London has been slowly coming to fruition. At 23 I'm very proud of what I've achieved but I also realize that this is a marathon. I'm looking 10, 20, 30 years forward and I intend to steadily work through those years building a life that incorporates philosophical and spiritual study, as well as just mark making. In this way I feel that I am fuelling my artistic practice for the long run.
This period of work in Spain is part of building that environment. I know I want to work away from the hustle and bustle, and this trip will give me a better understanding of how I will do that. It was set up by two incredibly talented artists and friends of mine, George Lloyd-Jones and Nettle Grellier, so needless to say, I'm very excited to be joining. There will be eight of us living out there (near Granada), sleeping in bunk beds and working in individual studio spaces. That's all I really know at the moment, and I can't wait to go!
Featured images: Luc Waring at work; Luc Waring's work in progress and portrait; Untitled. All images courtesy of the artist.