Lucas Samaras first began making his Boxes in the summer of 1960 in New York. These artworks, which eventually came to form a series of as many as 295 pieces, were small, wooden containers filled with rags.
Although throughout his career Samaras created paintings and other sculptures, it would appear that these objects were his main point of production, which went on to incorporate a variety of materials including found objects, colored wool, broken glass, self-portraits, razor blades and finally pins, these being deeply rooted in his childhood memories:
I was raised up by a very religious family. The nailing on the cross. As a child I often played with pins at my aunt's [cousin's] dress shop. Nailing pieces of cloth. My father spent many years in the fur business stretching and nailing furs. The pin is to an extent a part of the family.
The critic and art historian Donald Kusprit even described Boxes as "autobiographical", as were many other works by Lucas Samaras - Mirrored Room from 1966, for instance.
Now, almost six decades since the first ever Box was created, Artifex Press releases the digital catalogue raisonné dedicated exclusively to the series. Edited by Hannah Barton, their Research Associate, Lucas Samaras: Boxes is the definite exploration of the artist's iconic mixed-media series, representing an extensive collection of high quality images of the boxes. The viewers can also enjoy primary source documents such as note cards, notebooks, and drawings, along with archival photography from important exhibitions held in the 1960s and 70s.
Furthermore, because this catalogue raisonné is a digital one, it is also accompanied by exclusive materials - a series of videos displaying the moving components of boxes in the round, giving an elaborate look at these intricate artworks.
On the occasion of the release of the Lucas Samaras: Boxes catalogue raisonné, we talk to Hannah Barton about the intense making-of process, in an exclusive interview.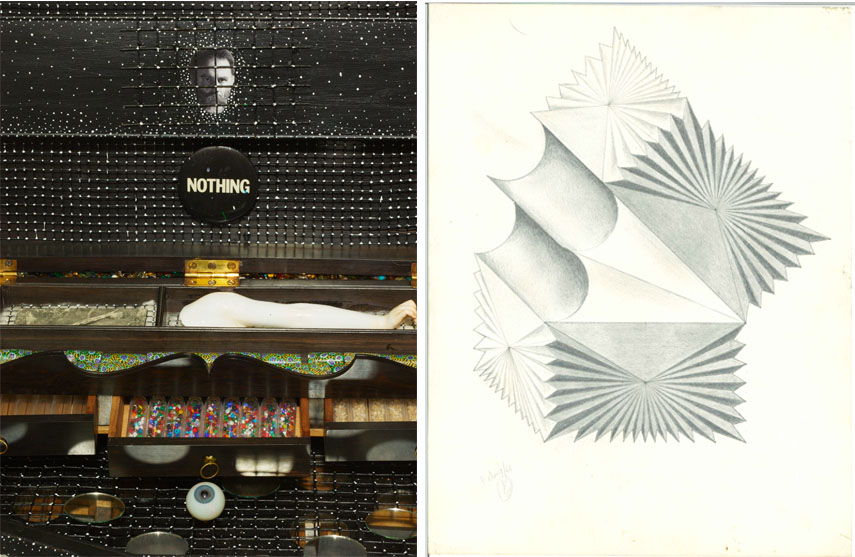 Making of The Lucas Samaras Catalogue Raisonné
Widewalls: As we know, there is virtually nothing else available on Lucas Samaras at the moment, so this catalogue raisonné certainly is more than welcome. Was this one of the reasons you got involved in the project? When did you start working on it?
Hannah Barton: Artifex Press's Editor-In-Chief, David Grosz, thought I might be a good fit for the Samaras catalogue given my experience researching and cataloguing objects that utilize unconventional materials, as was prevalent in my first catalogue raisonné on the artist Tim Hawkinson.
I had been a long time fan of Samaras's drawings and self-portraiture, so I was excited to dive into this body of work that I was less familiar with.
This project was originally conceived in 2004 by the Wildenstein Institute. Vanessa Wildenstein, who has acted as Consulting Editor throughout my research process, began the project with the help of Ken Fernandez in Research & Archives at Pace Gallery, which has represented the artist for decades. Ms. Wildenstein conducted a large portion of the research from 2004 through 2009, when research on the project slowed.
Artifex Press inherited the project in 2014, and I built on Ms. Wildenstein's research verifying information, sourcing all images, producing videos, and finalizing the complete set of artwork entries with the artist.
Widewalls: What was the research process like? What did it require?
HB: The research process for a catalogue raisonné is lengthy and often-times complicated, requiring outreach to galleries, museums, and collectors, as well as countless library visits and hours spent delving into archives. I was fortunate in that some of the research had been done for me when I inherited the project from Vanessa Wildenstein.
However, much of this information needed further verification and updating, and required a great deal of my attention to detail, as I aim to track every time an artwork has been exhibited, any time it has been cited and/or illustrated in another publication, and every current and previous owner.
To give you an idea of the breadth of research and material gathered in this process, there are 295 works in the catalogue that each had to be authenticated, over 1200 images that were sourced and cleared of copyright, over 250 exhibitions that had to be confirmed, and over 350 publications that had to be tracked down and verified.
Provenance for all public collections is confirmed and published in the catalogue, while research for private collections is still ongoing and will be updated in the catalogue as it is confirmed.
Luckily for me, Samaras has been very diligent about documenting much of his finished work, and even kept a large archive of publication clippings that he allowed me to comb through. He provided a great deal of primary source documentation of the works themselves, and met with me on several occasions to answer my questions and show me some of his work in his personal collection.
I am extremely thankful to him as he was an integral part of my research process throughout the development of the catalogue.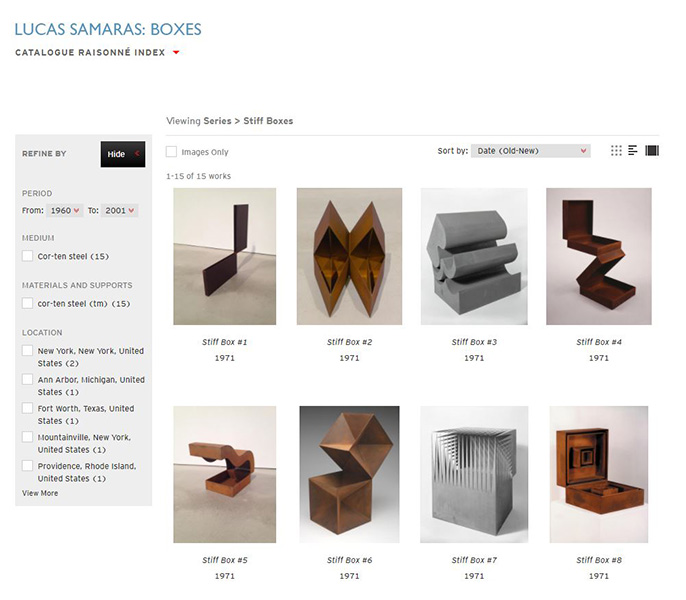 "Inside" the Famous "Boxes"
Widewalls: Obviously, the focal point of the catalogue is Samaras's "Boxes". What are your impressions of these works? How would you describe them?
HB: Upon first encountering Samaras's boxes, my curiosity was immediately piqued - they are difficult to ignore.
The first work I saw in person was Box #10 (1963), which is eccentrically decorated with metal springs, sewing pins, and multicolored yarn. The exterior materials are both hostile and enticing, with the soft yarn stretching around the middle of the box, exactly where one might try to lift the lid to strategically avoid the sharp pins. The interior displays a variety of objects, presided over by two identical photographic portraits of Samaras on the inner lid. The interior objects encourage exploration; three different compartments each hold their own odd talisman laying on a bed of stones, beads, and crystals. This duality between hostile and inviting in tactility is prevalent in many of the boxes, as Samaras reused a multitude of materials for embellishing the boxes.
Samaras once explained that our lives are compartmentalized in every aspect as to resemble boxes, so it would only seem natural that he would adopt this form as a way of expressing himself artistically. He has engaged with the form of the box in every possible way throughout his career.
He has taken found cigar or jewelry boxes (like Box #10) and decorated them with everything from yarn to straight pins to taxidermied birds to broken glass, and filled them with a wide range of found objects, multi-colored beads, and photographic self-portraits.
The largest series of boxes, the numbered boxes, are so intricately embellished on both the exterior and interior that I discover something new almost every time I look at them. I will forever be in awe of their eccentricities; many of these works are like little wunderkammer, complete with hidden drawers and curious natural and found objects. Lucas created these with the intention of keeping parts hidden, encouraging exploration of the work.
He has also explored the form of the box itself with his various series in chicken wire, Corten steel, and Nevamar. These series no longer draw attention to the interior of the object but instead focus on experimenting with the form of the box itself.
And finally, there are his famed series of mirrored rooms, because after all, rooms too are boxes.
Widewalls: The boxes accompanied by many related items and materials: could you tell us more about them and the way they compliment the artworks themselves?
HB: For a majority if his work, Samaras created a drawing of each sculpture on a note card to document the finished creation. He recorded the title of the work, date it was finished, dimensions, media, and even sometimes the name of the collection they were first sold to, next to the drawing.
Whenever possible, I included images of these note cards on each corresponding artwork record, providing extra archival content and context for the works. These note cards were both an aid to my research as well as a valuable addition to the catalogue - they provide chronological context for the works they document as well as give the viewer a peek into the artist's archive and a feel for the original intention behind the work, as it was documented right after its completion.
Samaras also provided me with a selection of scanned images from his sketchbooks, which detail many of his ideas that may not have come to fruition. Instead of documenting a finished artwork, like the note cards do, the sketchbook pages demonstrate the artist's development of ideas surrounding the form and structure of the box, and are another valuable primary source document that I am happy to showcase.
Widewalls: How do these works relate to the rest of the artist's oeuvre, in your opinion?
HB: Samaras is a master of self-portraiture, and cannot be contained within a particular artistic movement or media - he has spent his life experimenting with various artistic media, and each work almost always refers back to the artist himself, whether that be through symbolic objects or through literal self-portraits.
He has an almost obsessive enthusiasm for his own image, which could be seen as supreme narcissism or a utilization and investigation of the easiest subject at his disposal: himself.
Perhaps the argument can be made that all artistic output is in some way an extension of the self, and thus a self-portrait, but this rings especially true in Samaras's production. The boxes are no exception to this rule, though they may not be as obviously self-referential at first glance.
While many artists of his generation were creating "cubes" that essentially de-personalized the work of art, for Samaras the box was more personal than ever and became a sort of surrogate of the self, with an exterior that may be difficult to penetrate and a complex and perhaps secretive interior.
You see these works evolve in tandem with the rest of his oeuvre: early 1960s examinations in plaster take form in objects, wall hangings, and boxes; an affinity for media like straight pins, yarn, and psychedelically-colored paint in the mid-late 1960s lends itself to embellishment on boxes, drawings, and even on photographs (and comes up again in the '80s and '90s); lavishness makes way for experimentation with the forms themselves in the 1970s, whether that be with the box or with his other series of objects, like chairs, glasses, and books, taking these commonly-known items and twisting and reshaping their forms.
This distortion of form can also be seen in his series of Photo-Transformations from around the same time, in which Samaras has manipulated Polaroid photographs in such a way as to completely warp and disfigure himself and the interiors around him.
But throughout these continued explorations, the boxes remain a steady point of reference for the rest of the work, a place to unload the contents of the symbolic artistic self when that self may not be openly presented in a pastel self-portrait or photograph. These works contain self-referential objects and embellishments that Samaras is so obsessive about, that ultimately they are imbued with such importance as to encourage the viewer to become obsessed with them as well.
Lucas Samaras: Boxes, A Digital Catalogue Raisonné by Artifex Press
Creating a Digital CR with Artifex Press
Widewalls: What possibilities did the digital aspect of catalogue raisonné provide for this project, compared to the "regular" CRs?
HB: The digital platform that Artifex Press provides opens up a wide range of possibilities in terms of the breadth of content I am able to share.
Most obviously, digital allows for countless images of a single work, and for objects like Samaras's boxes, more images provide a fuller picture of the entire work when one is not able to see it in person. Detail images can show the viewer the intricacies of the objects included inside a specific box, or the meticulous attention to detail employed on the exterior embellishment. The zoom function also available in this digital platform allows the viewer to investigate close-up to fully appreciate the detailed objects.
Additionally, the digital catalogue includes short videos of a selection of the boxes. These videos demonstrate any and all moving components in the work; how the box opens and closes, how drawers may function, and which contents of the box are removable or kinetic. They give viewers a fuller grasp of how these works are intended to be explored, even beyond what they are allowed to experience seeing the work in a public collection where they cannot touch the objects, providing a more well-rounded understanding of the entire artwork.
Widewalls: Are there any other projects in the future with Artifex Press?
HB: Artifex Press has several catalogue projects in the works, including Sol Lewitt: Wall Drawings, and catalogues for Niki de Saint Phalle, Robert Irwin, Frank Stella, and Lee Ufan, to name a few.
As for me, I'll be continuing to update the Samaras and Hawkinson catalogues, and am currently seeking out future projects.
Lucas Samaras - Box#78
Featured image: Lucas Samaras - Box #10, 1963. © 2018 Lucas Samaras. Photo by Ellen Page Wilson, courtesy Pace Gallery. All images courtesy Artifex Press.