Lucian Freud started developing as a painter on the British Islands during the late 1930s and early 1940s after his family moved from Germany after Nazis came to power. He attended the East Anglian School of Painting and moved to London where he gradually became part of the local art scene and befriended various artists including Francis Bacon. Freud had his first solo exhibition in 1944 at the Lefevre Gallery in London.
Although the notable painter flirted with Surrealism for a while, around the 1950s his paintings became more realistic. In 1954 Freud also stopped sitting while painting - he believed standing allowed him more freedom. Two years later another major shift happens and his style becomes even more dense and expressive, a result of his use of coarser hog's hair brushes. During that period the painter focuses more on full-length portraits, although for self-portraits he keeps depicting his head and torso.
A significant change in Freud's career happens in 1977 when the painter moved to an apartment in Holland Park, which he used as a studio for the rest of his career. Another crucial moment occurs in 1990 when Freud meets the artist David Dawson, who becomes his studio assistant, close friend, and model until the painter's death.
Although the majority of people are mostly accustomed to Freud's grandiose and expressive portraits, an important part of his common practice were his self-portraits as well. In order to revisit a deeply discreet and intimate persona of the leading 20th-century painter, the Royal Academy of Arts decided to organize a survey entirely focused on Freud's self-portraits produced by him both on canvas and paper throughout the course of seventy years.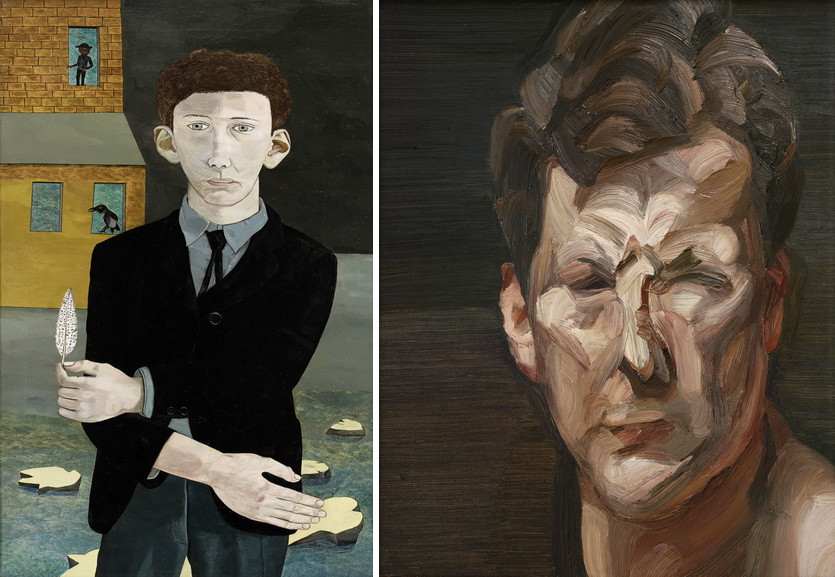 Exposed: The Lucian Freud Self Portraits
The upcoming exhibition of Lucian Freud's self-portraits will be presented chronologically in six sections so that the visitors can grasp the painter's exploration of the genre. These paintings can be treated as the psychological overview of oneself and are valuable for the consideration of the persona of the artist, the way a creator deals with various emotional states and stages in life. Alongside his own image, Freud explored the domains of paint in presenting thin layers of mental conditions he passed through the years.
The curatorial team consisting of Jasper Sharp (Adjunct Curator for Modern and Contemporary Art at the Kunsthistorisches Museum, Vienna), David Dawson (painter and photographer, and Freud's former studio assistant) and Andrea Tarsia (Curator at the Royal Academy of Arts) selected a total of fifty works that will show Freud's artistic development starting from his early linear and graphic works to the lavish and more vivacious style that branded his later work. Numerous self-portraits to be displayed are loaned from private collections and some of them were not displayed publicly for decades.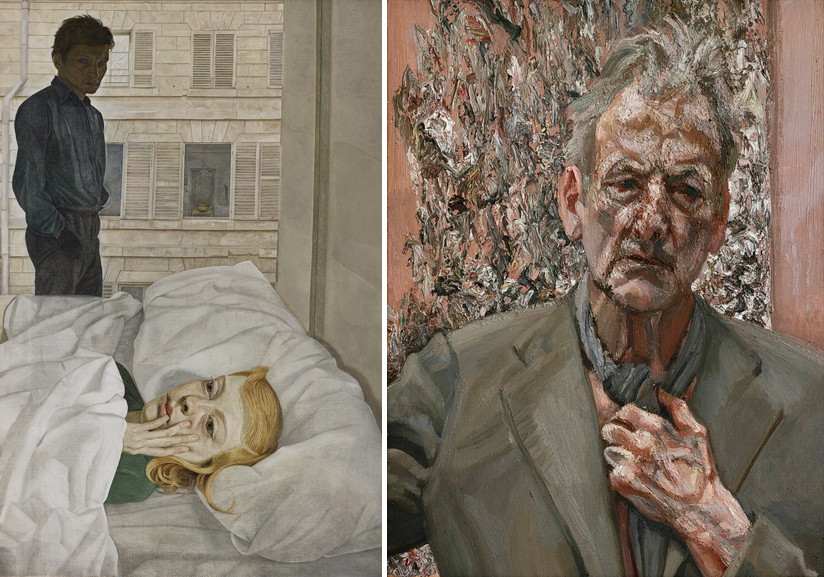 Articulating Self Reflection: The Works
The first section will feature the painter's first major self-portrait, Man with a Feather made in 1943 in a dialog with his late Self-portrait, Reflection from 2002. The former reveals delicate brushwork typical for his early period, and the latter reflects the increasing use of impasto and the technical craftsmanship characterizing Freud's mature work.
Freud's early drawings and sketchbooks will be featured within the second section. The self-portrait titled Actaeon (Self-portrait with Antlers) made in 1949 depicts the painter in a mythological guise, while the earlier one titled Flyda and Arvid shows the painter as a character in illustrations. Interestingly so, Freud played around with the composition by putting himself in and out of the frame, something that is most apparent in Still-life with Green Lemon from 1947.
The following section will feature Freud's works from the 1950s which show a shifting nature of his style. In Hotel Bedroom from 1954, Freud depicted himself for the last time in a sitting position next to the easel. Freud was apparently influenced by Francis Bacon, proven by his 1956 Self-portrait; for it, he used coarse hog's hair brushes, which enabled him to open up his brushwork technique.
In the next section, we witness the artist's working process with a number of preparatory sketches and unfinished portraits. Some of those works will underline how well he combined different elements of the interior of his own studio. For instance, the self-portrait from 1966 titled Mirror on Chair depicts mirrors, which were used by the painter to see his own image from unconventional angles.
Finally, there are Freud's later self-portraits such as Reflection (Self-portrait) from 1985 and Painter Working, Reflection, made by the painter in 1993, shortly after he turned 70. After exploring the nude of the others, Freud decided to depict himself naked with only a pair of unlaced boots on. On display will be also his self-portraits produced in between 2002 and 2003. They show Freud in his 80s with his scarf on while resting his chin on his hand.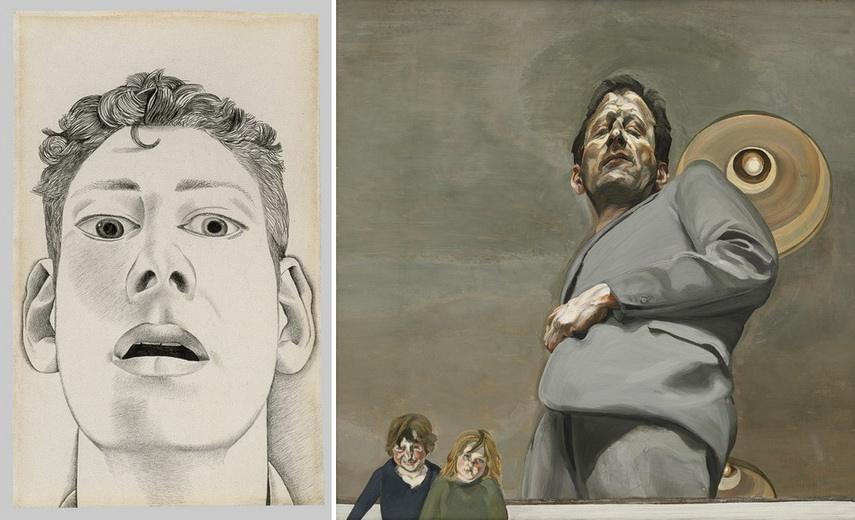 Lucian Freud at The Royal Academy
Lucian Freud's self-portraits also show his personal history, and the entirety of human life from a young to an old age, indicating an extraordinary continuity and consistency. Furthermore, they show his devotion, vigor, and loyalty to the traditional form of painting he remained loyal to until the end of his life.
Lucian Freud: The Self-portraits will be on display at The Jillian and Arthur M. Sackler Wing of Galleries within the Royal Academy of Arts from 27 October 2019 until 26 January 2020. Afterward, the exhibition will travel to The Museum of Fine Arts, Boston where it will be on display from 1 March until 25 May 2020.
Editors' Tip: Lucian Freud: The Self-portraits
In 1964 Lucian Freud set his students at the Norwich College of Art an assignment: to paint naked self-portraits and to make them "revealing, telling, believable ... really shameless." It was advice that the artist was often to follow himself. Visceral, unflinching and often nude, Freud's self-portraits chart his biography and give us an insight into the development of his style. These paintings provide the viewer with a constant reminder of the artist's overwhelming presence, whether he is confronting the viewer directly or only present as a shadow or in a reflection. Freud's exploration of the self-portrait is unexpected and wide-ranging. In this volume, essays by leading authorities, including those who knew him, explore Freud's life and work, and analyze the importance of self-portraiture in his practice.
Featured image: Lucian Freud - Self-portrait, Reflection, 2002. Oil on canvas, 66 x 50.8 cm. Private collection; Reflection (Self-portrait), 1985. Oil on canvas, 55.9 x 55.3 cm. Private collection, on loan to the Irish Museum of Modern Art. All images courtesy the Royal Academy of Arts.