The Wore is a new exhibition of work by Lucien Shapiro at the CES Gallery in their Focus Space, Los Angeles. Wore as a word is the past tense of wear, which can indicate a garment or covering on the body of a person or to point to something becoming impaired, deteriorating gradually by use or a continued process. Both are apt for the work of Lucien Shapiro in The Wore, as we are presented with a series of masks and objects that are created from found objects such as wire, plastic bags, bottle caps, studs, cloth and a variety of everyday objects discarded on a regular basis.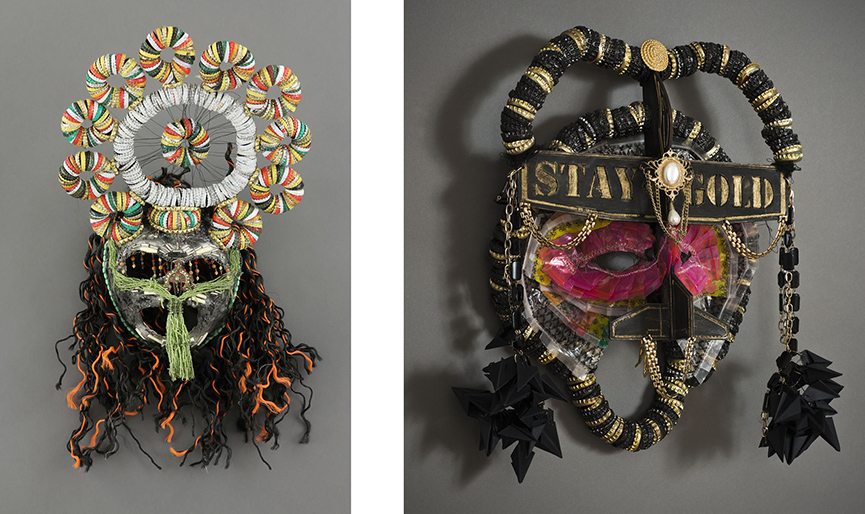 Lucien Shapiro: The Wore
We live in an era of massive waste, a consumerist society that thrives on over consumption and the desire for the latest products. Everyday objects are discarded without a thought, what we take for granted, see and use everyday are mostly ignored which is where Lucien Shapiro comes in. Shapiro collects these forgotten objects and transforms them into beautiful masks, armour and weapons as if they were ancient cultural relics. Creating the masks and weapons is an arduous task, a craft in itself that becomes a reflective consumption of time for the artist, repetitive and meticulous in nature it hints at ideas of habit and dependencies and requires the viewer to re-evaluate our own relationships with everyday possessions and what they really mean to us. The elaborate masks, armour and weapons of Lucien Shapiro allude to the ideas of self-protection, fierce shaman like faces to hide behind and an array of bats covered with studs and metal spikes that can shield us from reality and create new personalities. The use of found objects hints at almost compulsive behaviour by Shapiro both in the collection of items such as bottle caps, ring pulls from cans etc that in some way reflects our own compulsive behaviour in daily life, the addiction to buying more and more products that satiates our desires only briefly. In turning our discarded waste into new treasures that attract our attention, Lucien Shapiro in The Wore exhibition at CES Gallery, is offering us the opportunity to appreciate these carefully crafted artifacts and what they are made from, which tells a story about us in the modern world and our own attitudes towards the society we live in.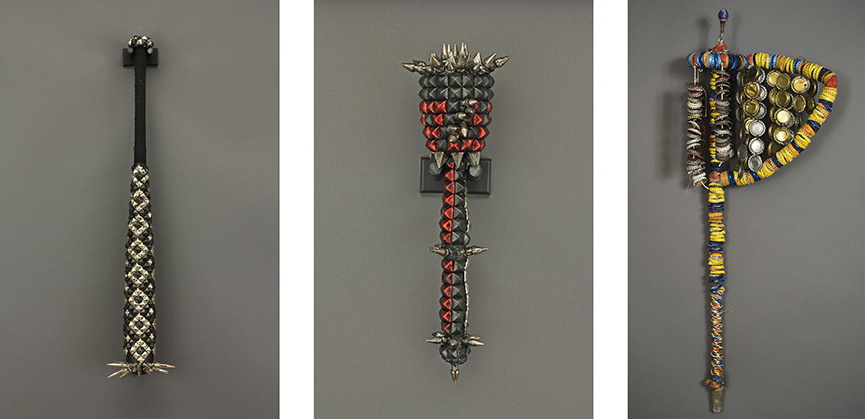 Lucien Shapiro
Born in Santa Rosa, Lucien Shapiro graduated with a BFA in Sculpture from AAU in 2003. Since then he has spent his time exploring the detritus of today's culture from San Francisco, collecting objects and waste discarded on streets and in fields then building beautiful sculptures from these objects no longer being used for their original purpose. He aims to make items that most people consider ugly or useless and turn them into hidden treasures, full of beauty and dreams.
CES Gallery
The Wore by Lucien Shapiro can be viewed at the CES Gallery in their Focus Space, Los Angeles between December 20th 2014 and January 24th 2015.
For all the latest information on exhibitions sign up to My Widewalls today!