French street artist Ludo is currently in the heat of preparing a solo exhibition that is to be hosted by Jonathan LeVine Gallery in New York. Announced for the month of February 2014, the exhibition is titled Fruit of the Doom, disclosing the ever-present wittiness of the Ludo's expression. Arrested Motion visited this French street artist in his studio in Paris recently, and documented the course of preparations for the named exhibit. We are transferring a part of Ludo's studio atmosphere thanks to AM.
Ludo - Background
In the past few years, Ludo began his street art actions, since it was the type of artistic approach he was always drawn to, and he had been exhibiting across prominent art venues for several years. His background lies within graphic design, and his images largely exude influence of skateboard and punk underground culture he was a part of in the 1990s. His first street art works were pasted images that he scattered across Parisian walls. For Ludo, aerosol was not the essence of his graffiti performances, but the sheer excitement and joy of placing his illicit artwork in public.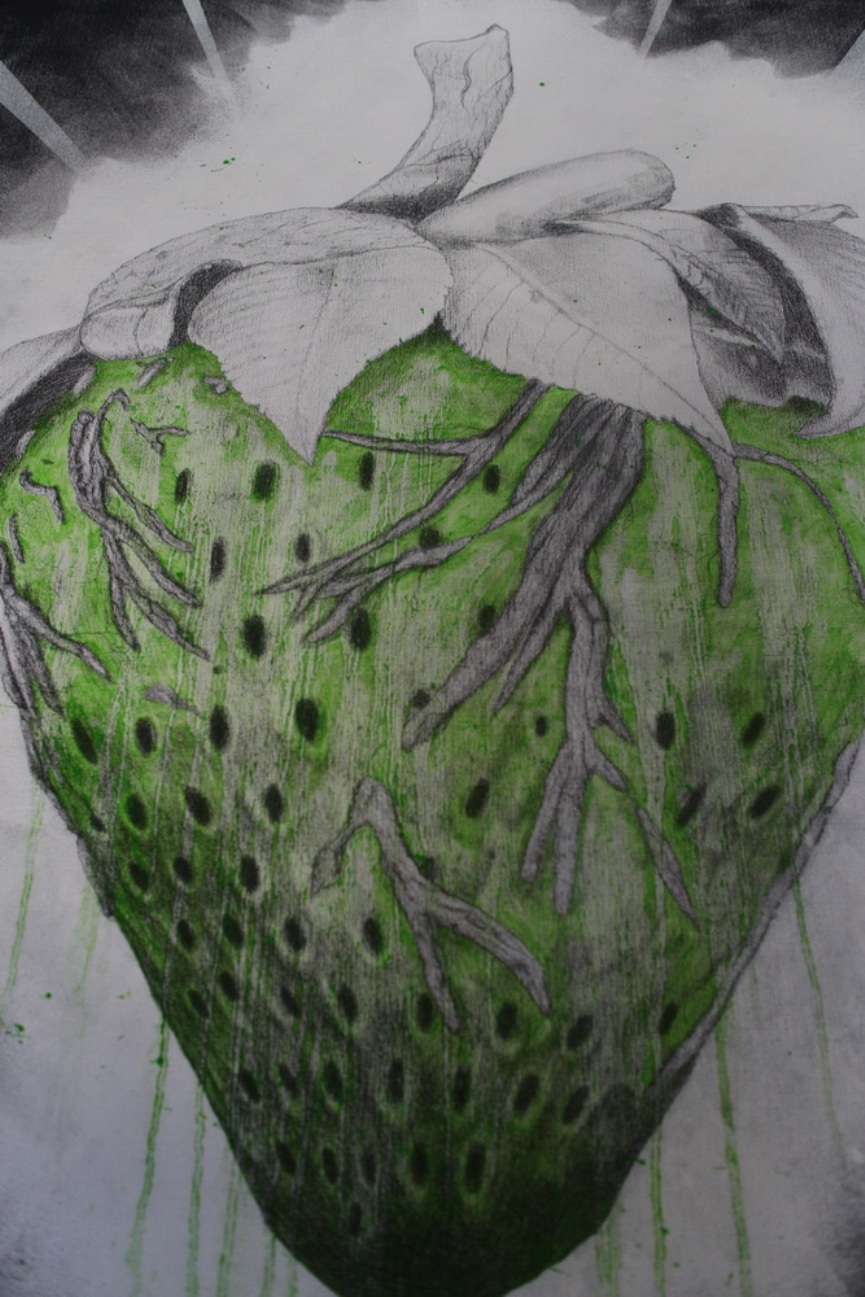 Since he was always keen on having an original expression, he continued producing monochromatic images, as his green accentuations happened later in his career. The fluorescent green with a subtle pastel undertone has become a signature color of Ludo, which he utilizes as a kind of an artistic highlight, underlining the important sections of his work, making them the focus of the composition.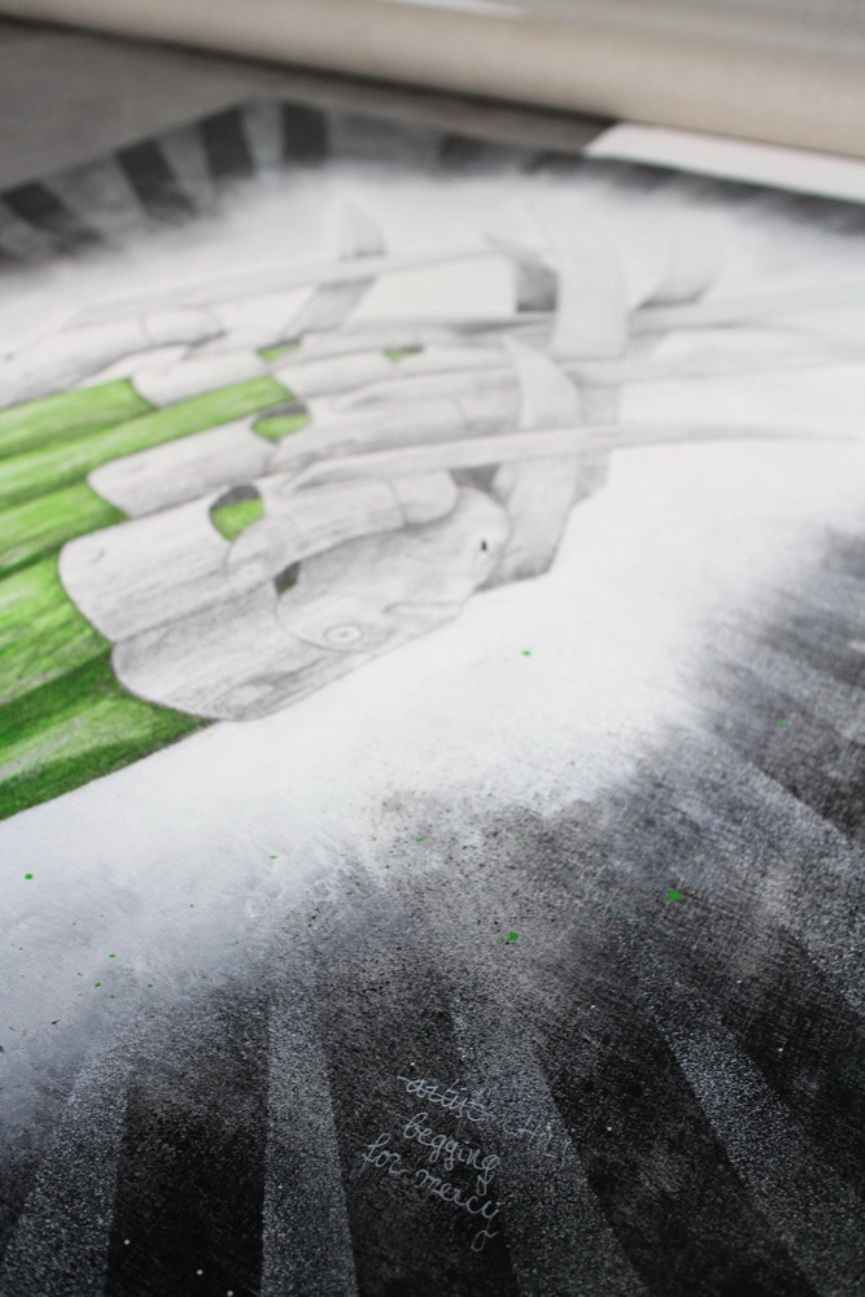 3D Street Art Modeling
Diversity in media came as the art collectors and dealers started paying attention to his art. This French street artist then commenced producing artwork that was smaller in scale, but the use of new and versatile techniques allowed him to explore the full potential of each media. Ludo was soon creating more intimate pictures, chiseled to every last detail, and more direct and simplified in terms of correlation with the viewer. This representative of new French street art is known to use 3D software as an artistic aid, and to sculpt small-scale three-dimensional pieces, as a result of technical alliance between drawing, 3D modelling and hands-on sculpting.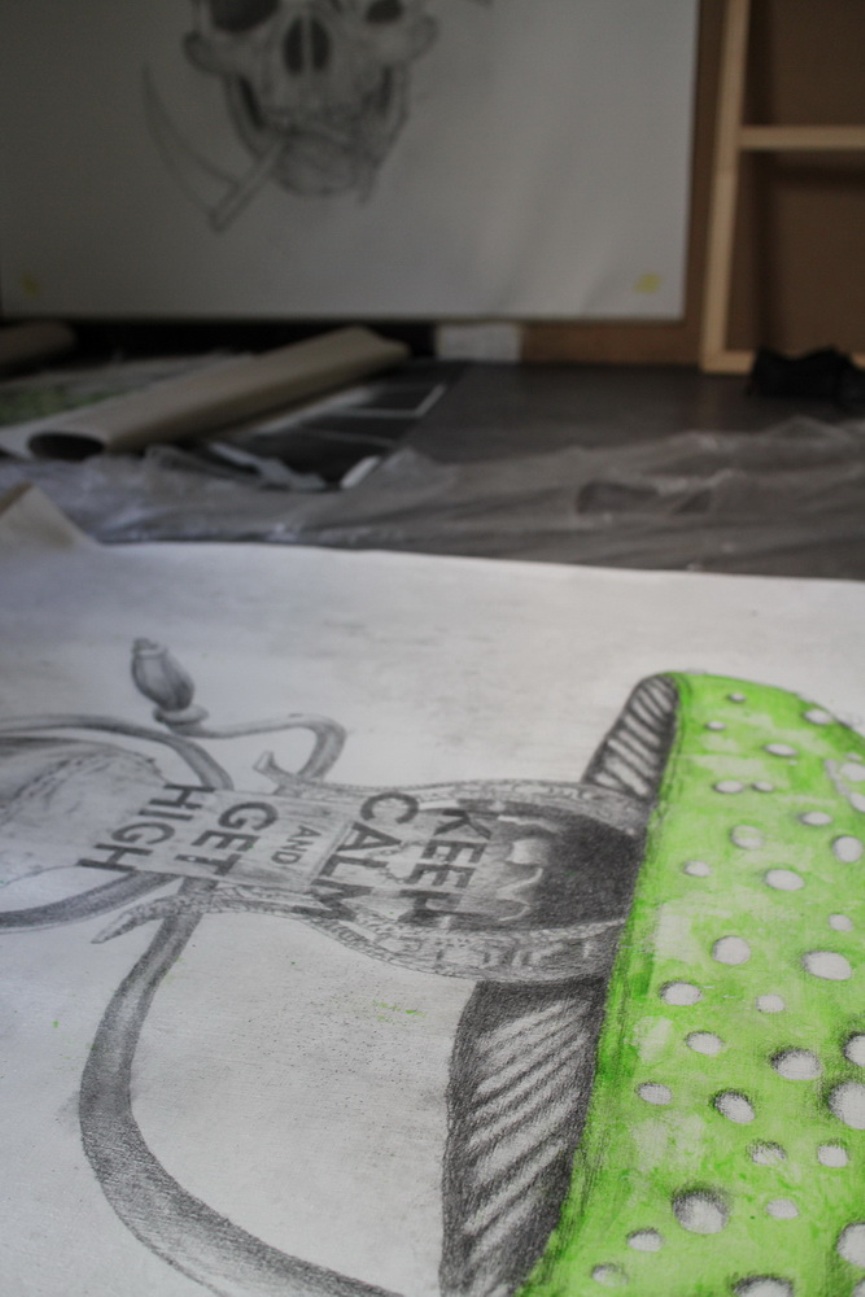 Fruit of the Doom
The approaching exhibition at Jonathan LeVine Gallery will be the inaugural solo exhibit in New York for Ludo. Fruit of the Doom will showcase the outcome of all of the artist's experiments with the media, in a selection of some of the boldest and most powerful works he has created to date. The NY public will be able to view twelve new large scale canvas paintings, and a gum sculpture of two meters in height, characterized with macabre and insectoid iconography typical of Ludo's work. The title of the show discloses a suggestive critical commentary toward the results of human deeds in general. The iconography Ludo invented answers the subject by intertwining literal images of fruit with lethal weapons, religious symbols, elements of pop and consumerist culture in attempt to emphasize all of the deformity and distortion of natural order of things. The mixed-media artwork of Ludo that will see the light of day this February is another pessimistic promise of the doom that awaits the foolish and superficial mankind if it does not correct its ways and restores the balance with nature.