The history of the examination of consumerist culture through the means of art is quite long and has been written and enriched by numerous artists. One of them is Luke Newton, a British creative who tackles the topic of mass-produced products that invade our daily life. Inspired by Marcel Duchamp himself and his world-famous ready-mades that defined an entire era in the early 20th century, he transforms mundane objects into works of art, showing their other side and invites us to contemplate on how they define and even change us effortlessly and subconsciously. The artist is eager to point our attention towards little things in life, which we could appreciate if we spent some time with them.
Crayons Not Carnage
A series entitled Crayons Not Carnage is one of Luke Newton's most acclaimed bodies of work, looking to assert freedom of expression through the use of satire and playfulness. His latest exhibition at David Pluskwa Gallery will put on display the way he dissects a society dictated by commerce and new technologies. It is, in fact, the rules among people and the field of social networking that inspire him the most, with their strong influence and powerful tools of manipulation. By playing with their own code, the artist delivers a fresh look on the world we live in, the space we occupy, the things we do, through ironic, joyful paintings, sculptures and, shall we say, installations executed with high precision and aesthetics drawing from Pop art.

A Satirical Appreciation of Everyday Life
In the art of Luke Newton, we can't help but recognize some of the symbols that define our age: hashtags, cigarettes, guns, shopping cart, iPods, even references to other artists like Piet Mondrian. However, he not only transforms these objects into another setting, he also assigns them a brand new meaning, much different from their original one, as they are now to function as artworks, masterpieces even, rather than the thing they were created to do in the first place. These products of consumerist culture are now products of imagination, testing our ability to experience them in their fresh environment and to get used to their different context.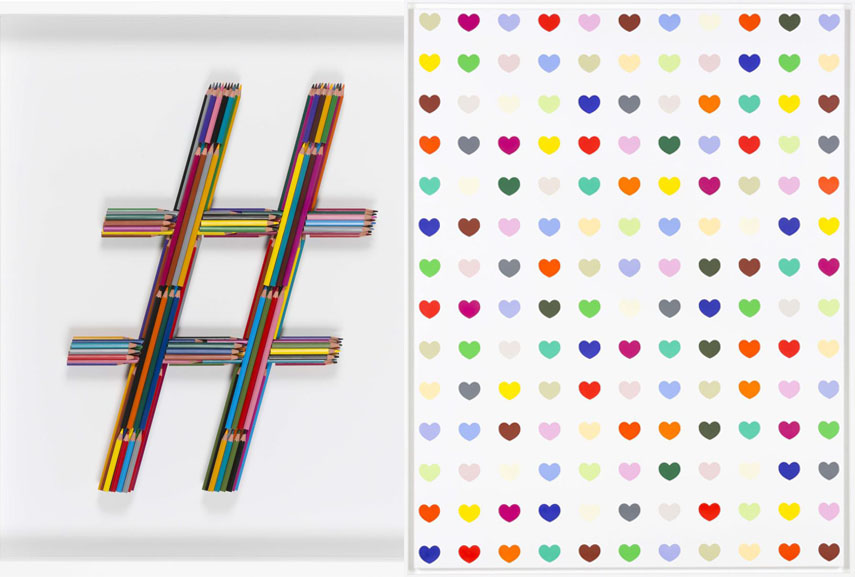 Luke Newton Art at David Pluskwa Gallery
Employing the famous British humor in his work, Luke Newton aims to stimulate imagination through paintings, sculptures, posters. A selection of these artworks, like the defence weapons made of crayons or cigarette packs built with pearls will now be a part of yet another solo exhibition of Luke Newton art will be on view at David Pluskwa Gallery in Marseille, France, from September 23rd through October 15th, 2016.
Featured image: Luke Newton - Crayons Not Carnage Série MP5 (05) 42,5x71,5x6cm; Beads Thrill (Present) 82x96x4cm; Beads Thrill (Future) 82x96x4cm; Left: #BlackAndWhite 005 acrylic on canvas 140x107cm / Right: Série #Dripping Acrylics (010) 48x37cm. All images courtesy David Pluskwa Gallery.