Numerous young artists working today seem to be quite influenced by the 1960s Pop art movement, or similar strategies more recently proposed by Jeff Koons and Damian Hirst. But what makes the contemporary appropriation of the mentioned practices worthy is the power of interpretation and representation.
It is indeed hard to position oneself as a burgeoning artist of such provenance in a never-ending flux of different art tendencies. However, the young British artist Luke Newton, apparently succeeded. By understanding the historical context and notion of historical artworks, as well as the phenomenon of Conceptual art and Minimalism, he released an intriguing artistic practice rooted in the strategies of appropriation and recontextualization.
with his second solo exhibition at Galerie David Pluskwa, the artist takes the visitors on a playful journey through his imagination filled with socially charged layers of meaning he rightfully projects on the symbolic relevance of everyday objects.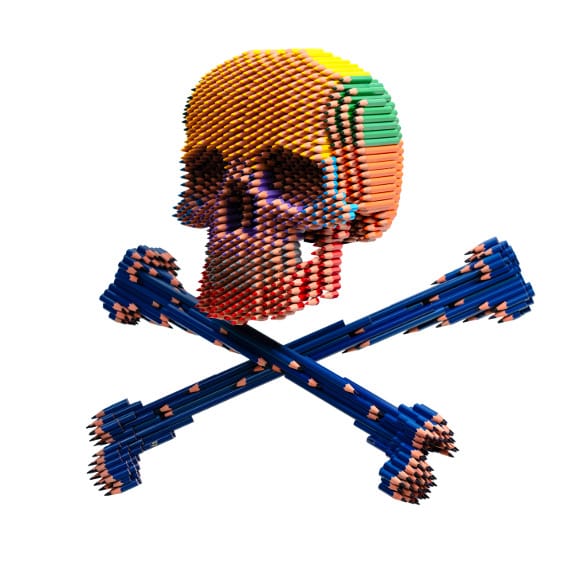 The Domains of Luke Newton
During the past ten years, Luke Newton was devoted to the ongoing research of our everyday. By appropriating symbols, objects, and using stark colors affiliated with the world of design, this graduate of prestigious Saint Martin's produces works that aim to problematize both their utilitarian and social function. The artist mainly draws inspiration from technology and sociology, while expressing himself through sculptures, paintings, and collages.
With this particular exhibition, Newton expresses his confusion over contemporaneity. Upon his intervention, the everyday objects transform into subversive works that underline the paradoxes arising from consumerism.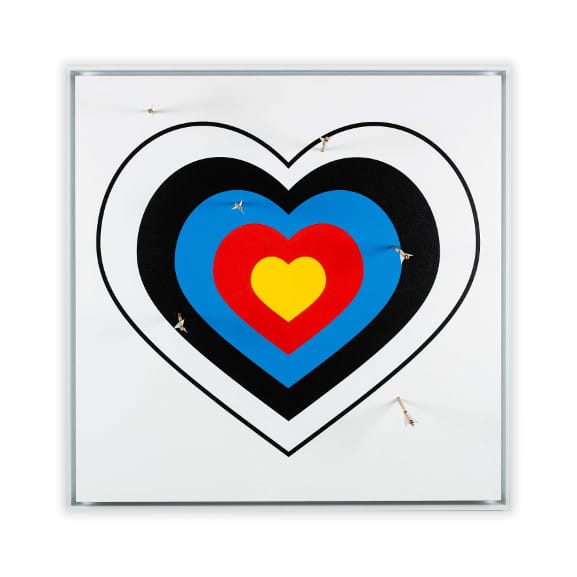 Crayons Not Carnage
The series Crayons Not Carnage currently on view was initiated five years ago after the Charlie Hebdo attacks. By contrasting the symbolic nature of pencil crayons with the forms they take as weapons, Newton creates objects that unravel the striking fragility of the written word in a world contaminated with daily violence.
The works titled Warning Signs indicate the pre-formatted emotions and actions, the ones called Heart Axes and Target Heart speak of cruel love, while his variations of Pencil objects (pistols, dynamite, or skulls), similarly to the Crayons Not Carnage series, question the symbolism of these objects.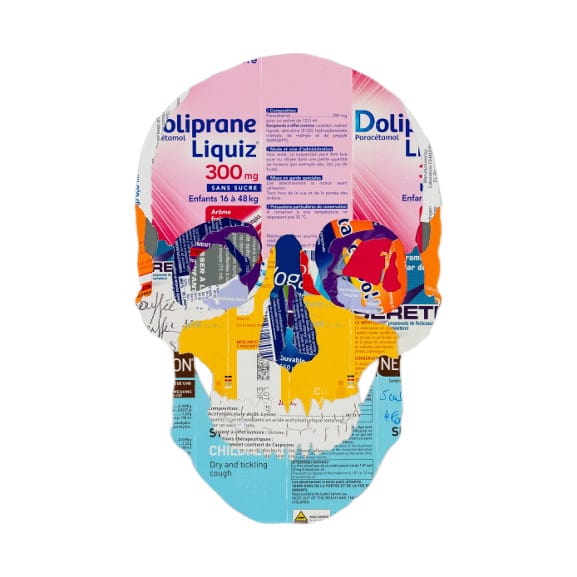 Luke Newton at Galerie David Pluskwa
The displayed works are featured without apparent correlation, like a news feed on social networks. Almost childishly, Newton fools around with humor and seriousness to unravel the implications coming out from our contemporary experience framed by constant technological and societal shifts.
Luke Newton: ! will be on display at Galerie David Pluskwa in Marseille until 28 November 2020.
Featured image: Luke Newton - RPG 7, 2020. Crayons Not Carnage series, 2020. Assembly of crayons of color, 135 x 26 x 11 cm; plinth and green, 150 x 130 x 40 cm. Image courtesy of the artist and Galerie David Pluskwa.