Luke Pelletier will soon present his new body of work at New Image Art Gallery in LA. This is the first solo exhibition for the extremely talented and multifaceted young artist. Luke Pelletier is currently living and working in Chicago, but in order to fully commit to the preparation of the exhibit he spent some time painting in his hometown of Brevard. Luke Pelletier's inspiration to the small tourist town where he grew up is ever present in his works and it is noticeable the most when it comes to his choice of presented themes and motifs. He is one of the risings stars of US contemporary art scene and perhaps Tourist Seizin' exhibition will open the way for Luke Pelletier to the wider audience.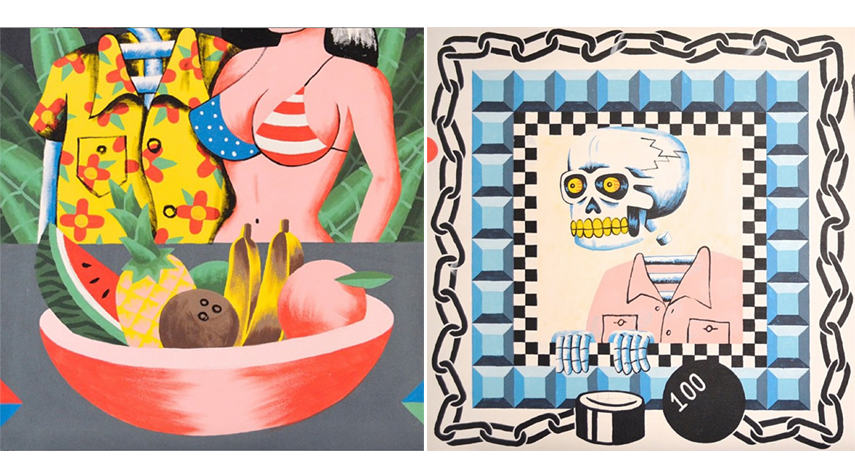 Tourist Seizin' and Tourist Culture
While growing up in Brevard, a big part of his childhood and teenage years were spent in skateboarding, playing in the band and drawing. The tourist economy dominant in the hometown of Brevard in the North Carolina and specific way of life in a tourist city is what left a pretty big trace on his creative production. The summer excitement and joy of life and that carnival-like spirit of summer season of are often juxtaposed to those desperate and gray moments of boredom once the tourist season is over. The juxtaposition is best seen in those artworks which bring colorful, lively and exotic characters pervaded with the traces of deterioration and decay.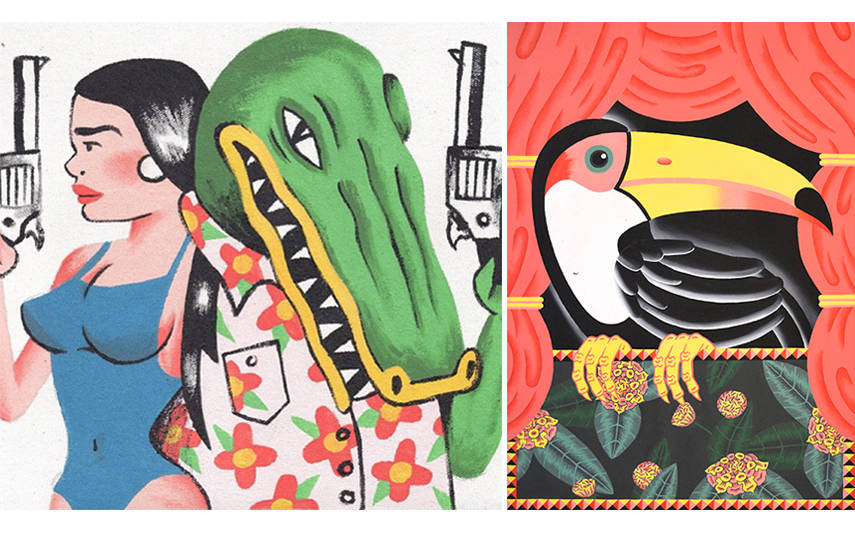 Luke Pelletier in LA
Just like he enjoys working in the different mediums the Tourist Seizin' exhibition will feature a variety of works including photographs, paintings, sculptures prints and collage works. His artistry gathers a range of influences, although most recognizable symbols are those of the American lifestyle, culture of tourism and consumerism. Americana influences and punk rock inspired imagery are also present in Luke Pelletier's work, which is no coincidence, as he is also a promising musician. His musical and visual achievements are both ironic and satirical, exploring the paradoxes of the consumerist culture and service oriented economics. Luke Pelletier stated on several occasions that he is also quite interested in the economy, social justice and complex human relationships and the theme mostly explored in his artistic practice is the American cultural identity.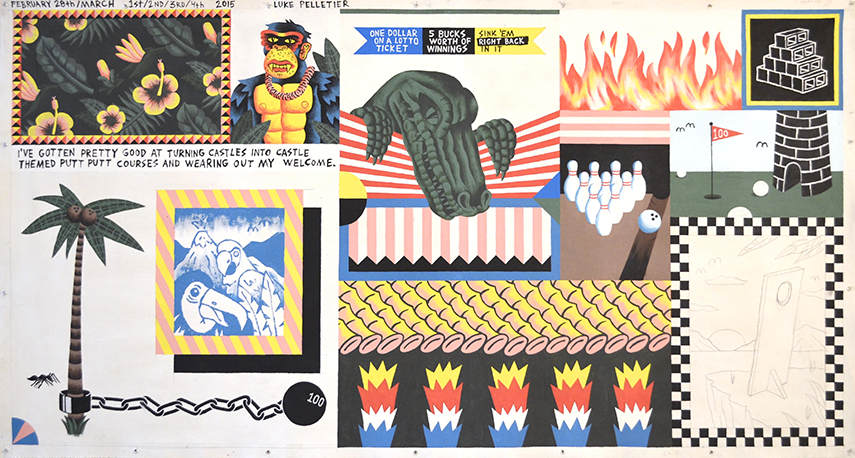 Luke Pelletier Solo Show at New Image Art Gallery
The Tourist Seizin' exhibition is the first solo showing for Luke Pelletier, who just recently graduated the School of the Art Institute in Chicago, but we do not doubt that it is only first in a row for this multitalented young artist. The exhibition of Luke Pelletier's work will be on view from August 8th to August 29th at New Image Art Gallery in West Hollywood, California and it will be a great opportunity for those still unfamiliar with his artistry to have a closer look of what new and fresh ideas Luke Pelletier has to bring to the contemporary art scene.
Seize your opportunity to be constantly informed about the upcoming art events and sign up for My Widewalls FREE of charge!
Featured images:
Luke Pelletier - Locals Mostly - 2015 - Acrylic on canvas - 58'' x 36''
Luke Pelletier - Seems Like I'm Always Chasing or Running From a Feeling - 2015 - Acrylic on unstretched canvas - 16'' x 20'' – detail
Luke Pelletier - Ya Wanted To Be A Dancer, But Ya Ain't Got The Right Feet For It - 2015 - Acrylic on canvas - 24'' x 36'' – detail
All images courtesy of New Image Art Gallery
Luke Pelletier at New Image Art - Artworks Pricelist