On the evening of May 26, a lot of Belgrade friends came to the local cafe to greet Slaven Kosanović, better known by his moniker Lunar. An artist celebrated within the graffiti circles of the Balkans and beyond, he is here to present and sign a book that gathers three decades of his work. Also at the event are Artez and TKV, two quite familiar names from the Serbian graffiti and street art scene, but the focus, of course, is on their Croatian counterpart.
From Zagreb With Love is a comprehensive, almost encyclopedic volume that begins as a love letter to Lunar's home city, and evolves to illustrate an artistic journey around the globe. Across the book's 300+ pages, one can see - and read - about his development as an artist and as a person, from his first-ever encounter with drawing until this very day. The pieces and artworks in the book are also sometimes described by Lunar's countless friends and colleagues, testifying to the immense respect that he continues to build upon within various cultural circles.
Lunar's excellent publication is currently going on tour around Europe, so if you are somewhere near countries like Portugal, The Netherlands, Germany, France or England, make sure you stop by and get yourself a copy, as I promise you won't regret it. In the meantime, we caught up with Lunar during his book presentation in Belgrade, where we talked about how From Zagreb With Love came to be, what it means to publish it, and where it will take the artist in the future.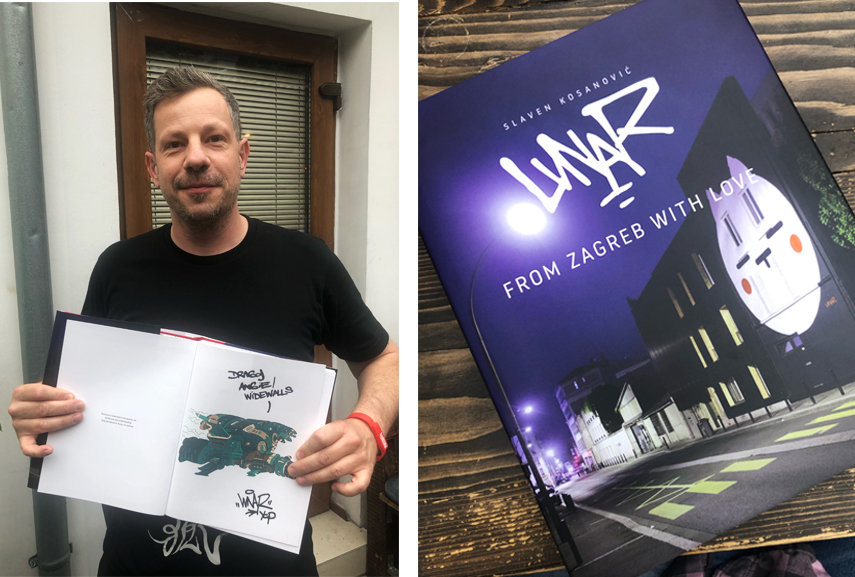 From Zagreb With Love
Widewalls: How does it feel seeing everything you've done in one place, on paper like that?
Lunar: Actually, I had [previously] made a selection for the book. After reducing it with my team, we came to 1/4 of the photos.
It was a shocking process in the start, I felt so bad throwing out pieces which evoke nice memories but soon I understood the message needs to become significantly clearer, otherwise we would get a graffiti collage, a chaos. I always thought of design and architecture for example as an art form which requires much more brain and ratio included in the process.
Eventually, it feels better having a well-organized body of work than a mess.
Widewalls: What were the criteria in selecting works that you will feature, as opposed to those which you didn't?
L: Several old photos needed to enter the book to illustrate the early days. For the rest, I intended to capture the important moments in development and experimenting as well as to bring as many good photos as possible. In many places visited, there were good photographers around to take shots of the works done and I am happy that they were present.
From the late 2000s, my brother Ivo Kosanović Smack started carrying his pro camera along and taking good shots. Still, the other pros jump in here and there because he also paints for most of the time.
There were quite a lot of connectors, some call them joiners (panoramic photos of longer walls with styles next to each other) skipped. Most probably some will be used for the "30 years of YCP" book, which we plan for the year 2022, to celebrate our crew anniversary.
Widewalls: Different texts take up a big part of the book. Why was it important to tell these stories this way, aside from providing a visual narrative as well?
L: I am also a communicative person who interacts with people all the time, aiming to learn and exchange experience. Every photo of a painted wall has some story attached to it and my initial ideas of writing a book were to write memoirs. Then I decided I was not that skilled in writing so I decided to just spice up the photos with some stories. To be more authentic, I think it was a good idea to share stories of my friends and colleagues as well because the works shown are not only mine but include a lot of artists whom I had the luck to work with.
Widewalls: After presenting your book in Croatia, you are now doing the same in Belgrade. What's your relationship to the city?
L: In almost every city I visit, I feel at home within a couple of days. It depends a lot on the friends who live there. I was born in Yugoslavia and was lucky enough to have a happy childhood during the 1980s. Sometimes I was thinking how it would feel to be old enough to experience that decade properly but maybe it was better not to. It remains in my memory as a wonderful time and I still enjoy 1980s movies and music most likely because it subliminally reminds me of a careless childhood. Then harsh reality entered the stage by the end of the 1980s and graffiti was our window to the world of friendship and imagination. There is a quote from Sebas Velasco in the book where he mentions us as Non-aligned artists. I remember Tito's Non-aligned countries as an honest try to avoid the repression of former colonial forces towards the so-called Third world. I believe it was a noble idea.
Unfortunately, the history, the politics and the human kind, after all, are not simple mechanisms and I do not consider myself a naive kid anymore, too. I am perfectly aware I do not fit into the system and I do not intend to. A system is not a person but a cluster of different people, everybody trying to grab his own prosperity. For that reason, I am connecting with people who share the same passion for the work they do (Not only artists), for the normal relations and collaboration. A dialog and sharing lead to progress and happiness. Keeping yourself isolated lead to fear, incompetence and anger.
My relation to the entire area where we don't need to translate our words is closer than to other cities, for sure. I was once in Belgrade in 1988, when my parents visited their friends. Next time, I think in 2000 I met the Bg Illegal guys in Ljubljana and Cobe visited me in Zagreb soon after to paint. Then Phillie went to visit his grandparents and I asked him to leave me on the entrance of Belgrade, while Bougie and Soter came to pick me up. We painted for days and that's how my graffiti story with Belgrade began. I watched the scene change, same as it happens in my city or any other. I spent most of the time in 2000s painting with Angel and Lortek, mostly in Belgrade, Zagreb and Sarajevo but also visiting other cities, like Hanoi, Luxembourg or Amsterdam, to name some.
After quite some years, it is always fun to attend parties and feel like at home. It is also hard to tell how much paint we have spent in Belgrade so far but this is going to continue for years I hope. :)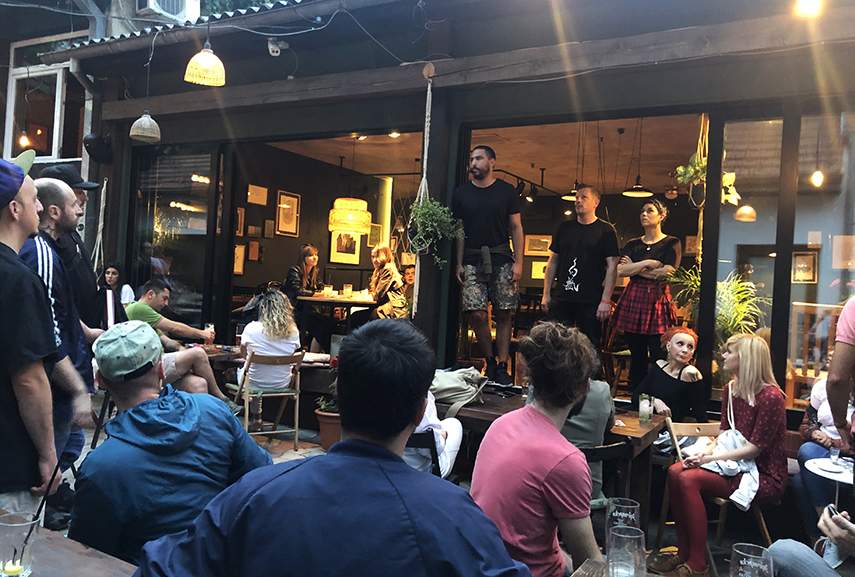 The Art of Lunar
Widewalls: You've been around thirty years, witnessing the changes in graffiti both at home and abroad. How would you describe them? 
L: The scenes are etheric entities, people come and go. It's simply biology. Some people are fed up and tired, new ones come, decide whether to adopt the legacy or not and start making the name for themselves, taking their own path. The result depends on several factors: The persistence and the personality. A bit of luck might spice it up for some lucky ones.
Widewalls: Can we expect a publication dedicated to the other art media you also work in?
L: I tried to embrace some examples of my work in other fields within this book. I might collect the illustration part at some point in my further career but for now, I am not very eager to do that. Artworks, canvases, mixed-media would be nice to take some proper shots of and put them together in some publication, there is a lot of that stuff I produce all the time but hardly find time to exhibit. It makes me happy and I would love to focus a bit more on it in the future.
Widewalls: What's next for you?
L: After Belgrade there will be Sisak, then Hamburg and Amsterdam launch, while London is being planned. In the meantime, there are trips to Portugal and Germany booked for some lectures and painting, some festivals and projects across Balkans, as well as my radio show at Yammat.fm every week.
Featured images: Lunar - Blushing cat, Paris 2017. Photo Ivo Kosanovic; Lunar From Zagreb With Love Book, courtesy Widewalls; Lunar at work, photos by Christian Hvass Birkebaek and Francois Debains. Images courtesy the artist.