Street art lovers from Melbourne were pleasantly surprised by the news of LUSH creating a pop-up show on a secret location in Melbourne. The news appeared a few days ago, and it was announced that the art event would take place on a secret location. However, the secret location was soon revealed (via social media) – LUSH pop-up show takes place in famous Melbourne street art lined Hosier Lane. The exhibition was opened on August 28, 2015, and it will be on view until it gets shut down (since it is illegal). This intervention by Australian street artist is quite provocative – satirical, and with a funny, ironic poke at traditional galleries and art happenings and it is produced by Backwoods Gallery from Melbourne.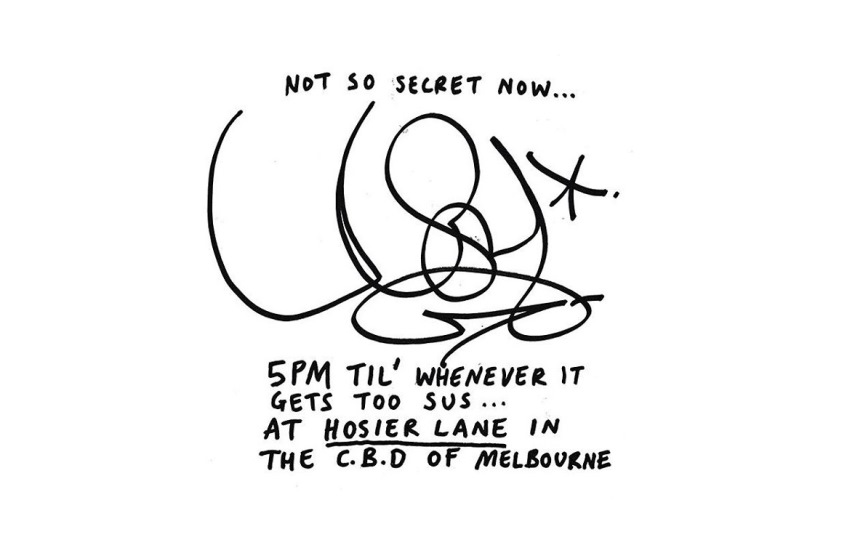 LUSH Pop Up Show in Melbourne
All street art lovers are familiar with the work by LUSH – one of the most recognized Australian graffiti and urban artists, who has a reputation of Australia's number one anti-hero. His highly satirical worldview is perfectly reflected in his art, while his appealing graffiti have been revitalizing the urban art scene not only in Melbourne, but worldwide. LUSH Pop-Up show in Melbourne has all characteristics of the artist's unique and provocative style. The walls of the laneway have been painted in red; the floor has been covered by red color as well. Velvet ropes were put alongside, while seriously looking security guard are doubling the gallery attendants. Among visitors, this type of scenography creates an illusion of visiting a traditional art gallery or museum. The next section of the improvised gallery wall is buffed in light grey, with artworks presented around. Finally, the third stage of the exhibition is filled with a number of small canvases painted by LUSH (however, two men came and buffed all of them). There are also a number of other activities within this temporary gallery. For example, two ladies supporting LUSH appear giving out LUSH-tagged condoms.
The secret location of LUSH Pop Up Show is Revealed! It's Hosier Lane!

Hosier Lane and Melbourne Street Art Scene
Hosier Lane is a much celebrated landmark in Melbourne mainly due to its sophisticated urban art. It's generally perceived as one of the centers of the Melbourne street art scene. However, there are other opinions on this Hosier Lane fame, by people who believe that the Hosier Lane "street art cluster" is an attempt by Melbourne City Council to control graffiti in the city. In regard with these Hosier Lane "controversies", it is important to mention that the LUSH Pop Up is actually a guerilla project, conducted  without any knowledge or permission of the city council. No matter what opinions about Hosier Lane are, Melbourne street art scene is amazing, and you can read about it in our Melbourne Art Travel Special. When it comes to LUSH – well, he is globally celebrated for his anti-heroism. He is the only Australian artist included in the Banksy's Dismaland project. Anyway, hurry up! Go to the Hosier Lane to see the latest intervention by LUSH. The exhibition might be closed soon.
Finally, we managed to get some answers from LUSH himself, and these are his comments and reflections on the show:
Q:Why do the show? Make money and cash in on Dismaland?
A:Obviously.
Q: Why Hosier Lane?
A: Central location, easy access to methadone clinic and so on.
Q: What the pieces meant?
A: Most of them were write offs from my studio floor, then the rest were sold this week after the Dismaland show. Might as well show them before they disappear into a collectors storage garage.
Q: Why you had the girls there?
A: Sex sells? People like tittys? No real solid thought behind.
Your opinion is valuable to us! Please join us for a discussion on our Facebook page.
Sign up for My WideWalls for FREE and be up-to-date with contemporary and street art!
Featured Images: LUSH Pop Up Show in Melbourne (courtesy of streetartnews.com)