Those lucky enough to find themselves in Stockholm during the next few months will have an opportunity to see Lygia Pape's installation Ttéia 1, C first-hand, as it will be displayed at Moderna Museet.
With its shimmering golden threads carefully strung into geometric shapes, this masterful artwork takes up the entirety of a room, covering space from floor to ceiling.
Ttéia 1, C can be interrelated as the culmination of Pape's career-long interests in installation art and the application of geometric shapes to artworks.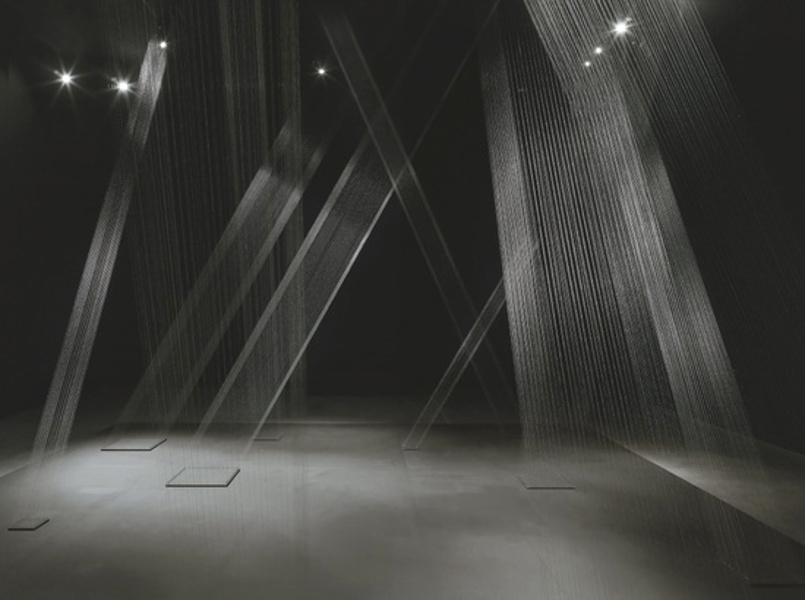 The Proficiency and Grace of Lygia Pape's Installations
As one of the key protagonists of the Concrete and Neo-Concrete movements in Brazil, Lygia Pape has had an undeniable impact on the development of the international conceptual art. Initially inspired by the formal geometric abstraction, Pape started out by making patterned constructions.
She eventually broke beyond the constraints of this style by beginning to concentrate on the inclusion of art into everyday life, becoming a key figure of the Neo-Concrete movement.
Lygia Pape's experiments with architecturally installed wire interventions began in the year of 1978 and they evolved significantly over time. In many ways, Ttéia 1, C is the crown jewel of her interest in this medium and it was created in dialogue with the individual's embodied engagement, as the artist herself explained on numerous occasions:
Because to me, art is a way of knowing the world... of seeing what the world is like… of getting to know the world.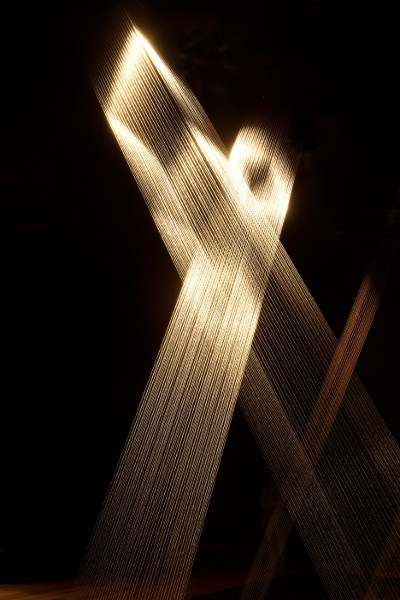 Ttéia 1, C
Ttéia 1, C can be linked to Pape's longstanding interest in liberating the artwork from a static form. The work's title is a Portuguese play of words on teia, meaning web, and teteia, meaning something or someone of grace.
Ttéia 1, C reveals a lot of the artist's earlier interests in the geometric language, echoing some of her early artworks such as asRelevos (1955-56) and Tecelares (1956-57). It's constructed with metalized threads uniting architectural elements into a singular unit.
The installation resulted from experiments Pape initially began conducting in 1977 with her students at the Parque Lage School of Visual Arts when they were using threads stretched in nature. Over the course of years, Lygia developed other versions of this experiment.
This mesmerizing artwork is arguably the most important piece of Lygia Pape's late life. Ttéia 1, C represents the culmination of the artist's interest in "threaded" art and it stands as an ideal format to which Pape devoted nearly her entire career.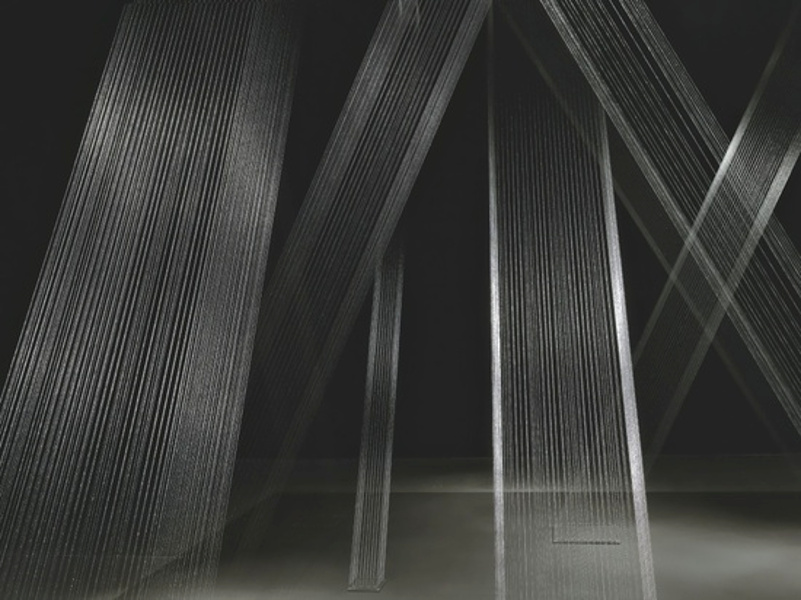 Lygia Pape Art Exhibition at Moderna Museet
By adapting her own concepts with constructive ideas of European avant-garde movements, Lygia Pape directly participated in the renewal that marked Brazilian art at the time. For that reason, she was regarded as a leading representative of the Brazilian art on the international stage during the second half of the 20th century.
Lygia Pape's Ttéia 1, C will be on display between the 2nd of February and the 13th of May 2018 at Moderna Museet, Stockholm.
Featured image: Lygia Pape - Ttéia 1, C, 2003/2012. Photo by Paula Pape. All images © Projeto Lygia Pape, Courtesy Projeto Lygia Pape and Hauser & Wirth.