The act of masking is often present contemporary art and it can signify many things; yet, artists very often use masks in order to underline the issues of cultural appropriation, spiritual practices or strategies of social resistance. It is inevitable to mention that in anthropological terms, the mask is an important sacred object, and a sort of a tool for sexual liberation, transcendence, and higher state of consciousness.
The new project of the established American artist Lyle Ashton Harris is entirely focused on the use of masks. Namely, by employing the traditional genre of self-portrait, the artist continues to explore the topics of sexuality, race, gender, ethnicity, class and aging and those works will be presented within the exhibition titled Flash of the Spirit at Salon 94 Bowery in New York.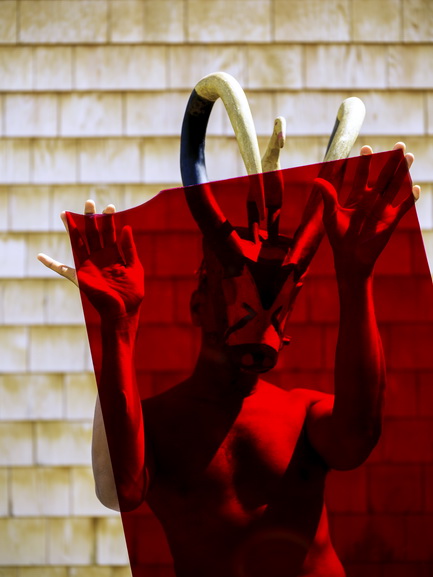 The Ancestral Context
In order to create these captivating photographs, Lyle Ashton Harris used a number of masks, some of them borrowed from his family's collection of African masks belonging to his uncle, Harold Epps, who traveled throughout West Africa in the 1960s.
Accordingly, the masks were a common thing for Harris growing up, and they are part of his cultural heritage, so it is not unusual that he employed masquerade in many works throughout his thirty-year-long career. Furthermore, the artist's appropriation of masks is bounded in his articulation of history, race, gender, sexuality, mythology, and memory.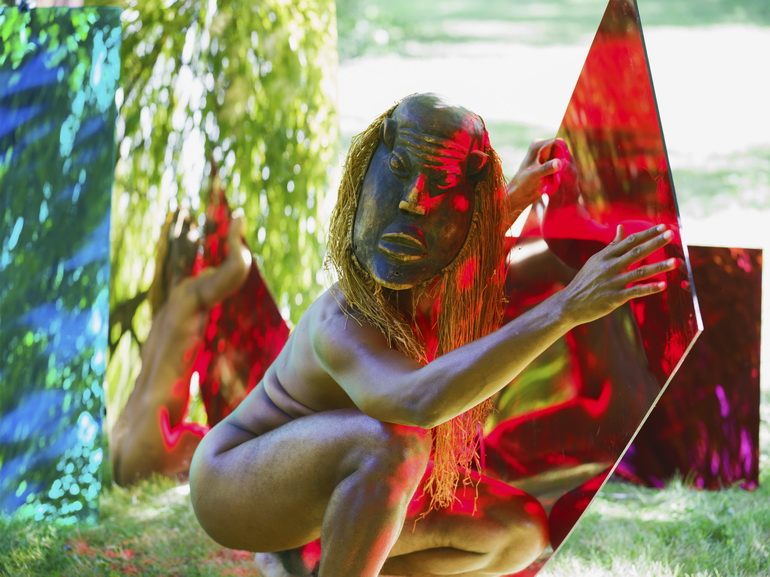 The Exhibition Highlights
These new cinematic images were taken in natural environments which makes them different than the earlier ones produced in the studio. The idyllic landscapes such as Germantown in New York's Hudson Valley, Provincetown, Massachusetts, and on Fire Island, New York became backdrops for enigmatic masked figures engaged in a bold, uninhibited ritual; the artist's body is freed, disobedient and it represents at the same a sci-fi superhero and an stereotype.
All of those mid-to-large-scale self-portraits can be perceived as photo performances, so the ritualistic gestures expressed by Harris himself can be perceived as strong and quit subversive socio-political statements.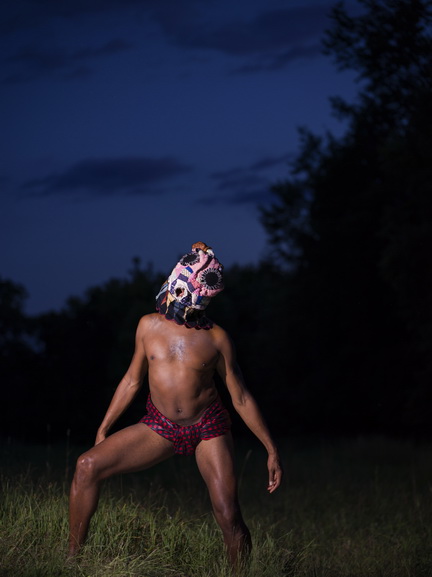 Lyle Ashton Harris at Salon 94 Bowery
The conclusion is that Harris decided to produce these series in order to question and presumably deconstruct his own position as an artist managing different roles - as a performer, educator, son, brother, and friend, and a Black queer man of the diaspora in America.
The primal, dramatic and slightly berserk latest works exemplify the mastery of the false self, a syntagm artist used to describe his early photographic practice. Furthermore, they reveal Harris's fascination with the ritual as a form of political and social resistance.
Flash of the Spirit will be on display at Salon 94 Bowery in New York from 9 November until 21 December 2018.
Editors' Tip: Lyle Ashton Harris: Today I Shall Judge Nothing That Occurs: Selections from the Ektachrome Archive
Throughout the late 1980s and early 1990s, a radical cultural scene emerged in cities across the globe, finding expression in the galleries, nightclubs, and bedrooms of New York, London, Los Angeles, and Rome. In Lyle Ashton Harris: Today I Shall Judge Nothing That Occurs, the artist's archive of 35 mm Ektachrome images are presented alongside journal entries and recollections from a host of artistic and cultural figures. It offers a unique document of what Harris has described as "ephemeral moments and emblematic figures shot in the 1980s and '90s, against a backdrop of seismic shifts in the art world, the emergence of multiculturalism, the second wave of AIDS activism, and incipient globalization."
Featured image: Lyle Ashton Harris - Nocturnal Guardian #1, 2018. 36 x 27 inches. All images courtesy of Salon 94 and Lyle Ashton Harris.