It was a happy day in Bristol, as Grim Reaper is finally safe and no longer dead in the water. The celebrated Banksy artwork found a new home in the shape of the M Shed Museum, a local art institution that welcomed the piece of street art and saved it from rotting away. It was last year that DHP Family, a music promoter company and the owner of the ship and nightclub Thekla, agreed to donate the work, which was originally painted on their venue around 10 years ago.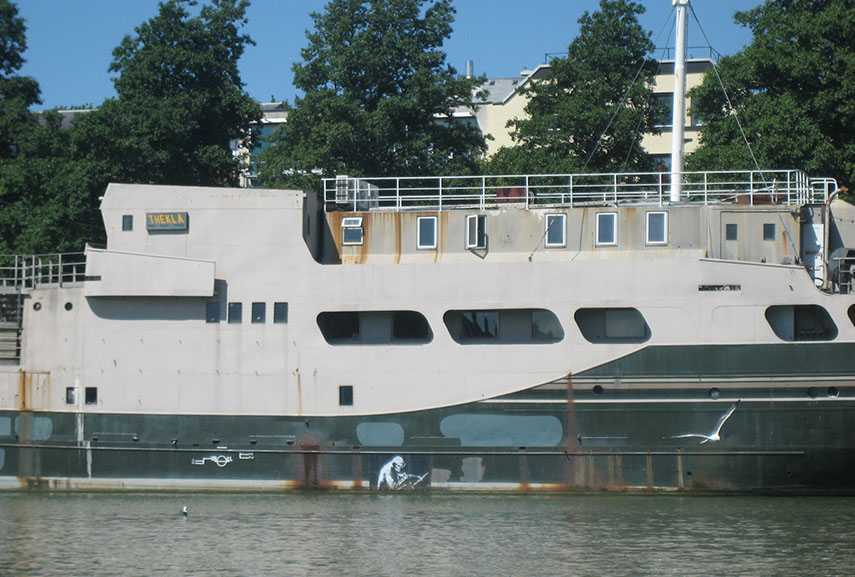 Banksy's Grim Reaper Finds A New Home in Bristol
Facing deterioration due to the rusty surface of the ship and the timely exposure to the elements, Banksy's Grim Reaper was bound to disappear before the members of DHP Family recognized its iconic status and set on a quest to preserve it. In search of the work's new home, they approached Bristol City Council, and upon their agreement, the workmen cut out and removed the painting from Thekla last August, while the ship was out of the waters of Bristol harbor. As Grim Reaper abandoned its initial habitat, it was never intended to disappear from view. From Thekla, it was moved to the storage facilities of Bristol Museums, Galleries & Archives and assessed for conservation. Now, almost a year its rescue operation had started, it was put back on display on June 3rd at Bristol's M Shed Museum for all the locals to enjoy all over again. A true happy ending!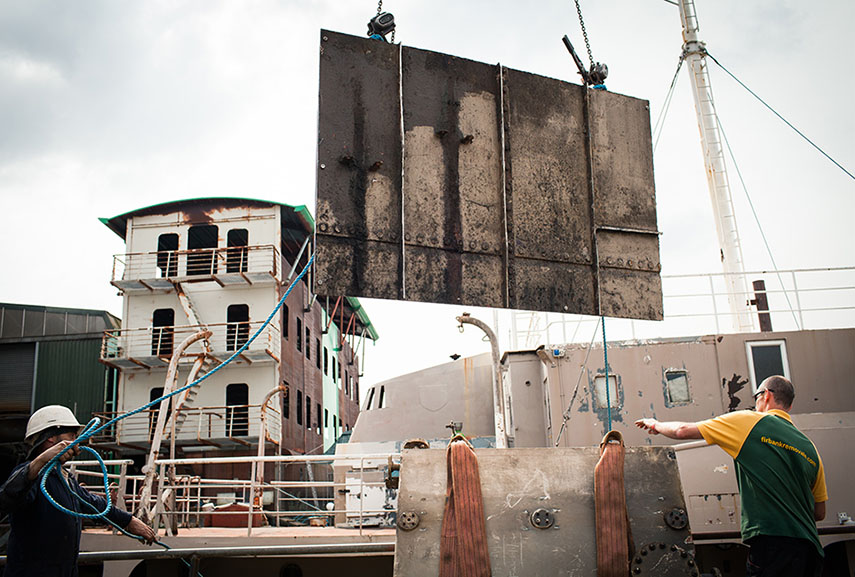 Is Banksy Still News? Yes
Whether he likes it or not - and he probably does - Banksy keeps on grabbing the headlines, and quite often too. Let us remember that recently, he painted an artwork in war-destroyed Gaza strip - which was then bought for a ridiculously low amount of money. Before that, there was a guy in Brooklyn who was arrested because the police thought he was Banksy. He wasn't. And before that, there was the Spy Booth. Well. That artwork just couldn't be left alone. In other news, his artworks are selling like crazy, although that's old news really, and we're kinda used to that nowadays. Hell, even Leonardo DiCaprio owned a Banksy until recently…
Until next time we talk about Bristol's own Banksy, yet again, we invite you over to our Facebook page 'cause we want to know what you think!
In the meantime, you can sign up for My Widewalls and make sure you never miss a headline!
Featured image: Members of DHL Family and Bristol Museums, Galleries & Archives with Banksy's Grim Reaper at M Shed Museum Bristol. Photo via artdaily