Wow, my last couple of weeks have been extremely busy. I guess when you hear least of me is the time when I work hardest.
The first part of my summer's adventures that I'm going to share with you was the mural painting in Dortmund Germany. 44309 Gallery had invited me to paint a mural, well, 3 murals on one building, to be exact. In German, the house is called "Haus der Vielfalt", which I'd translate as "House of Diversity". 40 different nations meet there to play music, learn languages and all sorts of things. The building is owned by the city and used to be a school. It wasn't easy for the gallery to get permission to paint it and also to agree on an artist whose work would fit there without setting tight guidelines. In the end there I was, facing 2 walls roughly 15 meters high and 10 meters wide and a long wall of 42 meters length with lots of windows that needed a partial decoration.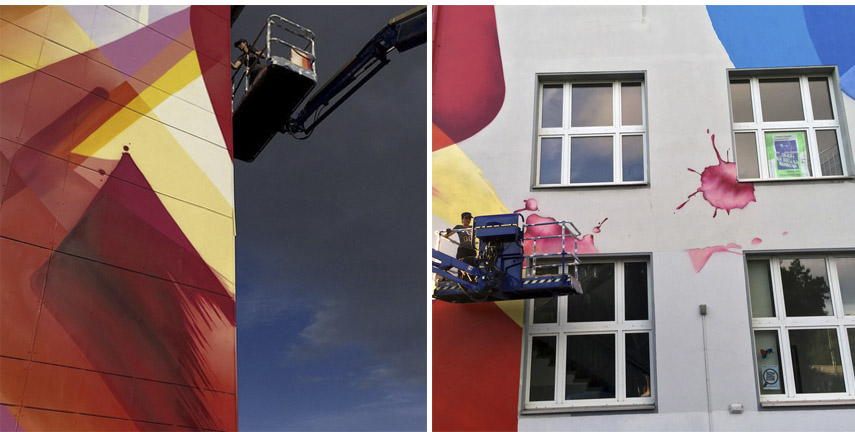 MadC - Mural Troubles of the First Day
The first day of painting is always a pain. Then you find out what isn't working or what is missing. In this case the Cherry Picker gave me and my assistant Reno a constant and annoying warning sound (beeeeeeep), because the ground wasn't even and the machine was tilted. It doesn't work properly then and won't go up high. After about 2 hours we found a position in which the machine would work only to find out that the lift didn't reach high enough to get to the top of the wall. So instead of starting on the top, which I usually always do because of the dripping paint, I started painting in the bottom to finally start somewhere.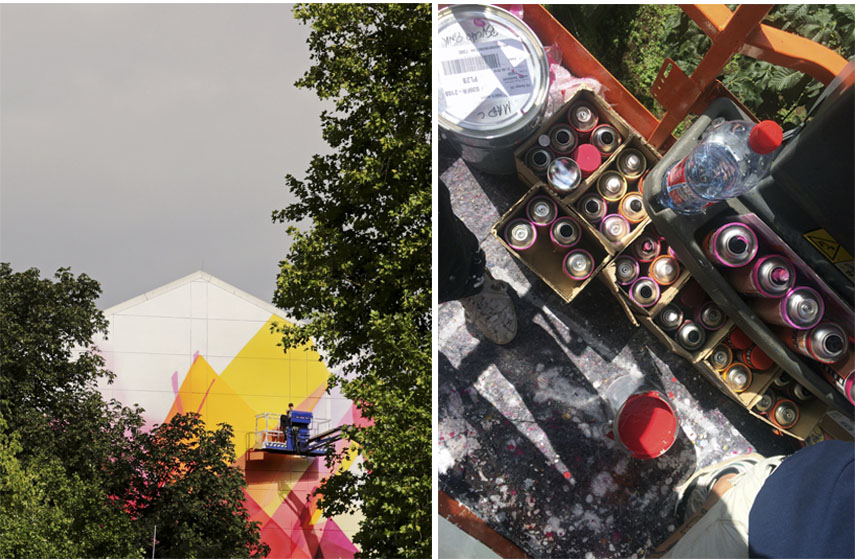 Challenging Dortmund Weather
The second day we managed to paint quite a lot, at least we finished the part that the cherry picker would reach. The gallery organised another, bigger lift that we'd get in a few days time. So instead of finishing the wall, we painted the partial bits on the long wall instead for two days. On day 5 we didn't even start painting since it was raining heavily all day. Even though I don't like being unproductive it was a nice change to sleep long and to reply to some of my hundreds of unread emails. We also enjoyed a nice dinner at a Tapas restaurant. I love Pimientos de Padrón and Tortilla.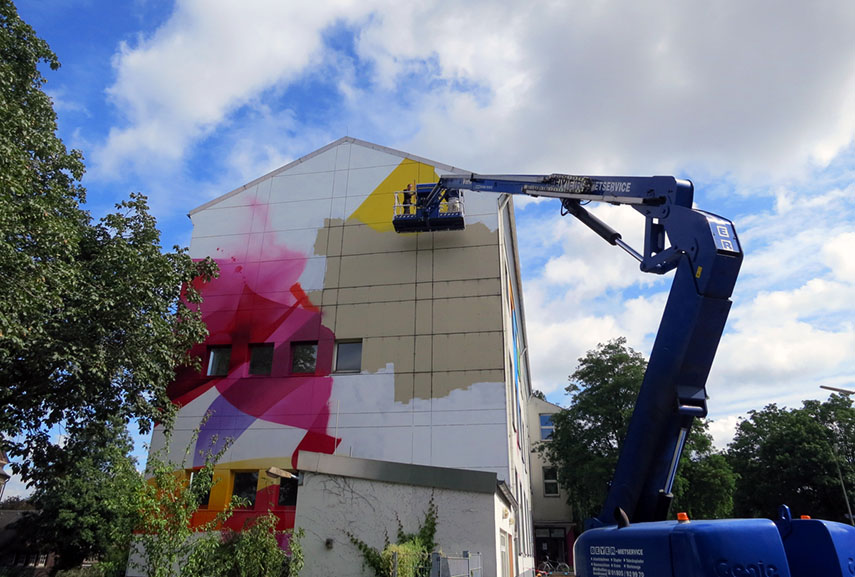 Success!
With recharged batteries we went to the wall early the next day and managed to finish it 80% with our wonderful new lift that easily reached the top. The last day we finished the mural and I wrapped parts of it around the corner, which is a nice feature when you drive past it. We finished in the evening and drove home for 5 hours. We took turns in driving, talked all the way and listened to music so not to fall asleep. After such a long day, it feels like heaven to finally go to bed.
In October we will return to Dortmund to finish the third and last part of the building. Let's hope for good weather.
Make sure you listen to our exclusive podcast interview with MadC here!
Stay tuned for more chronicles from MadC Diary! In the meantime, sign up for My Widewalls and enjoy art for free!
All images courtesy of MadC.