I am back in London! I came here for the first time in 2006 to study at Central Saint Martins College. Through the past 9 years I learned to love the city and its people. On this visit I am here for 3 reasons - number one is my upcoming solo show at Pure Evil Gallery, number two my new book Mural XXL that just hit stores in Britain and a new mural, that I finished some days ago in Dulwich. Ingrid Beazley, the mastermind behind the Dulwich Outdoor Gallery, invited me to paint another wall based on a painting of the Dulwich Picture Gallery. I have painted a small wall based on a painting of Van Huysum in 2013 in Belair Park for the Dulwich Street Art Festival.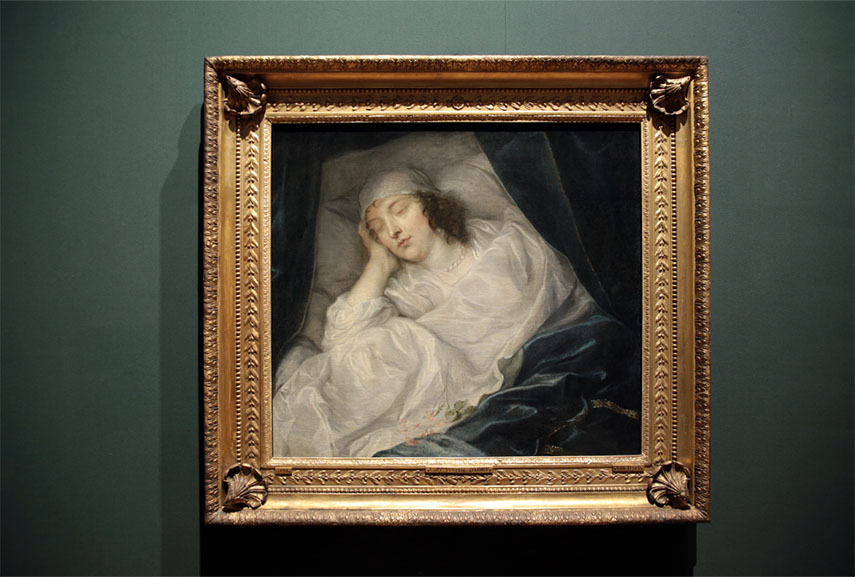 Anthony van Dyck Reinvented by MadC
To base your work on an old masters painting without loosing your own style is quite a challenge. I went through the Gallery's collection and settled on the painting of Venetia, Lady Digby, on her Deathbed by Sir Anthony van Dyck. The story around it is pretty sad and mysterious. Go ahead and read up about it if you want to know more about the story of Lady Digby. The painting is calm and powerful at the same time, so I decided to drop my letters for once and make an abstract version of the painting's composition instead.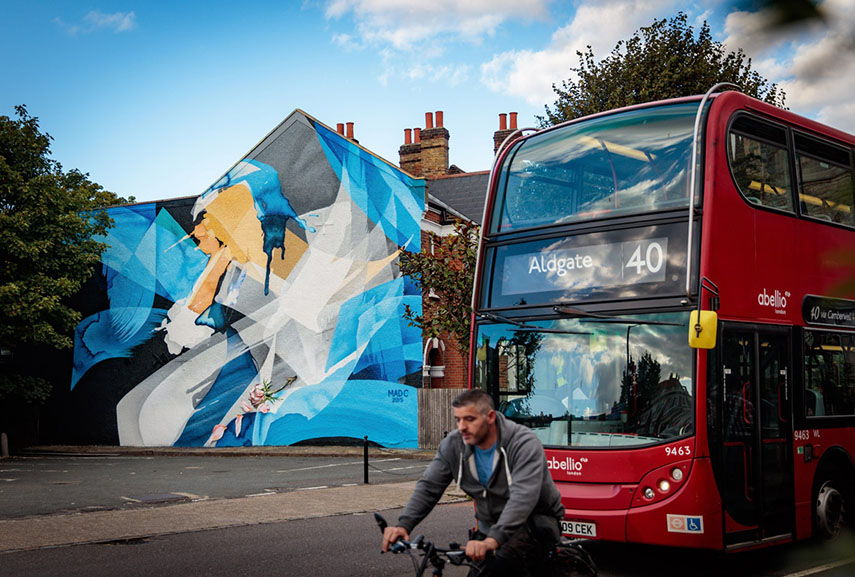 The Mural Painting Process
Since the weather here is always unpredictable I blocked 4 days for the mural. My assistant Reno joined me once again and so we both went from the airport directly to the wall. Ingrid had organised everything perfectly, Molotow had sent the paint and I knew the Cherry Picker by heart from previous mural paintings, so no machine troubles for a change. Even though it was evening already and I had slept only 3 hours the previous night, I sketched up the wall until 10pm that night. Sunday, the next day, was perfect - sunny, no wind, ideal temperatures. The wall is 9 meters high and about 16 meters wide and you find it right next to a Pub - The Plough. The good people of the pub supplied us with food and drinks during the day. We managed to finish half of the mural - luckily, because the next day the rain started. We painted for about 2 hours until we had to call it off. Instead of painting in the rain we spent the rest of Monday in good company of Remi Rough who showed us around. Tuesday started with heavy rains and ended with heavy rains. So we didn't even start painting. Finally, on Wednesday we had fantastic weather again. We started painting at 9am and finished the wall at 7pm.
I'm really happy with the wall. I managed to transform my watercolour sketch into a mural and when you know the painting, you see where the inspiration for the wall comes from. I'll relax for the weekend and then it's time to prepare my show and have some meetings about future walls and projects here in London.
For latest MadC exhibition, art and featured artworks,

sign up for My Widewalls

!
All images courtesy of MadC.