The brand new Blueshift Project, founded in 2015 by Mexican entrepreneur Eduardo Burillo and located in the Wynwood area of Miami, has announced its inaugural exhibition titled Made in New York. The group show, Made in New York, will see Blueshift Project focussing on a selection of artists under the age of 40 who live and work in New York and are working in the area of contemporary sculpture. Curated by Robert Dimin, who is an artist/curator and associate director of the Judith Charles Gallery in New York, he states 'The goal of this exhibition is to contribute to the diverse conversation taking place today regarding the significance of sculpture as the dominant medium for art making'.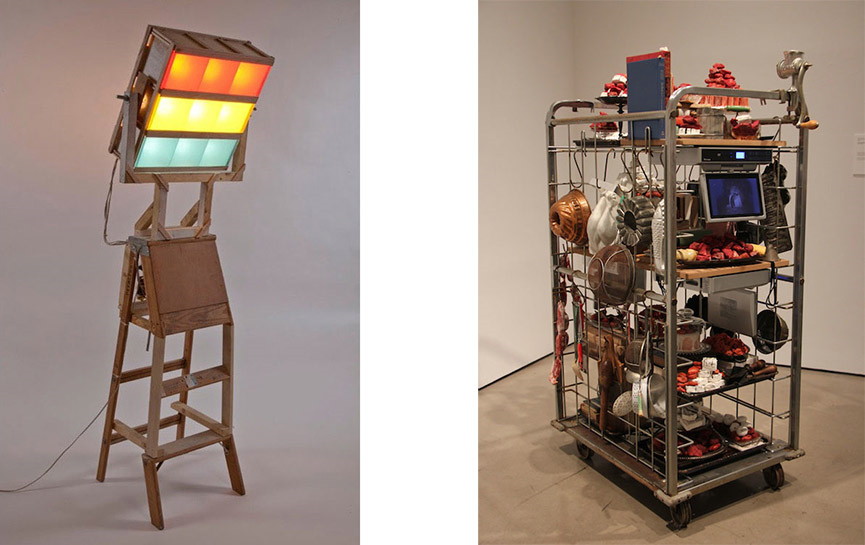 Monstrous Topics
The original idea for the Made in New York group show came together out of necessity after reoccurring themes emerged from studio visits, one of them being how all the artists were finding ways to tackle monstrous topics such as the way humanity struggles with the world we live in plus the extremely high quality of the making, building and construction of the sculptures. From this, eight contemporary sculptors were picked along with one abstract painter, Justine Hill, who will complement the sculptures on show with her works in the project space section of the gallery. The Blueshift Project group show will present contemporary sculptors who are considered at the forefront of current sculptural trends, such as Caitlin Cherry, who confronts us with a piece titled Mute City, Big Blue, Port Town, a constructed swimming pool featuring a submerged painting, that brings us to reflect on the idea of pools representing wealth but also middle-class monstrosities. Irini Miga explores the delicate nature of life by creating fascinating sculptures from fragile materials such as ceramics, recreating simple objects like an item of clothing. You can read about the group show Immediate Female at Judith Charles Gallery that both Cherry and Miga participated in.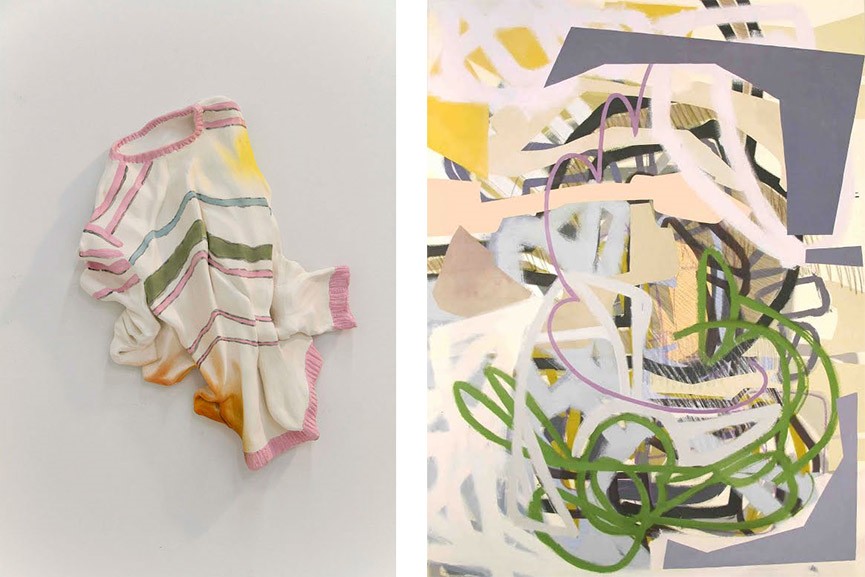 Made in New York Artists
In addition to the aforementioned Caitlin Cherry and Irini Miga, the Made in New York group show at Blueshift Project brings together a varied selection of contemporary sculptors with important messages about humanity contained within their works. Genesis Belanger creates graceful sculptures using steel and cement and in doing so subverts the idea of these materials being associated only with the works of men while David Brooks takes on the theme of urbanisation by simply placing a cherry picker in the gallery with palms on its platform along with a series titled Marble Blocks that address the issues of animals on the verge of extinction. Duo Jen Catron and Paul Outlaw offer the viewer the quite wonderful Goya Attempts to Teach the Masses Using Goats as Visual Aids in which they replace the horses on a merry-go-round with taxidermy goats as a confrontation to the social environment. Nick Doyle presents us with his dark humour in the form of his works that are narratives for his alter ego, Steven, while Dana Sherwood documents her interventions in nature that are comprised of opulent feasts captured with night vision cameras, that are then presented as a film on a steel baking rack surrounded by cooking instruments and sausage casings. Full list of artists: Genesis Belanger, David Brooks, Jen Catron & Paul Outlaw, Caitlin Cherry, Nick Doyle, Irini Miga, Dana Sherwood, Justine Hill.
You may also be interested in reading about the work of Melik Ohanian in Stutttering, Mark Jenkins in Moment of Impact, Cuban sculptor Yoan Capote and 10 Intriguing Urban Art Installations.
Made in New York is on view at Blueshift Project, Miami from 12th February, 2015 and runs through until 26th March, 2015. Artists talk with Dana Sherwood, 26th February, 2015, 7-9pm. Artist talks with David Brooks, Jen Catron & Paul Outlaw TBA.
For all the latest exhibition news sign up to My Widewalls today!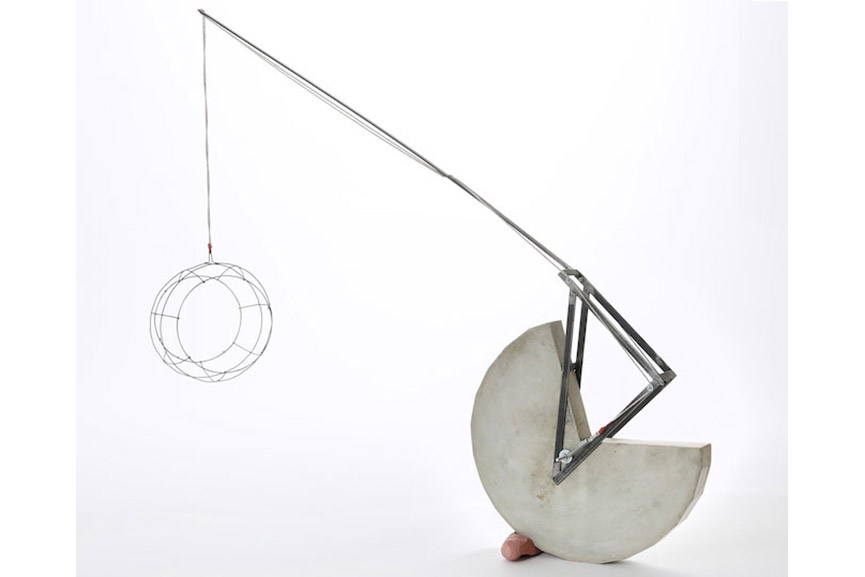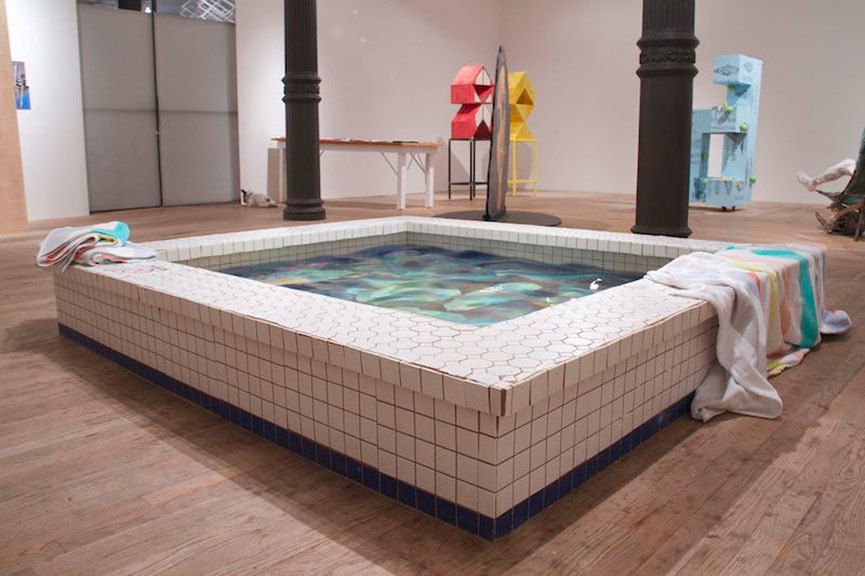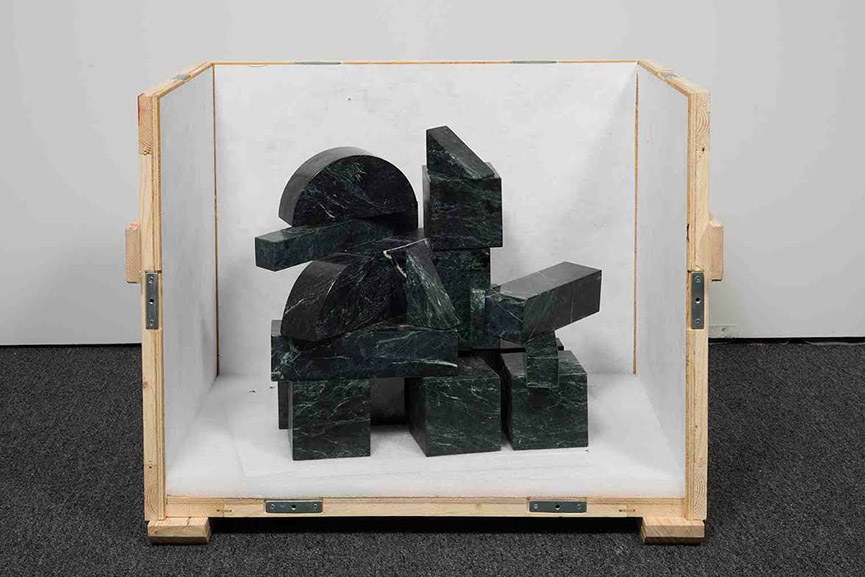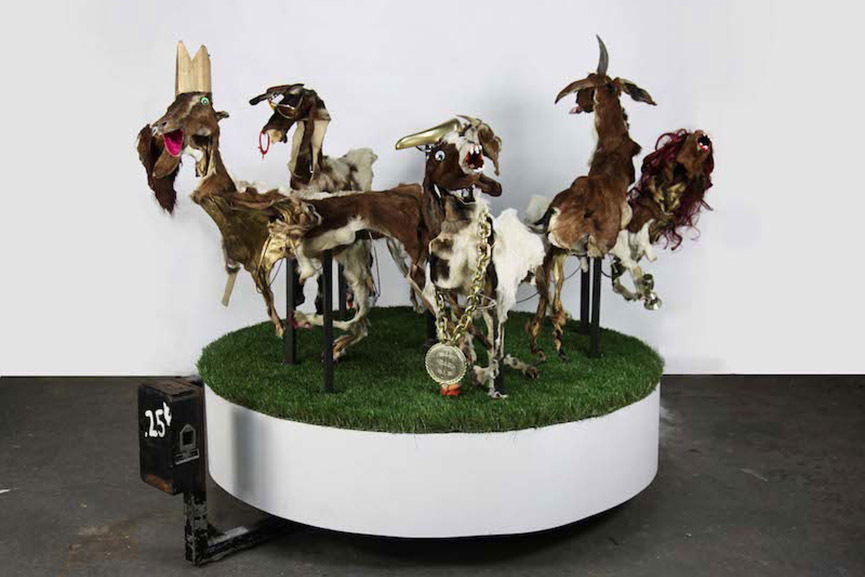 All images courtesy of Blueshift Project.