Throughout art history, landscape as a genre had an evocative function as it captured the artists' remembrance of and the fascination with a certain toponym. With the development of abstract art, the realistic representation of natural surroundings gradually shifted and the genre itself has become a site of different explorations associated with the artist's imagination, dreams, or unconscious processes.
Under the apparent influence of Cubism and Metaphysical art, American painter and muralist Madeleine Tonzi produces abstract landscapes that resist categorization and reflect her exploration of the notion of memory and place and the liaisons humans develop with the various environments.
Another chapter of Tonzi's ongoing fascination will be presented at Hashimoto Contemporary with the upcoming debut exhibition titled Life On Mars that will feature the artist's new series of paintings.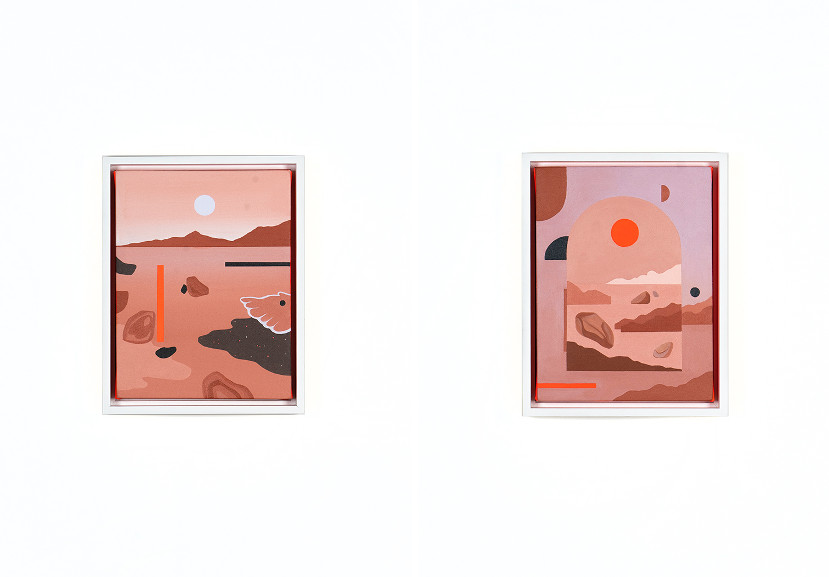 Triggered By The Desert
Infused by the time spent in the high desert landscape while traveling and living in California, the painterly practice of Madeleine Tonzi builds upon the organic and architectural. In a style most reminiscent of the late Giorgio de Chirico, she develops a unique visual language to mark different symbols and motifs that enable us to move through time and space.
The artist's peaceful and contemplative landscapes are also quite inspired by the concept of Solastalgia, coined by Glen Albrecht to describe a feeling of longing or mourning from the loss of one's environment and sense of home.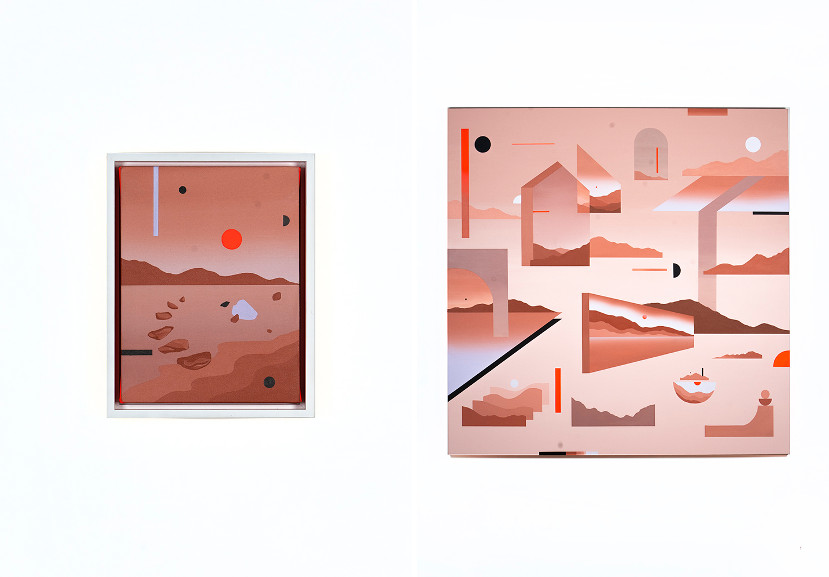 The Land Around Us
Tonzi's sunrise color palette and the forms scattered across the desert landscapes reflecting this year's isolation and the scenery the artist was exposed to across the Bay Area and west coast. For that reason, each painting functions as a portal into a scene inscribed into Tonzi's memory of a place, as well as a reflection of the current state of the world and a projection of a hopeful future. The paintings unravel the artist's environmental engagement wrapped in a subtle and emotional manner
Related to that is Tonzi's brief statement:
Specific colors and shapes symbolize the changing climate and its effects on the psyche in connection to our relationship with the land. Florescent red bars throughout my paintings serve as a metaphorical thermometer, reminding us of the rising temperatures and impending catastrophe that are already upon us.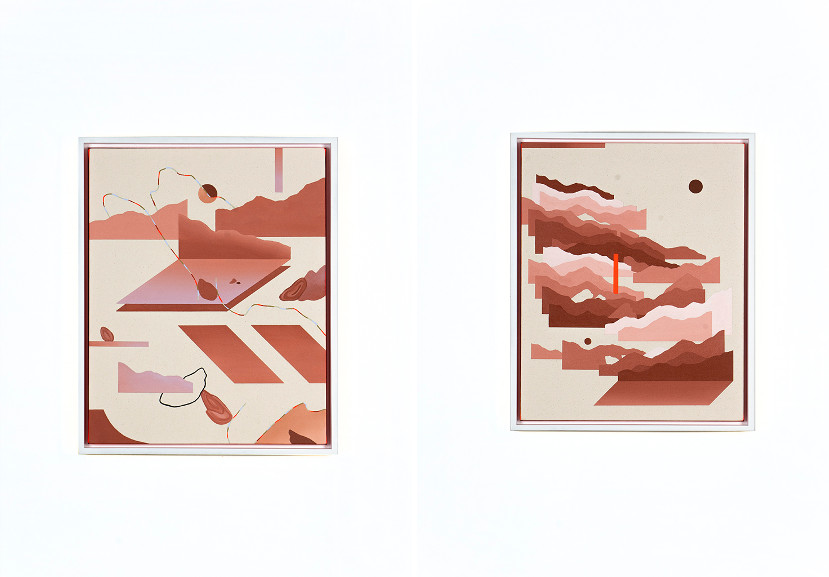 Madeleine Tonzi at Hashimoto Contemporary
There will not be an opening reception for the exhibition due to the current pandemic. To follow the safety measures the gallery will be open by appointment only. The visits have to be booked online in advance.
A digital walkthrough and interview with the artist will be broadcasted via Instagram on the opening day.
Life On Mars will be on display at Hashimoto Contemporary in San Francisco from November 7 to 28 2020.
Featured image: Left: Madeleine Tonzi - Tumble, 2020 / Right: Madeleine Tonzi - Unfound, 2020. All images courtesy of the artist and Hashimoto Contemporary.