The interest in the representation of nature as a phenomenon has led a number of artists towards the establishment of peculiar and rather authentic opuses. Without a doubt, the way we perceive the natural world and how we articulate our well-being accordingly was expressed differently and through various media, but from a certain standpoint which tended to be a philosophical one.
Such is the case with Mademoiselle Maurice, a young French artist whose highly contemplative works are going to be displayed at Galerie Mathgoth. With her solo exhibition under the title Libertad, the artist aims to emphasize the enticing tie between nature and the concept of freedom.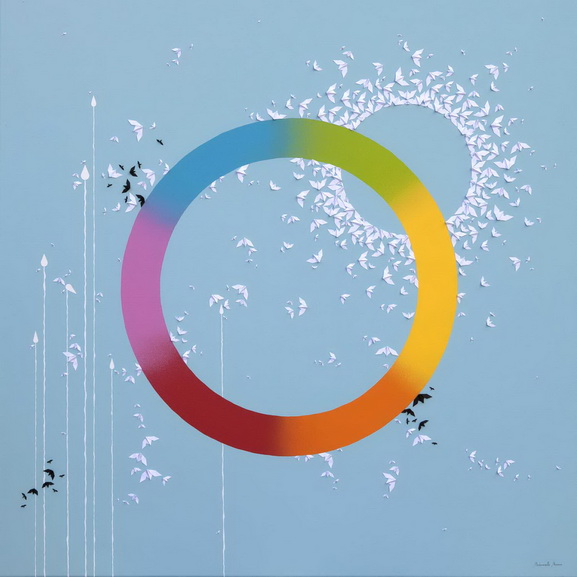 Inspired by the East
Mademoiselle Maurice finished her studies of architecture in Lyon, which she has practiced for a while. Shortly after, the artist moved to Japan, where she has witnessed the horrifying earthquake in 2011. That situation influenced her so much that she focused her work much more to nature than ever before.
Therefore, it is not strange that the Eastern philosophy reflects in her work, regardless of the media she works with. Her embrace specific sensibility and color palette in order to establish specific narratives which deal with the complexities of the human nature and the interaction with the environment.
The Concept Behind The Upcoming Exhibition
For her second solo show in Paris, Mademoiselle Maurice has decided to deal with the very notion of freedom in relation to flora. Actually, through the specific craft of origami, the artist wonders how to be liberated out of the constraints of the globalization.
By carefully selecting and exhibiting over thirty pieces made of different materials, Mademoiselle Maurice builds an extensive constellation of meanings in general, governed by the well-known maxim Do not do to another what you do not want to be done to you. Furthermore, it seems as if the artist constructs the gallery space as a specific scientific unit dedicated to the plants which withstand any form of oppression.
Although these works are rather purified and unpretentious, their simplicity can be perceived as reminiscent of the before mentioned philosophical ideas, in this case of a universe as a wholesome system in which all the elements should function at the same time individually and collectively.
Therefore, it can be said that Mademoiselle Maurice not only aims to articulate her own creativity by reinventing herself, but to also devotedly reexamine human egoism and comfort in regards to the neglect of nature.
Mademoiselle Maurice at Galerie Mathgoth
This rather poetical and contemplative exhibition of symbolical title will take place at the Galerie Mathgoth in Paris.
The opening reception with the artist herself will start at 6 pm on Friday, April 6th, and the public will have a chance to see the exhibition until May 12th, 2018, Wednesday to Saturday from 2 pm till 7 pm.
Featured image: Mademoiselle Maurice - Nocturnes, 2018. Acrylic, spray paint and paper on canvas, 160 x 200 cm. All images are courtesy of Galerie Mathgoth.