Rainbow Mutant Nation is coming to Paris; Galerie Mathgoth, to be more specific. The cutting-edge title is coined by the gifted Mademoiselle Maurice, and it refers to the new pieces of work she has prepared for us. Mademoiselle was, as usual, inspired by Origami, which is one of the most ancient traditional crafts, associated with Japan. The word means paper-folding in Japanese, and it pretty much explains the nature of this technique. The artist decided to design poetic, origami-like structures, made out of tiny pieces of paper, and to tell stories through visual stimuli. However, overlapping something so delicate with the roughness of the streets, which Mademoiselle did so courageously, is quite a challenge – but at the same time, the whole point of her work.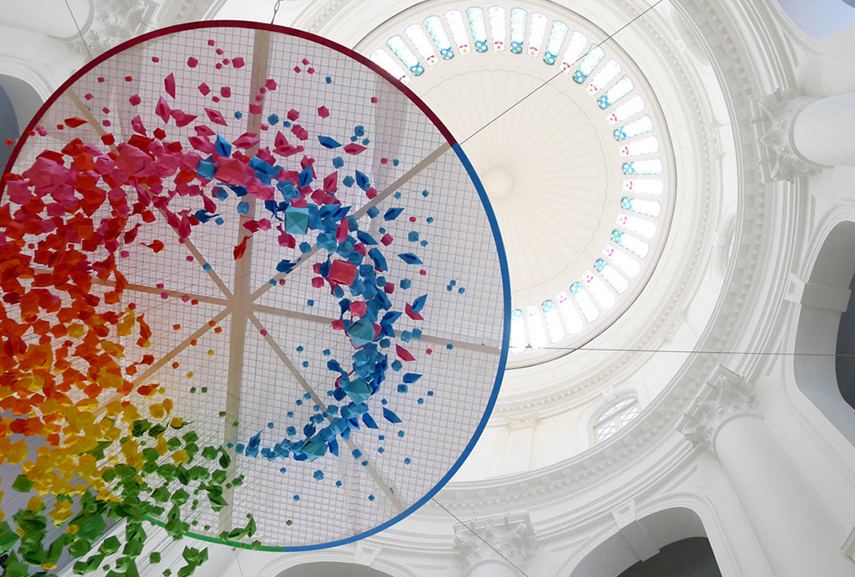 Origami Birds
Although the title of the show may sound strange or a bit aggressive, given the fact that it speaks about mutations, the works featured aim to spread a very positive message. Our civilization is, for fact, mutated to some extent, and it is still being reshaped by all the contemporary happenings it is surrounded by. Mademoiselle Maurice is concerned with globalization, and she aims to represent means of human resistance against it. The folded origami birds are metaphors for that resistance, for capacity to get away from the things we disagree with. This freedom is something she associates with the aboriginals, who are hereby referred to as origami birds.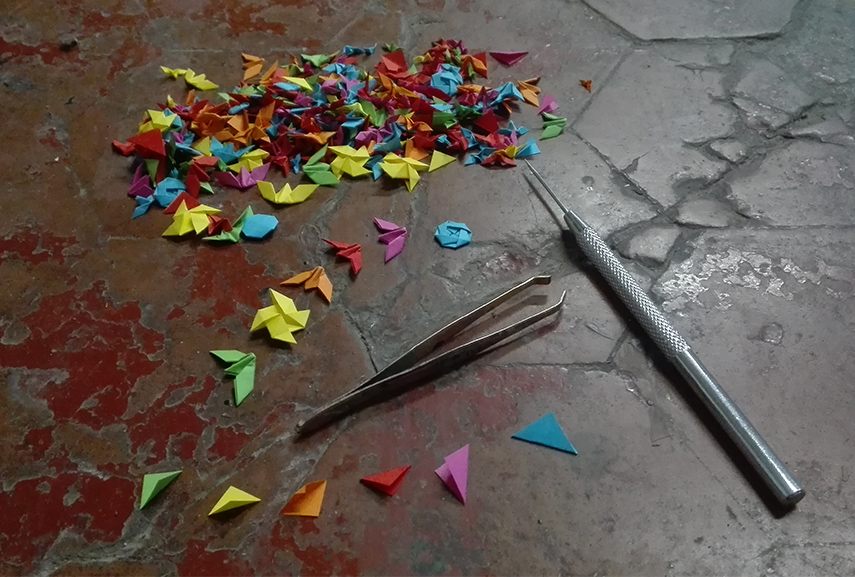 Mademoiselle Maurice Criticizes Our "Asphalted" World
In this case, the artist feels that there is a need to rebuild human relationship with nature , and therefore she creates simulations of rainbows, that act like bridges and stand in contrast with the built environment. She believes that the impact of concrete jungle is already too negative, and threatening to the flora and the fauna that we are inclined to coexist with. Still, the aboriginals that she mentions, seem to be in such perfect harmony with their natural surrounding. With strong reference to the aboriginal culture, through her new set of works, she succeeds in juxtaposing two different, coincident worlds: ours, which apparently lacks harmony, color and balance, and the aboriginal's, which is expressed through saturated tones, and calm, geometric shapes.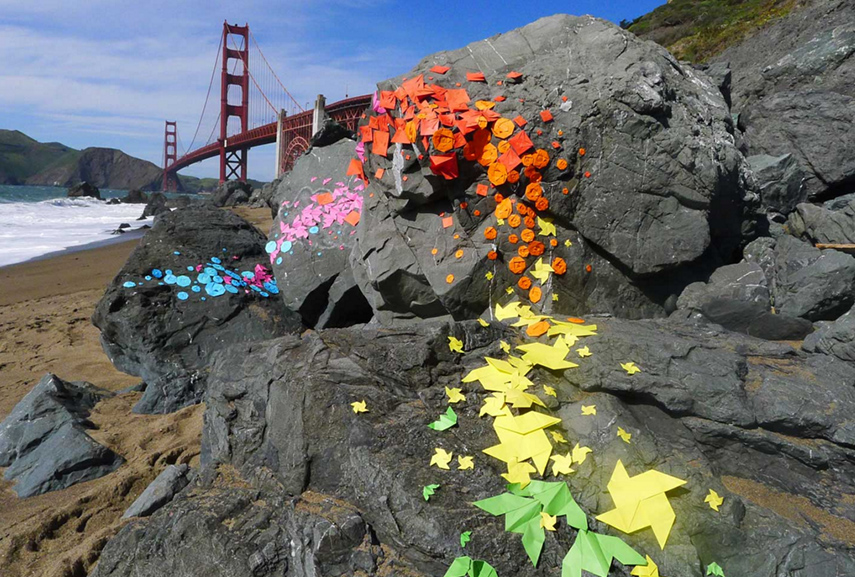 Making New Connections, through the Upcoming Exhibition
The subtle, yet vibrant beauty of origami shapes is deployed to express the almost forgotten need for correspondence with nature. Such simple, abstract forms stand in front of the ever-grey background, which is deliberately used to depict the supposed cold, desaturated character of our time. Apart from being a perfect example of a pure, martial art that relies on nature, origami is important to Mademoiselle Maurice, since she spent a year in Japan in 2011. That said, it is no wonder that the opening of her exhibition is set for March 11th, exactly 5 years after the terrible earthquake and tsunami, which had affected the nuclear power station of Fukushima. The exhibition will be on view until April 9th, at Galerie Mathgoth in Paris. Around 20 pieces of art will be displayed, including in situ installations, pictures, clip-frame models and sketches.
Featured images: Mademoiselle Maurice - Porto Vecchio, public installation; Mademoiselle Maurice in Malmo (2014); Mademoiselle Maurice in Paris (2012). All images courtesy of the artist and Galerie Mathgoth.