Few days ago, a very provocative and unconventional exhibition opened at one Hong Kong's premier galleries. This exhibition is the first exhibition for the artist in question, even though he stands among the likes of Takashi Murakami and Yoshitomo Nara as one of the most renowned Japanese contemporary artists. His name is Makoto Aida and he's occupying Hong Kong's Gallerie Perrotin  with new paintings, sculptures and video work. This artwork criticizes the seriousness of science fiction, which has by now degenerated into a cheap, sex-fueled, and sensationalist entertainment for the undiscriminating masses.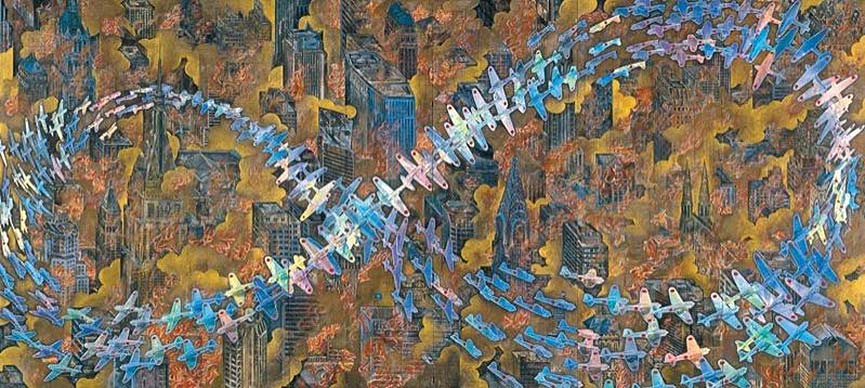 Extraterrestrial Usage of The Bible
As announced, the centerpiece of exhibition in Galerie Perrotin is Comet-chan, a new sculpture of a lithe, scantily-clad adolescent girl with a copy of the original fifteenth-century Gutenberg Bible in her left hand and in the other a torn off piece of paper, with intention of using it to wipe
the remnants of a glowing pink turd protruding from her backside. As Aida explained, the girl is an extraterrestrial being, a by-passer in this world. It represents a form of mocking the Chinese science fiction that has become a poor version of its original self. Aida's work has won critical acclaim for its paradoxical mix of bawdy populism and sophisticated reflection in depicting the state of contemporary Japan.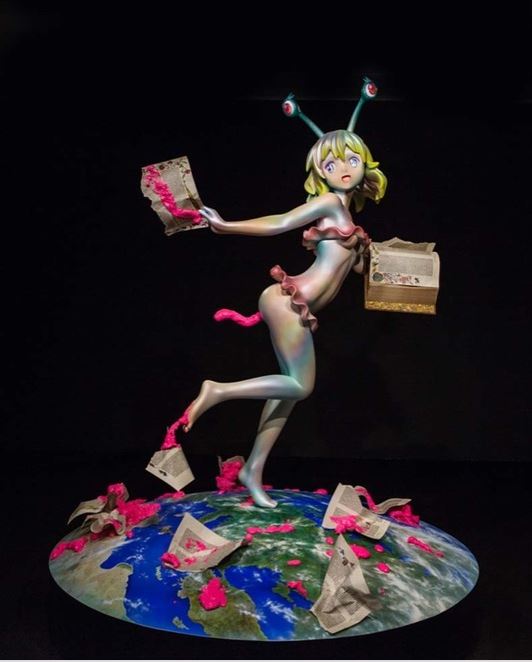 Japan's Prime Minister
The exhibition will also feature another new video work where Aida, made-up and styled to evoke the staid conservatism of the Japanese Prime Minister, who makes an impassioned plea during a major international conference for each and every country around the world to revive the system of sakoku (a closing off, or severe limiting of foreign trade and diplomatic relations) that Japan embraced during the Edo period. For this fictional minister, globalism is at the root of many evils facing the world today, and his plea for a return to isolationism is meant as a tool for achieving world peace. Reading aloud from a script in awkward, faltering English, the minister seems annoyed by his own ineptitude with foreign languages.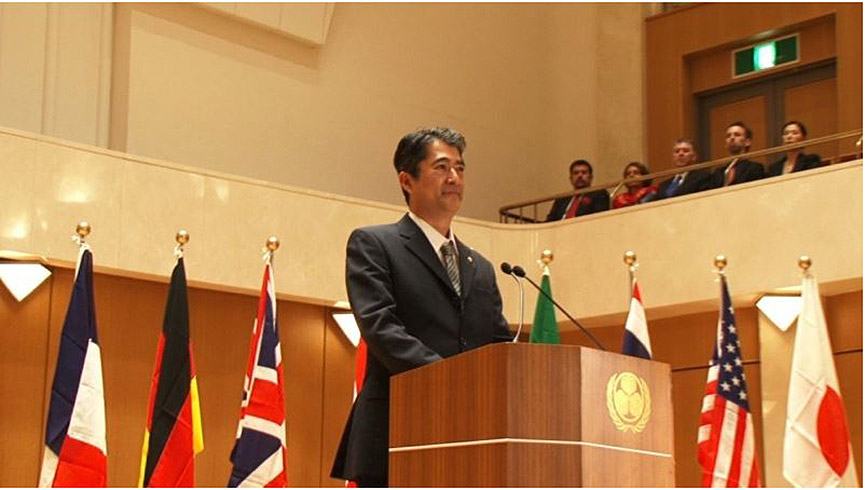 Alongside Sophie
Beside Makoto Aida, Gallerie Perottin also hosts one of the famous female French photographer, installation and conceptual artist, Sophie Calle. Interestingly enough, these artist don't go alongside one another as well as one would presume. In words of Makoto himself this can be an advantage, as it presents two opposing ideas and styles that somewhat complement each other. Makoto states: "In her works, Calle focuses on the lives of existing individuals. My understanding is that she seeks to think of human beings in a universal way. For my own part, however, in both my everyday life and artwork, I try to stay far away from the individual perspective…. I wanted to confront the audience with these two extremes on one floor". Mentioned exhibition will run through 10th of January next year.
Want to find out more about contemporary Japanese artist? Sign up for My Widewalls and you won't miss a thing!