An illustrator, graffiti artist, and a cross-stitch maestro, Isaac Malakkai has created a surreal world dominated by the female figure and weird animals. Colorful and non-realistic, his style is laced with irony and a particular sense of humor. Bic pen and desaturated ranges lover, he creates sweet and dreamy aquarelles, tormented drawings, colorful and convoluted walls. The characters he carefully constructs always seem to find themselves in a dreamy atmosphere.
The latest body of work by this talented artist will soon go on view at GCA Gallery in Paris. Titled Ballance Is Impossible, the exhibition brings together his newest drawings, aquarelles and canvases.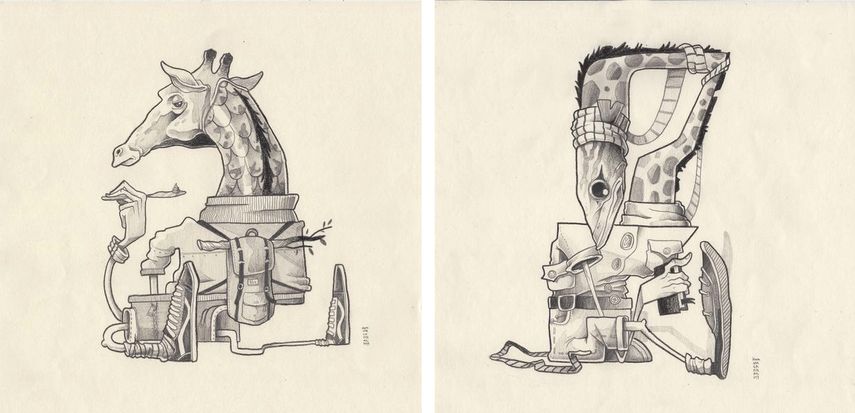 The Practice of Malakkai
Ever since he was a child, Malakkai had a pencil in his hand. His passion for drawing was fueled after encountering graffiti in 2000. He joined the OGT crew and started spray painting the walls of his native Almeria, Spain. Getting hooked up on the addictive spray-can smell and the adrenaline rushing through his veins, he has been between walls, paper and canvases ever since.
Although Malakkai's style varies on the technique he chooses, his works are always embalmed in a simultaneously sombre, poetic and a somewhat blithe atmosphere. His name, Malakkai, has ancient and ancestral origins, signifying "my messenger" in Hebrew.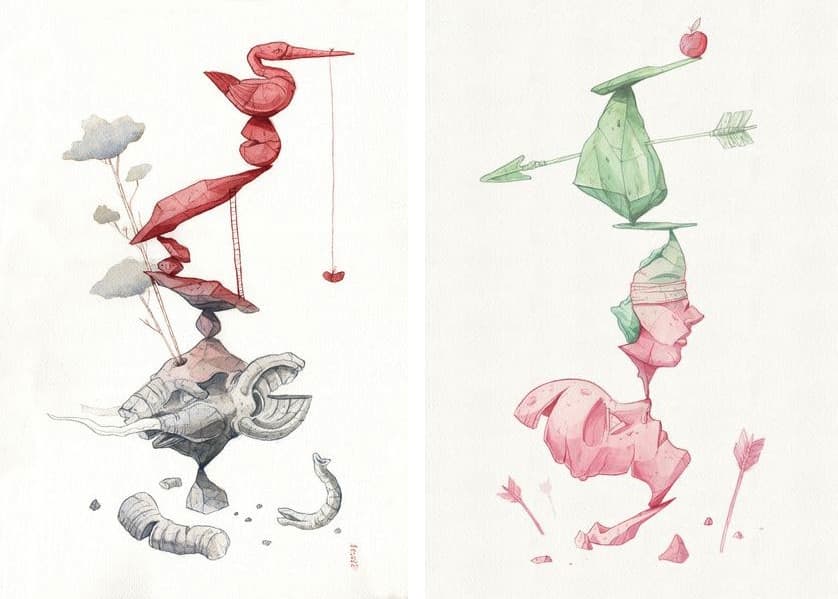 Finding the Balance
Drawing from the little things of everyday life, Malakkai revisits them with intriguing and obscure symbolism. Inspired by the Surrealism, he portrays all sorts of oddities, chimeras and curiosities in a unique fantasy world, creating a collection of vibrant metaphors and allegories that he represents with a poignant lyricism.
Shifting between surfaces and media, the artist presents us with equivocal and ambiguous visions which at times convey a sweet and juvenile melancholy and at others, an unsettling and ominous feeling. However, the artist manages to achieve the impossible balance between these two atmospheres, due to the lightness that permeates his pieces.
These wonderful and phantasmagoric works are always imbued with a humorous and whimsical touch.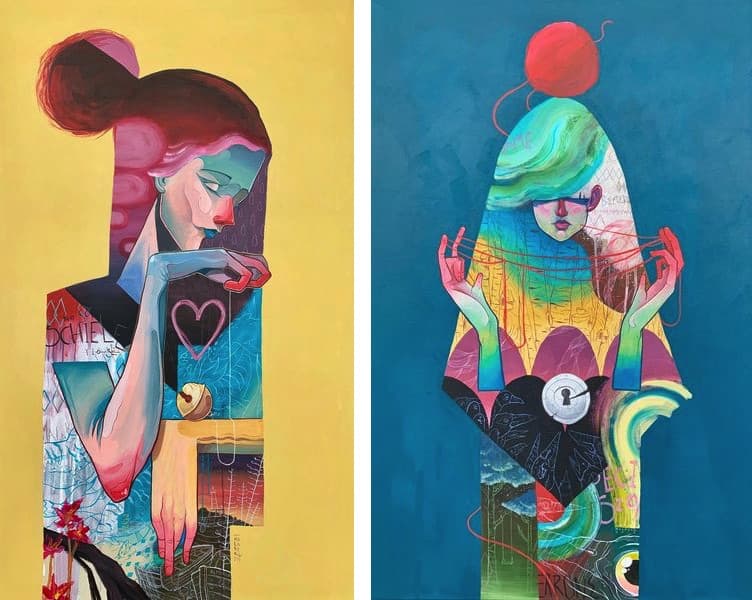 Malakkai at GCA Gallery
The work of Malakkai has been exhibited in numerous galleries in Spain and abroad and his walls can be found all around the world, from Almeria, Girona and the Canary Islands to Nuremberg, Lyon, Naples, Amsterdam, Copenhagen, Mexico and Djerba.
The exhibition Balance Is Impossible will be on view at GCA Gallery in Paris from April 12th, 2019. The opening reception will be held on April 12th, from 6:30 p.m.
Featured image: Malakkai - Cultural Ballast, 2019; Malakkai - Sammen, 2019. All images courtesy of GCA Gallery.