The new Maleonn exhibition in Paris offers you an amazing retrospective of one of the finest photographers from China. The show will put together Maleonn's most emblematic photo series since 2002. His work combines ancient theater costumes and bold use of props, taking the viewer into a fable or a story, creating meticulously staged yet somehow effortless, cohesive and mildly surreal imagery. The exhibition is happening at Magda Danysz Gallery, which promotes contemporary Chinese culture and operates in Paris, London and Shanghai. Check out some other Chinese photographers whose work has also been exhibited in this gallery!
Modernity and Traditionalism in the Art of Maleonn
The photographer, whose real name is Ma Liang, is influenced by Chinese culture, but does not limit himself only to traditionalism. Instead, Maleonn's work tell a story of contemporary China, caught up between its traditions and the great aspirations for the future. Maleonn creates a rich and playful universe with many layers. The story of his work is universal and skillfully told, using carefully crafted theatrical compositions and meticulous post production to create an intended effect. Through some of his works, Maleonn often adresses the problems of the young Chinese in the world of today. Through others, he explores narratives of China's recent history. His art stays relatable either way, and that has brought him international recognition. Maleonn is known as an artist of many personalities, and certainly is among the most prominent Chinese artists of his generation.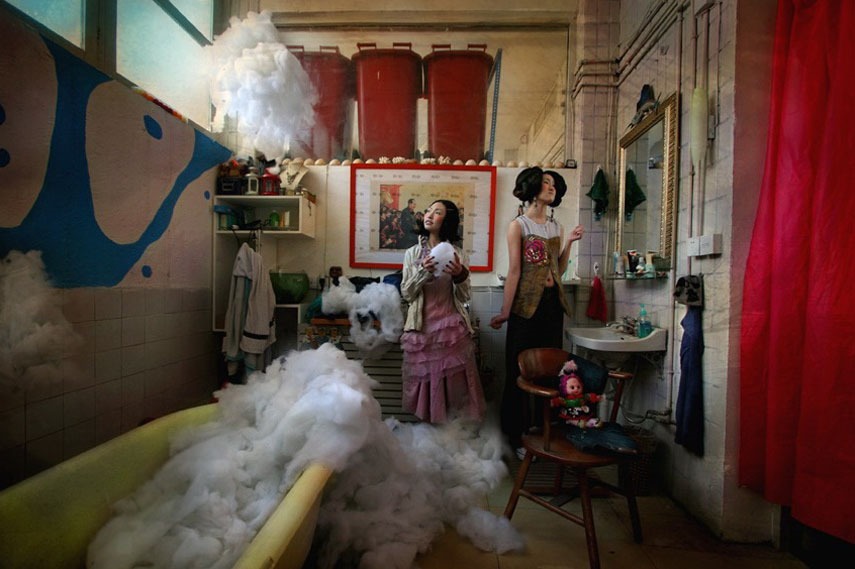 Maleonn Exhibition Shows a Tension Between the Two Chinas
The artist says that the younger generation in China doesn't have a greater understanding of Chinese tradition and classical Chinese motifs that are frequent in his works. His photographs, characterized by heavy use of symbols, aim to show a sentimental tension between two iterations of China – the historical and the future one – and the transition happening between them. Originating from an artist family, the photographer first showed interesting in painting. His parents have background in performing arts, and Maleonn himself worked as an advertising and movie director. All of this has come together in his visuals. Maleonn's body of work is quite rich. Alongside photography, Maleonn also draws and exhibits installations and video art. He is often inspired by found images or photographs.
Maleonn at Magda Danysz Gallery, Paris
The artist has so far been exhibited in Shanghai, Hong Kong, Madrid, Brussels, New York, London, Rome, and, of course, the French capital. Maleonn exhibition at Magda Danysz Gallery in Paris takes place from Saturday, February 6 to Saturday, February 27. The opening ceremony is on February 6, from 6 to 9 p.m. The gallery represents Maleonn since 2009, and he is no stranger to French audience. His interest in modernity on the one hand and the things that are authentically Chinese on the other has brought him a number of fans throughout Europe, so the retrospective of his work will be a delightful experience for the many.
Featured images: Maleonn – Book of taboo No. 8, 2006; Maleonn – Little Flagman, 2008; Maleonn – Deja vu No. 2, 2005. All images courtesy of Magda Danysz Gallery.