If you had been at the Malta Street Art Festival, you have sure spotted a strange scene: as if the island of Malta had been invaded by gummy bears. That is, if you have somehow elevated yourself to the height of at least 10 meters. If you have stayed on the ground, all you could have seen were some green, orange, red and yellow blobs - nice, colorful, but nothing more than that. Only if you have found a nearby three stories high building, or a hill, you would have been awarded to see the whole scene in the right light.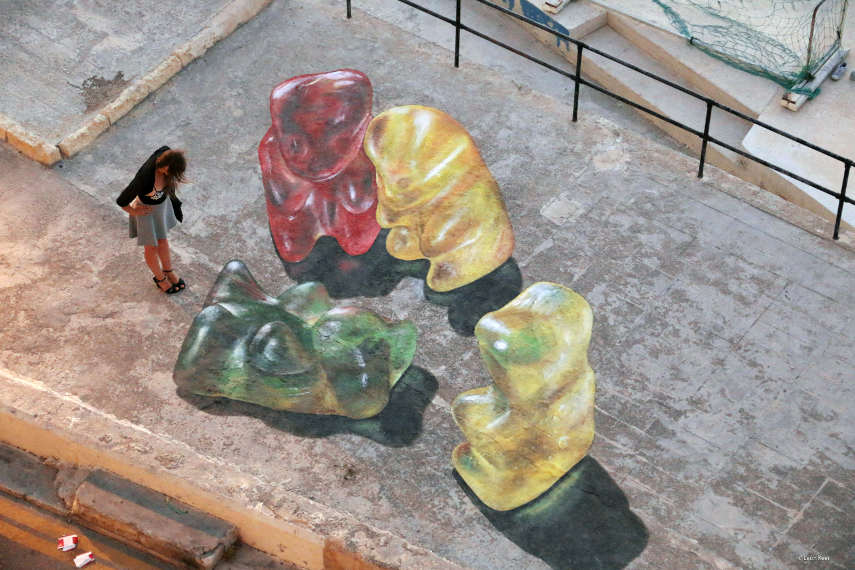 Malta's Gummy Bears Mourning in the Street
And the scene is this: One giant green gummy bear, lying on the ground, under the hot sun of Malta. Around him, two yellow gummy bears and one red, standing, and, apparently, mourning, as if the fallen one has been sent to the place from which not a single gummy bear has ever came back - and that place, this time, wasn't some kid's mouth. Not far from this small group of the mourners, five more gummy bears are slowly approaching, with their heads bowed, as if the only suitable feeling in that moment is grief. Just 20 meters from this sad scene, people are enjoying their time on the beach, the site of deep, blue sea on a sunny day, totally unaware of a tragedy that has befallen this small gummy bear family and their friends.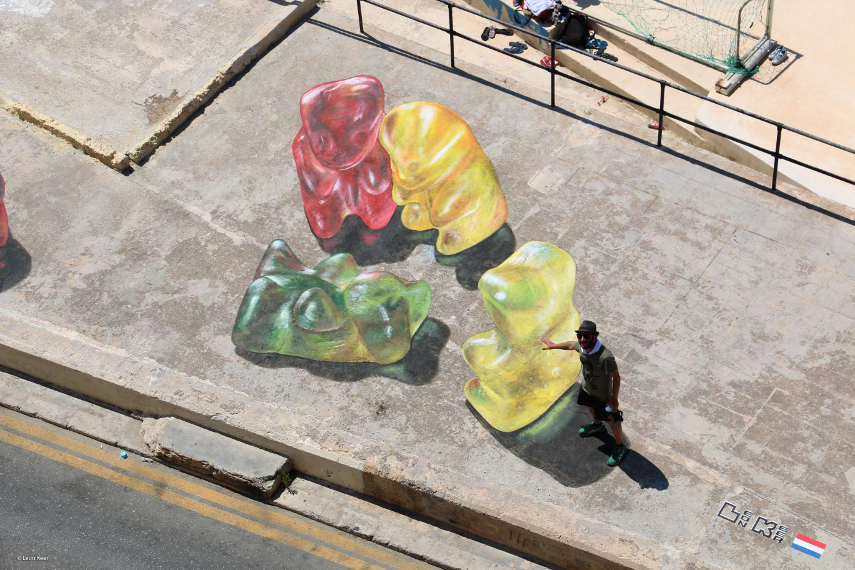 The Artist Leon Keer
Jokes aside, a well known artist Leon Keer from Netherlands did a magnificent job when he decorated a boardwalk near the Malta Street Art Festival, that was held in the city of Valetta from July 24 to July 26. It featured many domestic and international street artists, among them Odeith, Valentina Sforzini, Vera Bugatti, Alex Maksiov, Salla Ikonen, Tony Cuboliquido and Smug One. Leon Keer's work was just one of his many incredible, memorable 3D street artworks, which fascinate with their realism. Keer is one of the world's leading anamorphic street artist, but he has also exhibited his "ordinary" paintings in various galleries from Netherlands and United Kingdom, as well as at several Art shows and Art fairs in Europe and the United States. Leon Keer learned to paint while designing and producing large commercial murals for some big multinational companies, like Coca-Cola. He is using various range of materials for his works, from professional acrylic paints to adhesives, solvents, primers and tar.
Your opinion is valuable to us! Please join us for a discussion on our Facebook page.
Sign up for My WideWalls for FREE and be up-to-date with contemporary and street art.