Deriving aesthetics from the complexity of human mind, most recent MAMBO paintings selection from the Brainology series will soon be shown at Fabien Castanier Gallery. Titled LINKS, this exhibition will be the first 2017 Los Angeles show for the gallery and will highlight works made since 2011 by the French MAMBO, which was the year when he moved to Southern California. A large body of paintings, works on paper and three-dimensional pieces were created by him trough this long period; but were never showcased before. The show will also feature a special installation by this truly international artist who grew up in Latin America, started his career in Paris, and is continuing to develop his works in California.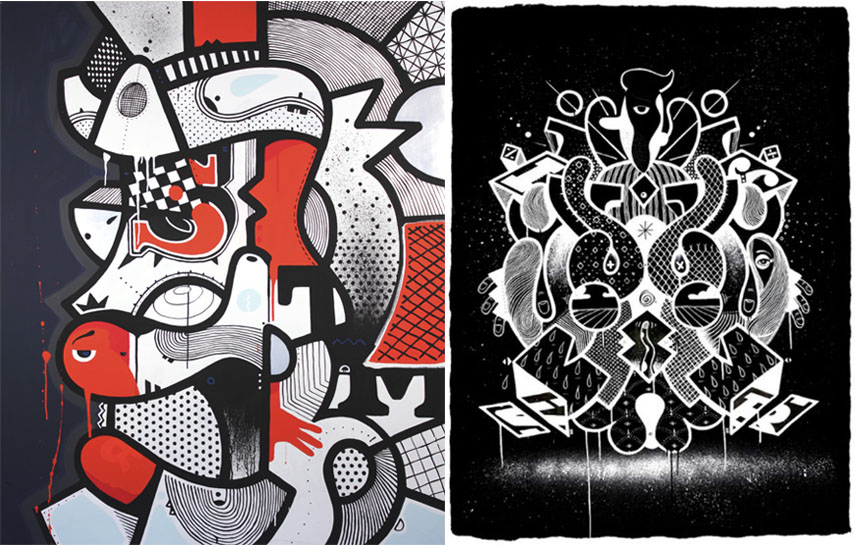 Brainology Series - Investigating Human Mind
Fascinated by the human mind and it's structure, MAMBO created a whole series of works which derive their aesthetics as well as their conceptual foundation from the complexities of the brain. This is already suggested by the title of his series, Brainology, which explores the biological functions only as a surface, but actually tries to find the more symbolic reflections of the synapses existing in the world around us, synapses that we tend to overlook. They are present in all fields of our life, from the ecosystem to the social relations and platforms, globally or locally, intimately or publicly, relations and links which exist even on a sub-atomic level.
Merging Intuition with Calculation
MAMBO paintings became a meeting platform for apparently opposite concepts; for gesture and intuition on one side and calculation and mathematics on the other. "Mental maps" is the expression used by the artist to explain his works which open up space for the unseen to become visible, portrayed by the shapes and patterns which build up reflections of the neural functions that actually stop being scientific and become highly personal. Through this series of individual explorations accumulated by the experience of deep feelings, thoughts and dreams, MAMBO paintings manage to become a link themselves, a link between different worlds. These intertwined worlds are not only framed by the conceptual form, but also by the fact that his technique manages to cross borders between contemporary and street art.
MAMBO Paintings at Fabien Castanier Gallery
MAMBO's life is also marked by links, mostly the cross-cultural ones, which become one of his most important inspirations for creation. Known as a world traveler, MAMBO showcased his works in the U.S., France, Germany, Japan, Brazil, the United Kingdom, and Switzerland. Working both with his personal art but also commercial projects for various companies including Prada, Moynat and Samsung, he is for sure a unique figure who transfers his need for interconnection between seemingly opposed worlds into all of his works. His solo exhibition Links will open on March 25th at 6 p.m. and will be on view until April 23rd, 2017 at Fabien Castanier Gallery in Culver City, USA.
Featured image: Mambo - RELAX MAX, detail. Acrylic on canvas, 52 x 52 in. All images courtesy of Fabien Castanier Gallery.