The practice of French multidisciplinary artist Manuèle Bernardi focuses on the notions of group, of collective and the place of the individuality within it. On the other hand, the artist Frédéric Garnier stages our questioning on human existence. Both of these artists are archeologists of our time, following the footprints, collecting the clues, cataloging and archiving the remains of what happened, in search of awareness in this unconscious mark of the passage.
The work of these two contemporary artists will be joined in an upcoming exhibition at Galerie Géraldine Banier. Titled La Trace, it brings together the sculptures-volumes, true biotopes of Manuèle Bernardi and the drawings and paintings with human geography of the residences by Frédéric Garnier.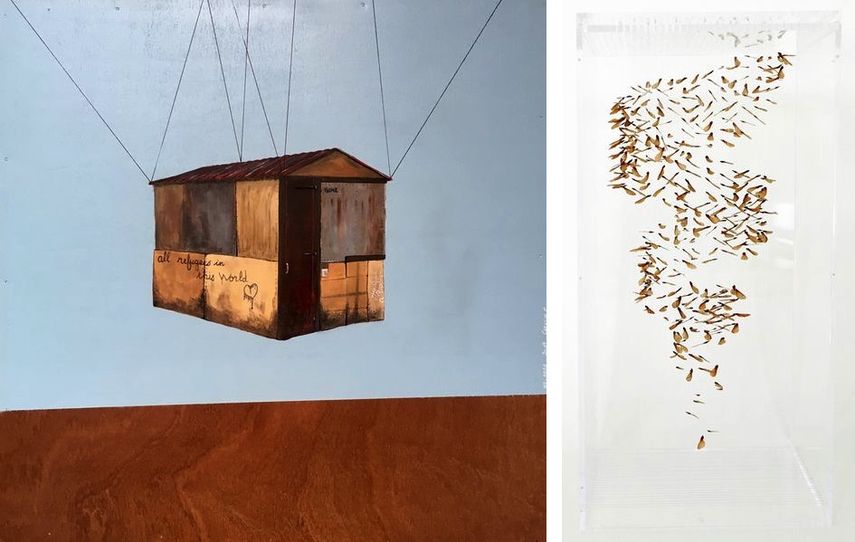 The Practice of Frédéric Garnier
Expressing himself through sculpture, installation, photo, video and drawings, Frédéric Garnier focuses on the object which makes a link between the human being and the world. Anchoring his works in our period, he explores society, migration and ecology, exposing the consequences of our actions.
In the recent body of work, the artist depicts No-Made habitats inspired by the Calais jungle, suspended in the air by thin wires and heavy weighted by building materials. Set against oblique horizons, these ready-no-made houses made of things thrown, abandoned, then recovered are wandering with no fixed landing point. Garnier juxtaposes the project of a civilization installed on Mars with these objects weighting this dream down.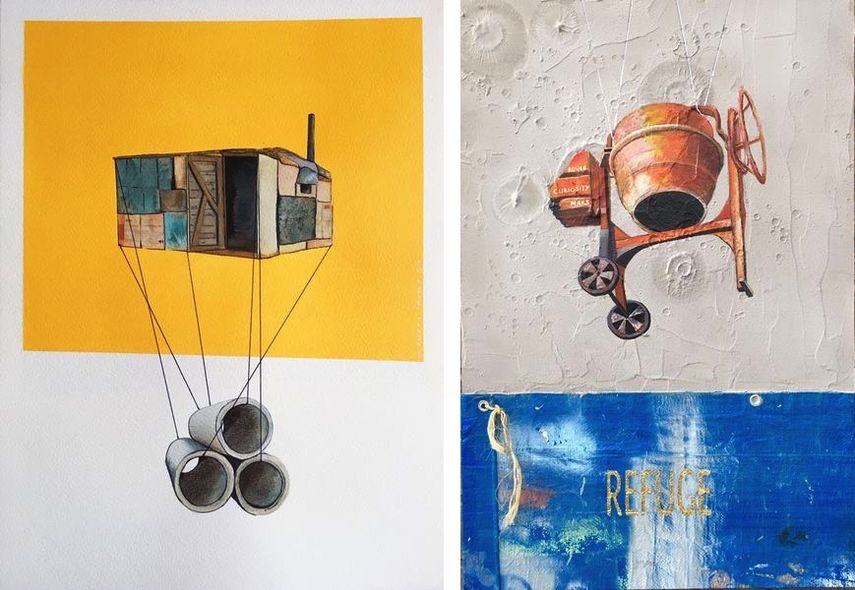 The Practice of Manuèle Bernardi
Working with sculpture and installation art, Manuèle Bernardi visualized the emotion between the group and the individual, showing the interdependence between the plural and the singular. She often studies the flora and fauna as the source of inspiration for a common life.
Imbued with both a high poetic density and disturbing fragility, the recent biotopes feature a range of elements suspended by nylon threads. While each element exists on its own as only a trace of a past life, brought together, they reform a quivering ecosystem around a visible or concealed star, forming life which seeks to protect its center. Transparent plexiglass sheets which protect these installations are reminiscent of the ozone layer.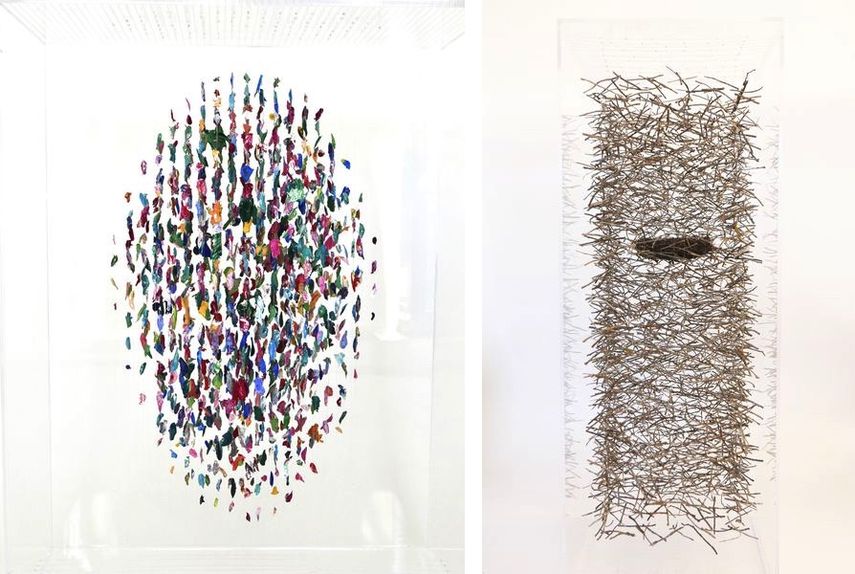 Manuèle Bernardi and Frédéric Garnier at Galerie Geraldine Banier
On their own turn, the art of Manuèle Bernardi and Frédéric Garnier follows the traces of things passed, and explores the passage of time and events in search of awareness.
The exhibition La Trace will be on view at Galerie Géraldine Banier in Paris from March 29th until June 8th, 2019.
Featured image: Manuèle Bernardi - Habitat (detail), 2019. All images courtesy of Géraldine Banier.