Thinkspace Gallery prepared for March a rich program which includes three exhibitions happening at the same time - Dear Collapse of Marco Mazzoni art, The Silence of Idols of Atsuko Goto art, and a special showcase Discarded of Alvaro Naddeo art in the office area of the gallery.
Marco Mazzoni is known for his simple use of old pencil techniques, relying entirely on Faber Castells. His skill comes to the fore through the effects he achieves with simple materials, often resembling wet media, and plush, rich effects of wet pigment. He creates beautiful images of women who are partially obscured by flood of flora and fauna.
Atsuko Goto finds inspiration in similar motifs. She is an emerging Japanese artist and this is her first solo project with the gallery. She graduated from the Tokyo University of the Arts, and also studied at the National School of Fine Arts in Paris. Her pieces are melancholic in nature, and reveal delicate figures cloaked and merged with natural elements, such as flowers, insects, birds, and fish. In contrast to Mazzoni's technique, Goto uses diluted pigments made from semi-precious lapis lazuli, ink, and gum arabic applied to cotton.
Alvaro Naddeo takes inspiration from his previous work in advertising, and explores the duality of brand signs and logos, both desirable and despicable at the same time. He crafts his highly detailed pieces in watercolor, which adds to their originality.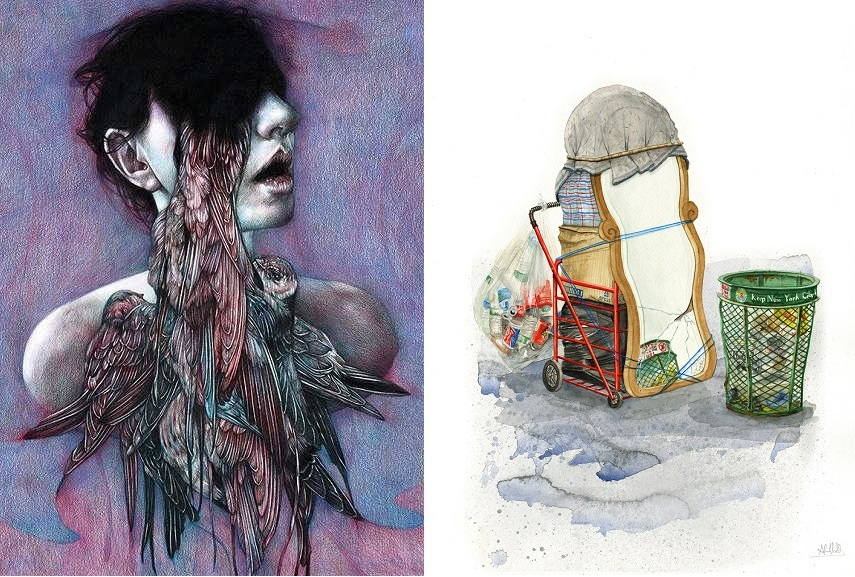 Marco Mazzoni Art
Inspired by the matriarchal culture of the ancient Sardinian folklore and its oral traditions, but also by the central role of women as herbalists and healers in the 16th and 18th century, Marco Mazzoni successfully captures the ambiguity of these harbingers of female power, which are galvanized through emotional extremes in his work. Being at times morbid and ominous, but also beautiful and seductive - recalling Janas and Cogas, the female figures who were either enchanted menders or seductive witches - the sensuality of these figures is not burdened by other identities. They remain anonymous, with eyes seldom revealed.
The flowers and other plants Mazzoni depicts, burst from and ornament their bodies, making them a little more than vessels for flora. Consuming skin and seeping from mouths, the plants are direct references to the traditions of herbal healing and psychoactive poisons. Undeniably erotic, Mazzoni's pieces reflect on eternal opposites of vitality and rot, life and death, beauty and ugliness. The painterly effects of the artworks are achieved through the application of several layers of color, including the final glazes.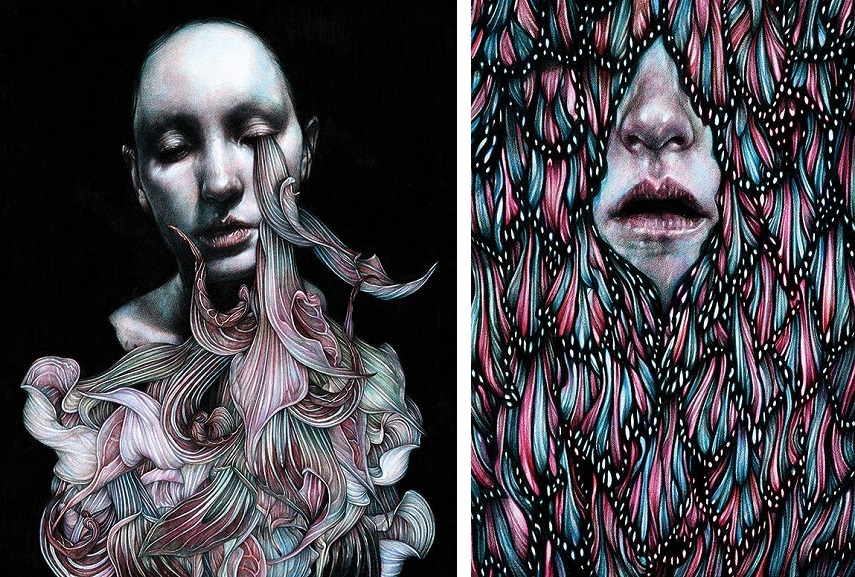 Atsuko Goto Art
Profuse life force and intangible mystery suffuse Atsuko Goto's works, inspired by Japanese Shinto and the belief that sacred spirits and divinities exist in every living and inanimate thing. However, the living force depicted by Goto is never completely delivered from a darker undertones and suggestions of mourning and lament. Meditative in nature, her works exude a dreamlike calm, despite the abundance of detail and the density of her compositions.
Almost translucent in their effect, Goto's artworks appear fragile and subtle, while light and strange optics make the represented worlds unsubstantial and preternatural. The viewer feels the entrapment and isolation of the depicted subjects, and the quietude of a faded dream these images exude. Surreal distortions and ominous undertones emphasize the muted beauty of the idol-like figures, which seem caught in a thin veil between worlds.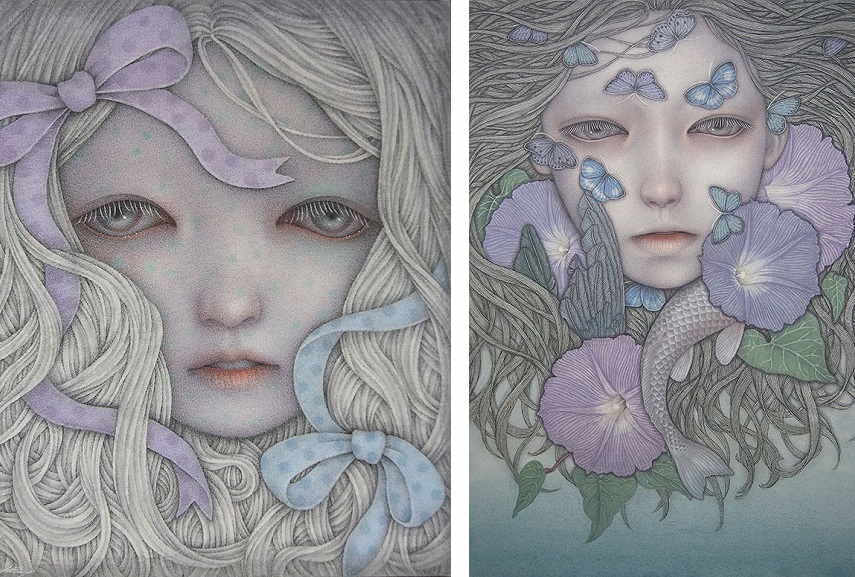 Alvaro Naddeo Art
Currently living and creating in Los Angeles, Alvaro Naddeo is originally from São Paulo, but his journey has taken him to many places around the world. The varied urban environments in which he lived shaped his memory and informed his work with interest in human-nature relations, and the detrimental effects consumer society has on environment. His interest in art started from an early age, but lacking in self-confidence he decided to pursue his artistic interest many decades later.
His focus is waste, and many concrete and symbolic meanings it may possess - from social inequality, over consumption, to formerly desired objects that are discarded in a vicious cycle of production and consumption. His watercolor paintings are full of confidence and focused intensity, which come through with each brushstroke of this incredible emerging talent.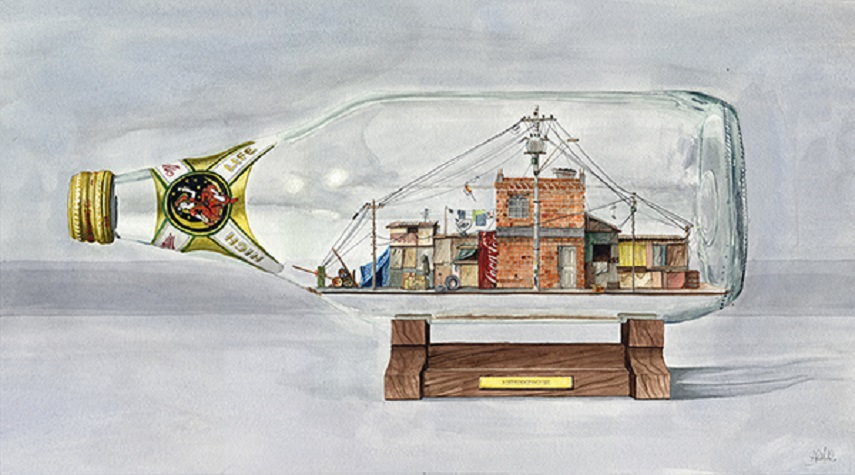 Group Exhibition at Thinkspace
Similar in nature regarding the motifs and ideas the artists choose to represent, the exhibitions at Thinkspace Gallery in March explore the natural world and its multiple relations with humans, and their bodies. Poetic and melancholic, the exhibited artworks suggest the complexity of these relations. Dear Collapse exhibition will also include one of Mazzoni's complete sketchbooks, available through the gallery for the first time, which will be filmed in its entirety. Dear Collapse, Discarded, and The Silence of Idols open on March 4, at Thinkspace Gallery in Los Angeles, and will run until March 25, 2017.
Featured images: Atsuko Goto - Beautiful Foreign Substance; Alvaro Naddeo - Another Life Chapter I, 2015; Marco Mazzoni art; Alvaro Naddeo - Venus 513, 2016; Atsuko Goto - (Left) Escape to the Nonexistent Utopia, (Right) Raging Spring Wind. All images courtesy of Thinksapce Gallery.