The art of Margaret Morrison would satisfy any sweet tooth. Known for detailed still-life and surreal figurative paintings of desserts, the artist portrays her subject in the sumptuous color and hyperrealistic style. In her larger than life paintings, small-scale subjects are placed into large-scale relief, creating a feeling of intimacy.
A selection of Margaret Morrison's work is currently on view as part of the summer exhibition at the Imperial Centre for the Arts and Sciences in Rocky Mount, North Carolina. Titled Sweet Surrender, the show brings together works depicting a range of sugary delights, from marching gummy bears and giant lollipops to decadent glazed strawberries and rich chocolate cupcakes.
The Practice of Margaret Morrison
A Utah-born artist, Margaret Morrison has developed her still-life palette from a more muted tone to the brilliant colors seen today. In her super realistic paintings of candy and sweets, the artist expertly employs lighting to invoke a foreshadowing element to the composition. Her works depict everything from Twinkies and Gummy worms, to cupcakes and ice-creams.
Skillfully combining liquid with her paint, the artist has created a seamless series of hidden brushstrokes which could be seen only from up close. The artist undertakes a glazing process which creates an illusory effect that takes the realism a step further.
Remarkable in their translucency and the interplay of light and shadow, her multi-dimensional works are imbued with subtleties which are revealed on closer and longer examination.
The artist is represented by Woodward Gallery.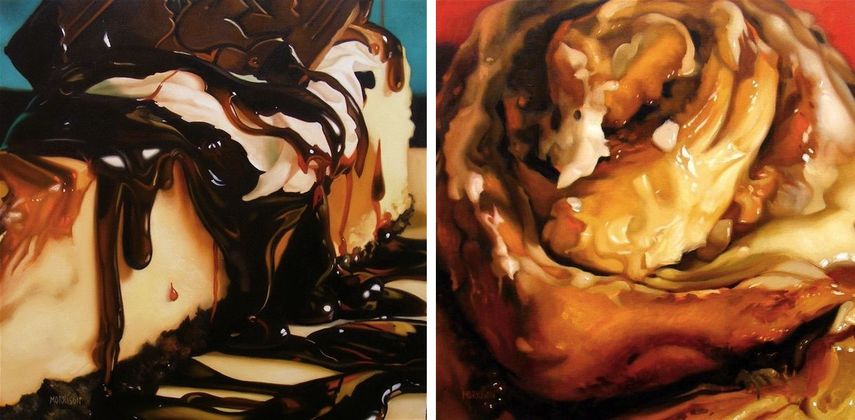 The Sweets and Unadultered Happiness
As Margaret Morrison explains, she blames her sweet tooth on her father. She recalls her family visits to the drive-in movie theater that included the ritual stop at the local drug store where her father would purchase several bags of candy for them. From these visits, she vividly remembers the shiny wrappers, the seductive packaging and the incalculable thrill of sweet pleasure.
She also recalls the visits to the famous local ice cream store with her father. What immediately comes to mind are scoops of ice cream, rivers of hot fudge and mountains of whipped cream with a cherry gracing the summit.
In those simple years, it didn't take too long for me to arrive at the equation that sweets = unadulterated happiness.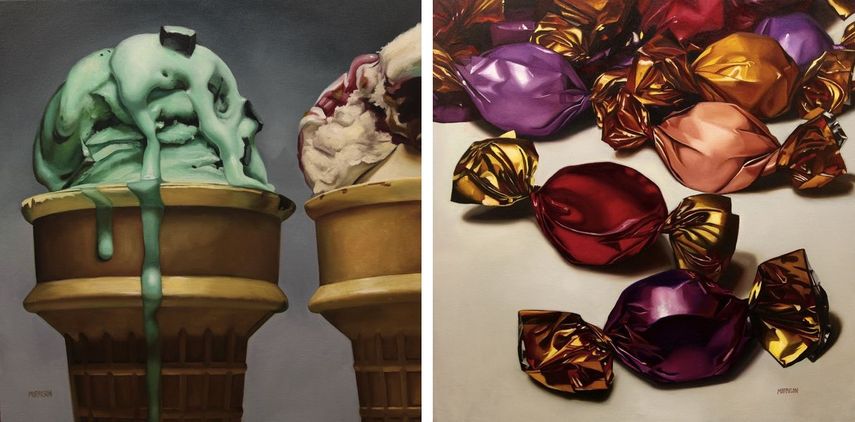 Margaret Morrison Exhibition at the Imperial Centre
Executed in vivid colors with a high attention to details, Morrison's paintings would make anybody's mouth water. In addition to their sheer scale, her paintings invite marvel for the way the artist captures textures, light, and reflection.
Curated by Alicyn Wiedrich, the exhibition Sweet Surrender will be on view at the Imperial Centre for the Arts and Sciences in Rocky Mount, North Carolina until September 9th, 2018.
Featured image: Margaret Morrison - Precious Gems (detail), 2018. All images courtesy of Woodward Gallery.