"Beginner's work". That's how some art student had described Marilyn Manson paintings, without knowing who actually painted them. That was back in 2002, when Marilyn Manson had first put his paintings on show. The results and impressions were split. "To be honest, there's nothing here I haven't seen before". "The paintings seem very personal, but structurally, they aren't very strong". "I'd be interested in seeing him do something more abstract, because he has a good sense of color". "They remind me of the paintings drawn by psychiatric patients, when they're given art materials to use as therapy. There, you see a lot of demons, and in Manson's work I see in it a little bit of those demons, too. He's got a very dark take on life". All those responses came from art students, and as you could see they haven't been impressed, but the general public seemed OK with what Manson had offered to the art world in 2002.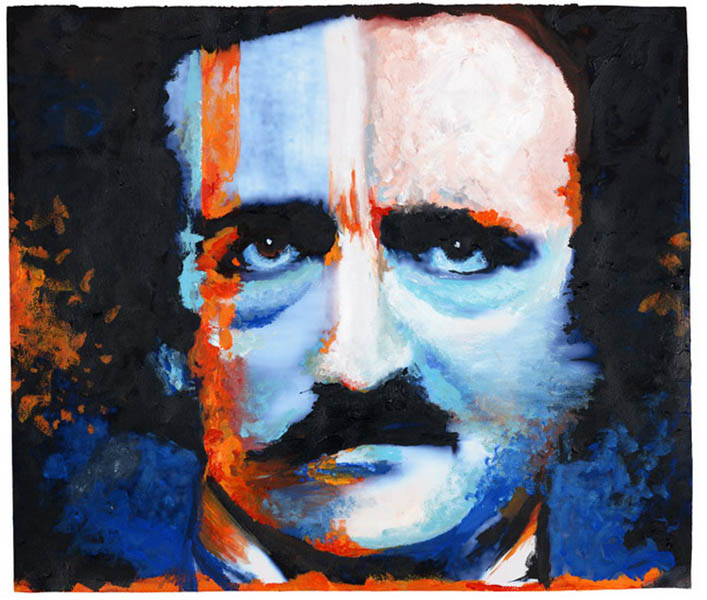 The Career
Back then, Marilyn Manson was just a beginner, at least in some ways - he started to paint recreationally in the early nineties, when he was a 20-something young musician. His oldest paintings that stayed "alive" were from 1995-1996, but he got really into watercolor art in 1998. So, in 2002, when he had his The Golden Age of Grotesque exhibition, he had about four years of painting, along with two albums he released during that time (Mechanical Animals, 1998 and Holy Wood, 2000) - he named his next album, from 2003, just like this exhibition. His fame grew for his controversial appearance and behavior, both as a musician, and as an actor in some minor roles - he had three platinum albums and three gold albums in his musical career, he was ranked number 44 in the "Top 100 Heavy Metal Vocalists" by Hit Parader, and he also has been nominated for 4 Grammy Awards. But, at the same time, he kept on painting and painting, and he organized more of his exhibitions - he had three already up until 2006, and in 2007 he organized a world tour - well, sort of - with his exhibition Recent Paintings, when he visited Germany, Russia, Brazil and Switzerland. About at this time his collaboration with famous Miami-based gallerist Robert Fontaine had started (look below for more info). In spite of his rising fame, now more as a character and phenomena, then only as a musician, he didn't give up painting, and he held another five exhibitions world-wide up to 2014.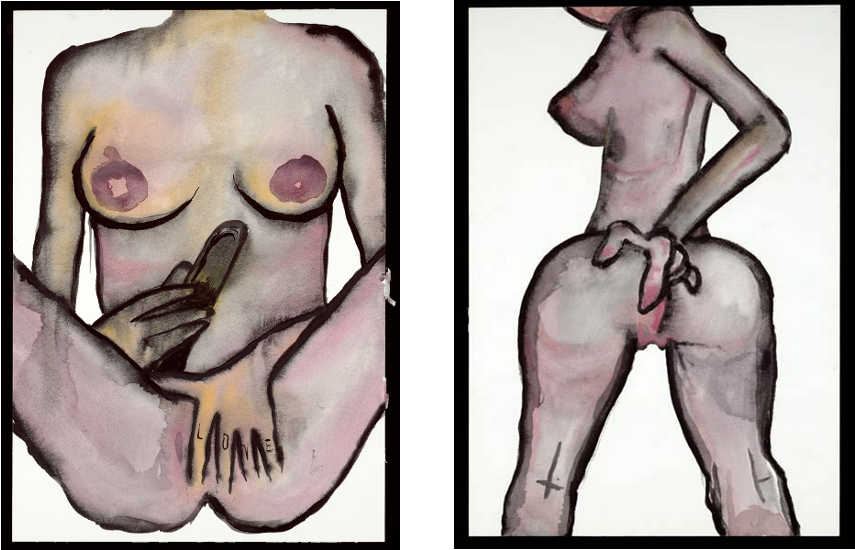 Prices
So, we could see that Manson believes in his watercolor paintings. But, how does market responds? In an article about musicians that are painting as well, The Guardian slammed down hard Marilyn Manson's paintings. "It is hilarious in all the wrong ways. Is it meant to be shocking, moving, funny or 'surreal'? All it really is, is stupid and incompetent. The fact that he seems to have tried hard –look at those carefully applied colors just makes it all the more strange. Even Damien Hirst's paintings are better than this. Marilyn Manson works hard to shock, and here he succeeds in being genuinely creepy, but not on purpose", wrote this respectable British newspapers one year ago. But, check this out. In 2007, Manson's painting Die Deutsche Kampferin was sold for a six-figure price! It was bought by a private collector for $105,000. The year 2007 was especially successful for Manson, as another of his paintings was sold at an auction at Phillips du Pury & Company, for almost $50,000.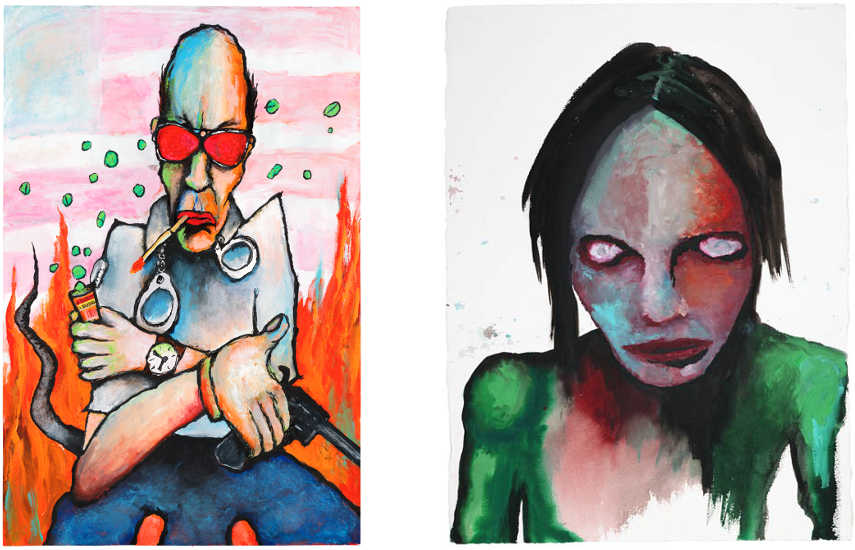 Robert Fontaine on Manson
There is also that story that Robert Fontaine had told us this summer, in an exclusive interview for WideWalls. Fontaine explained how did it look like to work with Marilyn Manson, said that he bought one of Manson's most famous paintings (that one of Edgar Allan Poe), and then got screwed for it: "The last exhibition I helped set up was in Athens, Greece. A collector and close friend of mine who lives in Athens helped co-host a solo exhibition of new paintings by Manson. Prior to the opening reception I purchased an important painting which Manson painted of Edgar Allen Poe from a past Manson collector who was selling because he needed the money. A truly amazing painting. Manson asked me if I would consign the painting to his Athens exhibition, which I did, on condition we split the profit. Later I found out the painting sold for a record price over 70,000 euros - mind blowing. I never saw a euro from that sale. (...) All in all, it was an experience I am happy about and a leg up, but one I would never do again, helping shape Manson's fine art career started as it ended. Odd and without sense of normality, yet still a great learning lesson on how people respond to stardom, loyalty, and, of course money."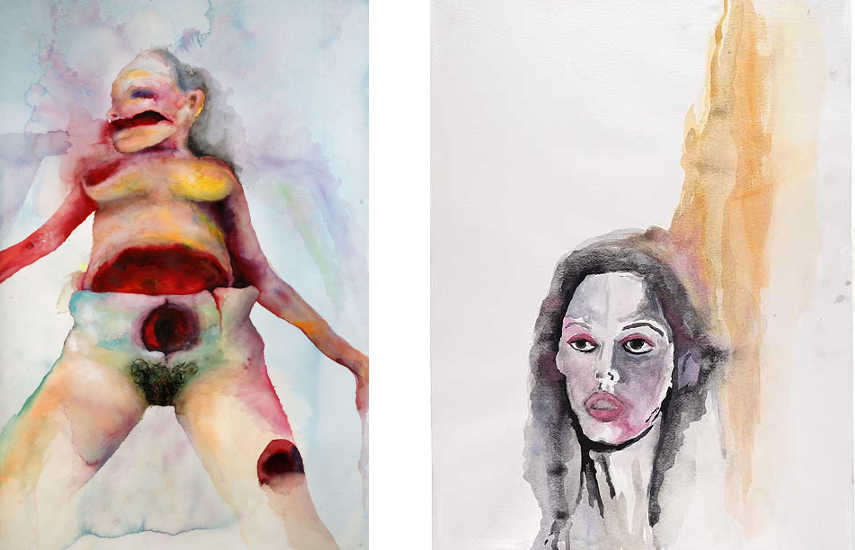 To Buy or Not to Buy Marilyn Manson's Paintings?
Apparently, there is an art market for Marilyn Manson paintings. His price range is usually from $5,000 to $10,000, but, of course, those are not his typical musical fans that are buying his paintings - it's simply different audience, with much deeper pockets. The painting that Manson used as the cover for his album Lest We Forget - The Best Of from 2004, Experience Is the Mistress of Fools, was sold for $35,000. Yet, we have seen that some of the most expensive Manson's works were sold prior to the big financial and economic crisis, when all prices were pumped up high. Also, in order to decide whether you should buy some of the Manson's paintings, you should, in this case, ask yourself two questions. The first one is the one we are always telling you about: Do you want to buy that particular artwork because you like it and can afford it, or you want to buy it in order to flip it off and earn some money on it? If the answer is the latter one, then just forget it. No one in the world could tell you with a 100 percent certainty whose prices are going to go up, especially if we are talking about a particular painting. Then, there's another thing with Manson. Are you buying his paintings because of his art, or because of his music? That's a tricky one. Sure, a fan of Manson's music would have probably paid the bigger amount of money for Manson's painting, than an art fan that has no ideas who Marilyn Manson actually is. Personally, I wouldn't pay several thousand dollars for his painting, because I don't like them, but that's just a matter of taste. The question you need to answer is this: would you pay the same amount of money for a painting, even if the author wasn't Marilyn Manson? If the answer is yes, then, go ahead, it's shopping time.
Featured images in slider: You're Sure You Will Be Comfortable, detail; The Three-Legged Dog From Bangladesh, detail. All images used for illustrative purposes only.