Known as "the grandmother of performance art", Marina Abramović is stepping into some, for her, unknown waters - classical music. After almost half a century of a unique artistic practice, to say the least, she will now engage in a brand new collaboration, for which she will give up the spotlight to a fellow artist. In what promises to be an innovative experience of classical music, Russian-German pianist Igor Levit will once again perform Goldberg Variations, a solo piano epic by Johann Sebastian Bach for which he got praised worldwide. From December 7th through 19th, the visitors of Park Avenue Armory in New York City can see and hear Igor Levit play live, but in a complimentary environment that the Serbian artist has creates specifically for this occasion.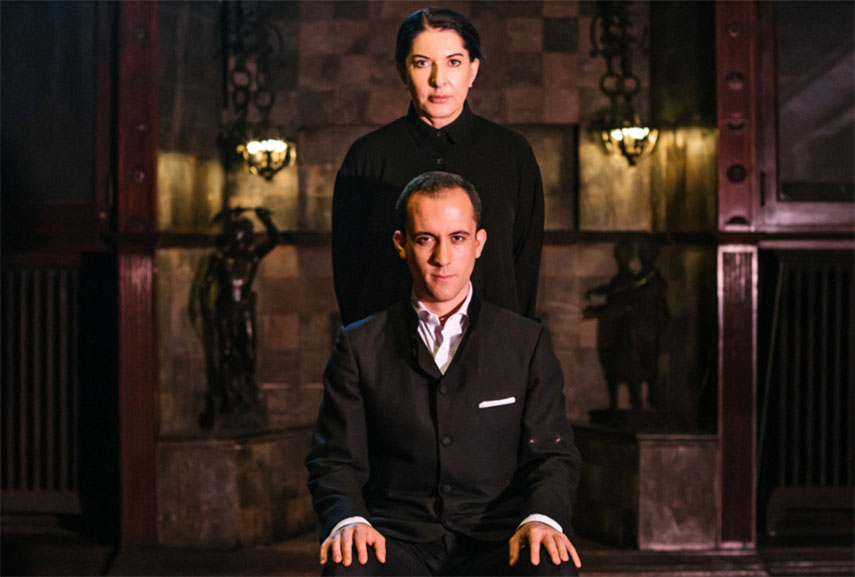 Marina Abramović and Igor Levit - The Goldberg Project
If you're planning on attending the event, there are a few things you should know, as this is definitely just your ordinary classical music concert. Before entering the Armory, the visitors will be given numbered keys of individual private lockers. Inside those, they will have to leave their technological devices, such as cellphones, watches and computers, in order not to get distracted by anything at all during the event. Once inside the Armory's Drill Hall, attendees will receive noise-cancelling headphones and instructed towards one of the reclining deck chair-style seats, designed to Marina Abramović's specifications. The public, as well as Igor Levit himself, will then sit in silence and darkness for an unknown period of time, waiting for the raised, very slowly-moving motorized platform carrying the pianist to move from the far side of the hall to the center, closer to his listeners. Once it arrives, the visitors can remove their headphones after a signal, and the 86-minute Goldberg concert can begin.
A New Classical Music Experience at Park Avenue Armory New York
This usual project represents a new challenge for both Marina Abramović and Igor Levit. The performance artist previously took over Park Avenue Armory in 2013 with The Life and Death of Marina Abramovic, while the pianist had his American debut there last year. Yet this time, Marina Abramović took upon herself to create a brand new audience for Igor Levit, in order to apply one of her famous "Abramovic methods" in her work. After being surprised with how much our relationship technology devices keep us from enjoying life around us and referencing the times cellphones interrupted important concerts, the performance artist set out to built a different kind of scenario, where those in it are required to concentrate, wait, be patient, and all of it for their own good - so they can enjoy Bach and Igor Levit in the best possible condition.
Usually the one to grant her public complete freedom in every sense of the word (just think of Rhythm 0), Marina Abramović is now leaving it with no choice - they're just as "trapped" in the waiting as she and Igor are. For the duo, it was all about creating a certain atmosphere, without interfering with the concert performance itself. In an artistic field as rigid as classical music, Marina Abramović and Igor Levit found experimenters in each other, joining their forces to create contribute to the already breathtaking listening experience of classical compositions. The visitors, as the artists hope, will leave the performance as changed people, transformed by the power of art.
Marina Abramović and Igor Levit will also hold an artist talk on December 13th 2015 at 5pm, at Park Avenue Armory in New York City.
Will you attend? Let us know on our Facebook page!
Featured image: The performance artist Marina Abramovic and the pianist Igor Levit at the Park Avenue Armory. Credit Michael Kirby Smith for The New York Times. All images used for illustrative purposes only.