A ritual of the pre-Columbian civilization, the Maya dance is often characterized by transformations of human beings into supernatural, god-like beings by means of visionary trance. Possibly through the use of hallucinogenic drugs, the performers were put into an altered state of mind that allowed them to communicate with the other world.
It would seem that this is the subject of the five portraits by and of Marina Abramović that are to be presented at Masterpiece London 2018, courtesy Factum Arte and Lisson Gallery.
Five Stages of Maya Dance will be shown as part of the Masterpiece Presents platform and it will merge light, sculpture and performance in quite a unique way.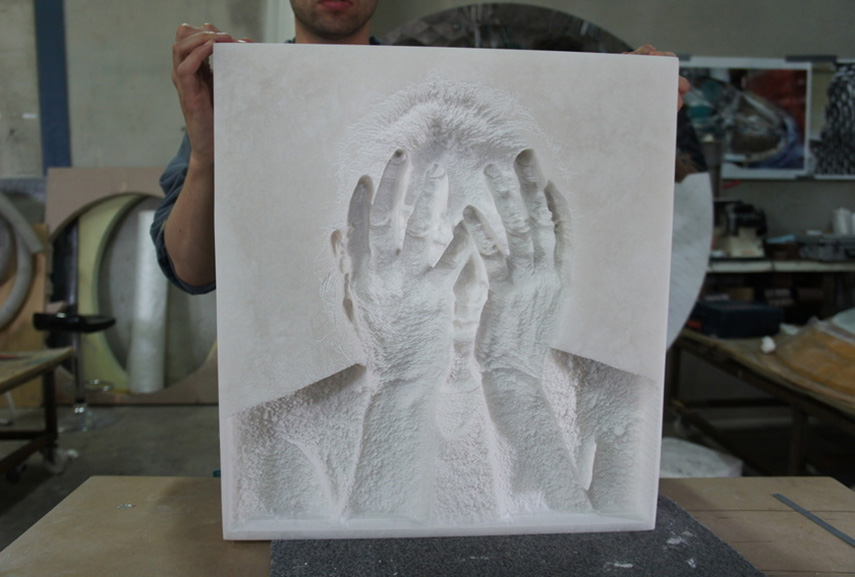 Five Stages of Maya Dance
Already teaming up with Factum Arte for her 2020 exhibition at the Royal Academy, Marina Abramović and the Madrid company created five alabaster portraits.
Aiming to re-establish the relationship between surface and image, the artworks have the Serbian artist appear in a subtle play of light and stone; depending on our point of view as we move around the pieces, they decompose into intricately carved "landscapes".
By choosing alabaster, Abramović and a team of digital innovators at Factum Arte explore the possibilities of translucent materials and 3D scanning as technique, using tone as relief to produce optical effects in the viewer's eye.
3D Render of Five Stages of Maya Dance by Marina Abramović
Marina Abramović at Masterpiece London 2018
As part of London's renowned fair, Masterpiece Presents was first introduced in 2017 as a dedicated exhibition space dedicated to innovative, immersive works of art. Following a specially commissioned light installation by Chilean artist Iván Navarro, Marina Abramović will now come in as one of this year's highlights.
Commenting on her participation, Abramović said:
Performance is an immaterial form of art. At this point of my life, facing mortality, I hence decided to capture my performance in a more permanent material than just film and photography. I chose alabaster based on its history and properties (luminosity, transparency..). This body of work is the result of extensive research and we are thrilled to present this series for the first time at Masterpiece London.
The set of five portraits will be shown at Masterpiece Presents from June 28th to July 4th, 2018.