At this point, we're very used to Marina Abramović doing all sorts of intriguing stuff for her shows - after all, "the godmother of performance art" taught us to expect nothing less than unusual.
Her artworks have always been unique tests of endurance - be it when she cleaned meat off animal carcasses in a closed space, lived in a gallery for 12 days without food, or sat in a chair for more than 700 hours just staring at strangers.
What she will do for her upcoming exhibition at the Royal Academy of Arts in London will surely introduce something new for both the artist and her audience, as it involves a lot of electricity, blood, and glass tears, among other things.
Marina Abramović x Factum Arte
Speaking to Bloomberg, Marina Abramović revealed her collaboration with Factum Arte, an art fabrication company from Spain, which is helping her create artworks for her exhibition in London.
For the next several months, the 71-year-old will work with the company's 50 artisans and technicians to make dozens of works of art.
One of the pieces will be a glass fountain of the artist, made of glass and apparently filled with her blood, which will be coming out of "everything - my nose, mouth, eyes, breasts, fingertips." Others will include a table covered with 10,000 glass tears and a statue of the artist eating herself.
But perhaps the most intriguing artwork we can expect is, of course, a performance, which will see Abramović charged with electricity - to the point she can extinguish a candle by simply pointing at it. According to Adam Lowe, Factum's founder, it will be as much as one million volts of static and, if done properly, it comes out of your fingers and puts out a candle a meter away from the person.
But if it goes wrong, it is a killing machine.
We have no choice but to wait and see how it turns out!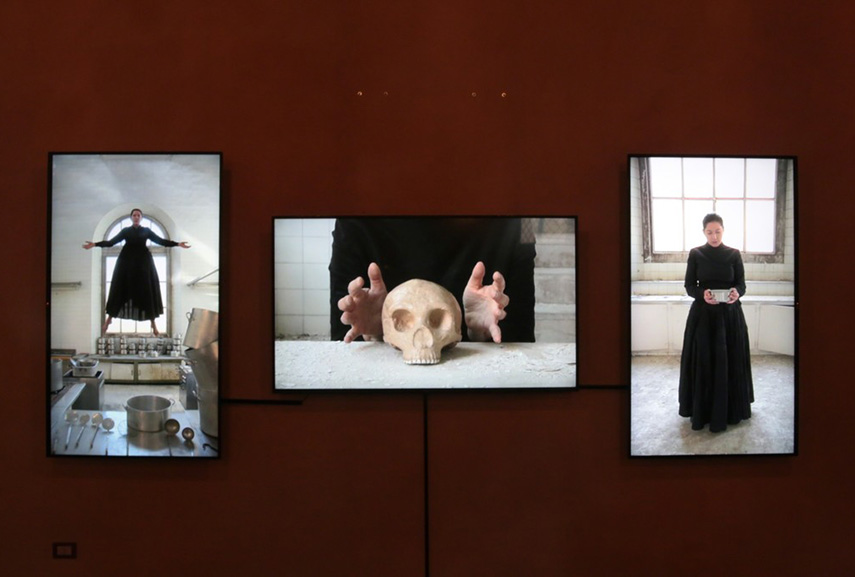 The Exhibition the Royal Academy of Arts London
Factum Arte was founded in 2001, and has had an ongoing working relationship with Marina Abramović since 2013.
Our endeavor with Abramović focuses on developing innovative materializations of her ideas and practice. We explore several subjects and their materialization, such as presence and absence, life and death, the ephemeral and the permanent. These and many other result from a number of visits to our workshop and the experimentation between our technologies and her ideas.
Marina Abramović's show at the Royal Academy of Arts in London will take place sometime in 2020, and it will be the first time in the institution's 250-year history that they acknowledge a woman in a retrospective.
In addition to the artworks that will be exhibited in this show, some of what's produced at Factum will be sold through various galleries representing Abramović.
Featured image: Marina Abramović - Artist Portrait with a Candle (detail), 2013, from the series 'Places of Power'. Courtesy of the Marina Abramović Archives.