Opened in 2008 with a goal to work closely with emerging young artists, the 19 Karen Contemporary Artspace is an Australia-based art gallery that nurtured many talented artists over the years. Representing both potential and experience in many forms, they have displayed styles ranging from Urban and Street art, over Pop art, to Expressionism and Abstract work. With a large base of represented artists, they enter the year of 2016 with three solo exhibitions taking place in their halls, one of them being Marina González Eme's Blank. Blurring the line between drawing and painting, González' clears her mind and gives in to the blank canvas surface, creating stunning imagery that is to be displayed in her first solo exhibition in Australia.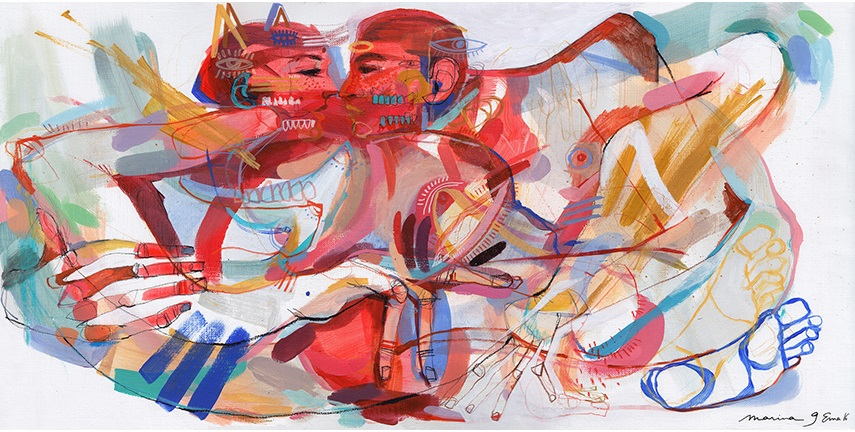 Exploring Women Sexuality
Born in 1987 in Madrid, Spain, Marina González Eme graduated from Complutense University of Madrid (Fine Arts). Discovering her personal affinity towards paper as a source for her artistic expression, she started studies on Illustration in order to improve her already astounding drawing skills and distinct herself in the art world. In her artistic creation, Marina González became highly conscious of woman's body, drawing it with a certain connection and inspiration, always adding a slight self portrait nuance. She even developed a personal project about big scale self-portraits, which was exhibited in Vyner Street Gallery in London. Her other exhibitions include Happy (2016) at 19 Karen Contemporary Artspace at Gold Coast in Australia; Fantasía Grotesca (2015) at Café Molar in Madrid (Spain); Y aquel pez que voló… (2013) at Escuela Arte 10 in Madrid (Spain), and 7112 Miles (2011) at Vyner Street Gallery in London (UK).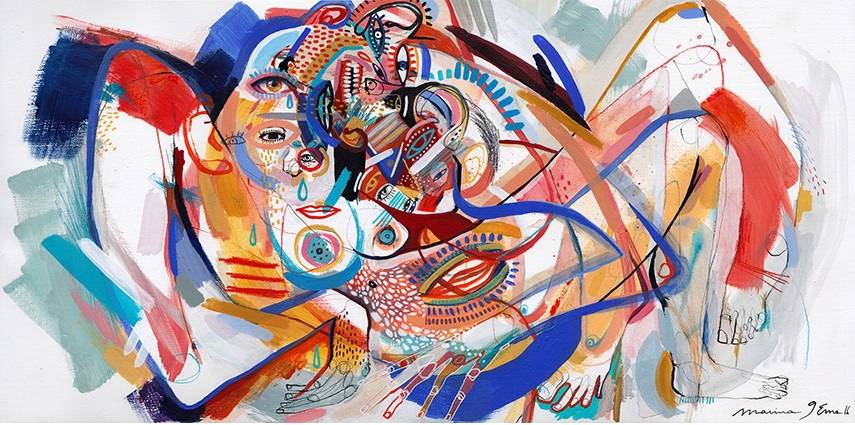 A State of Mind
In her debut solo exhibition taking place in Australia, Marina González Eme uses the line to convey emotion, blending in painting and drawing elements. Immersing herself into every piece, the exhibition draws its name Blank from the state of mind with which she starts her work. Letting her ideas drift through the blank space of the canvas, the artist loses and finds herself repeatedly, resulting in many colors, lines, eyes and hands. Describing the experience, González states: "Blank is an adjective, is a state of mind, a deep feeling, an unfilled gap. I start to paint in a blank space. My mind is blank." The new body of work to be displayed contains colorful, stunning pieces evoking thought and an array of emotions as the viewer goes over different points of the canvas. The conjoined body parts, especially a number of distinctly painted eyes each portray a separate feeling, creating a vortex of energy and experience that easily captures and holds attention demanding repeated review of the piece.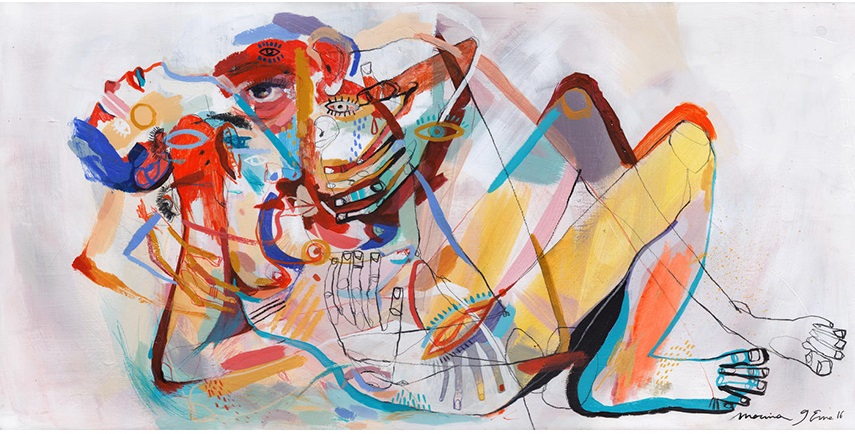 Marina Gonzalez Exhibition at 19 Karen Gallery
Displaying latest work of the promising young artist, the largest Contemporary Art Gallery on the Gold Coast in Australia holds the first solo exhibition of work done by Marina González Eme. Already displaying skill in drawing and illustration, the artist transmits emotion through line and merges it with paint with a lot of finesse. Starting off the artistic year of 2016, the 19 Karen Contemporary Artspace portrays Marina González Eme's pieces in an exhibition titled Blank, opening on March 19th and lasting until April 30th, 2016.
Featured image: Marina Gonzalez Eme - Beginners (detail), 2016. Images courtesy of 19 Karen Gallery.