When experiencing the art of Marion Peck, one enters a wonderful world full of solitude and detachment that is at the same time heartbreakingly sweet, irrepressibly optimistic and full of humor. One of the leading ladies of Pop Surrealism, she creates compositions that are characteristically cartoonish and uses a style that is instantly recognizable. Looking beyond the subconscious, she populates her dreamlike canvases with strange and cute creatures, always reminding us that the waking world is never quite as it seems. While depicting these atypical subjects in a dreamlike manner, she focuses on a specific sense of humor which ranges from joyous to quite sarcastic. Drawn from dreams and dreamlike states to inhabit fantastic, outlandish landscapes, these memorable characters burst with life, or are simply adorable, soft or funny. Distorting reality and reducing it to a mere farce, her canvases all have a specific story to tell. Through this distinctive and considerable body of work she created over the last twenty years, Marion has been showing us that while life can be ominous, tragic, or even deceptive, it is also beautiful, magical and full of hope.
This legendary artist will soon take part in the group exhibition at Dorothy Circus Gallery, celebrating the opening of its temporary British branch in London, at Notting Hill. At the same time marking their 10th anniversary, the gallery has prepared a grandiose reunion of its most important pop surreal icons, that will collaborate with new international figures in this truly magical meeting. Alongside Marion Peck, the artists who will introduce pop surreal rooted culture on the English ground are Kazuki Takamatsu, Joe Sorren, Ray Caesar Travis Louie, and Camille Rose Garcia. From the digital highly detailed images to a more painterly approach of the brushes on canvas, these artists will present a broad range of artistic mediums and personal styles, highlighting the versatility of the movement. Titled Pages from Mind Travellers Diaries, the exhibition will take visitors on a journey toward the remotest ways of Surrealism - a journey full of surprises and significant encounters.
We had a chat with Marion Peck to find out more about this immersive group show and her practice in general. In an exclusive Widewalls interview, she talks about Pages from Mind Travellers Diaries, her artistic approach, the way she gets in touch with her subconscious, the aspect of humor, her influences, and much more.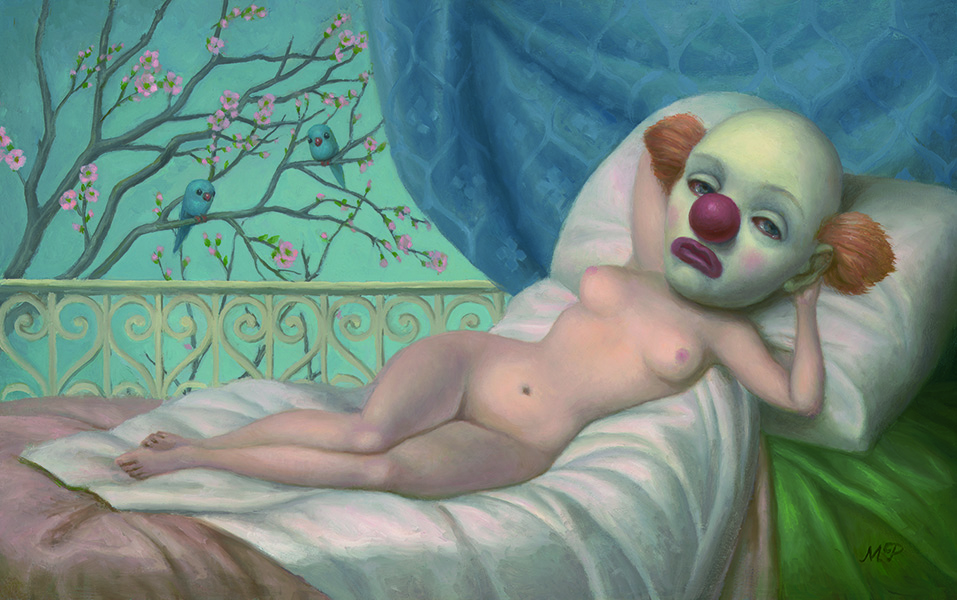 Pages from Mind Travellers Diaries
Widewalls: You will take part in the group exhibition for Dorothy Circus Gallery's 10th anniversary titled "Pages from Mind Travellers Diaries". Could you tell us something about your participation in the exhibition and its concept?
Marion Peck: In this show, I am happy to be in the company of many other talented artists from the Pop Surrealist movement, especially because I don't think very many Pop Surrealist shows have been presented in the U.K. It's wonderful that Dorothy Circus Gallery is bringing this show to London. I love the concept of the show because it is so open, and allowed me to do the paintings that I was inspired to do at the moment.
Widewalls: Your work has been classified within the Pop Surrealist movement, and you tend to mix "lowbrow" and "highbrow" styles in your practice. How do you think this approach challenges the conventional notion of art?
MP: I think Pop Surrealism challenges the conventional art world in a very basic way, mainly in that it thumbs its nose at art criticism. Instead of esoteric ideas that require the critic as an intermediator between the art on the one hand and the public or the viewer on the other, Pop Surrealism just is what it is. It's art that doesn't care about intellectual pretension. Pop Surrealism circumvented the underlying elitism of the art world, and created a new, more vital, accessible, enjoyable, fun art scene. It broke rules that needed to be broken, to let in some fresh air.
Connecting to the Subconscious
Widewalls: Your pieces are both enchanting, strange and ironic and filled with quirky and charming creatures. How do you conceive your characters?
MP: My paintings come to me more than I come to them. To me, "surrealism" means more than just being superficially strange. It's about an authentic connection to my own unconscious, which I get to through my dreams, both of the day and night variety. Like the first surrealists of the 1920's, I am a big fan of the un, or subconscious, or whatever name it is you wish to give to the amazing depths that lie below, and all around, the everyday consciousness we tend to inhabit. That is the realm where I find inspiration.
Widewalls: Your narratives are often disturbing but playful. How important is the aspect of humor in your art practice?
MP: Humor is very important to my work. I often wonder at humor and the strange role it plays in the human psyche. Sometimes when I hear people laugh, they sound to me like monkeys. It's interesting to me that dogs don't laugh. Sometimes I think they are annoyed by human laughter. But in any case, humor and laughter are things that I feel should be taken more seriously. I am totally not kidding! (Though I am laughing.) But anyway… I think humor is a fascinating place where we "let go". To me, that is a really interesting and fertile place for art.
Widewalls: You and Mark Ryden are both accomplished artists with a very distinct language and vision. How does each other's work influence and complement one another? 
MP: Well, we are together so much, and talk so much, and are so into each other's work, maybe it's just sick. But we are happy and love each other, and are each other's biggest fan, so does that make it okay?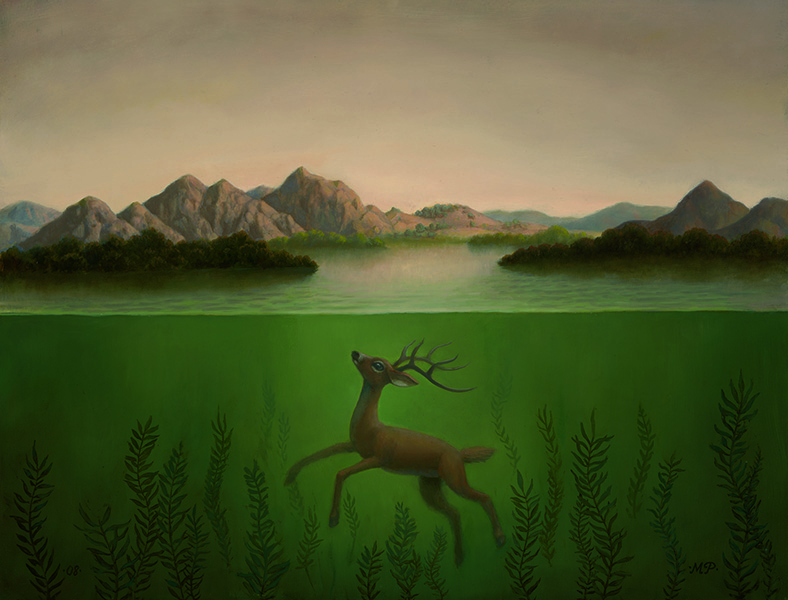 Inspiration and Influences
Widewalls: Who were your influences and whose work do you admire the most today?
MP: I was always entranced by the renaissance and by the work of long-dead artists, like Van Eyck, Bosch, Breugal, and Botticelli, ever since I was a young girl. This attraction to the past made me feel like an outsider in the art world all through school in the 80's and in the art world I encountered in the 90's. I had never really admired a living artist as much as I did dead ones until I saw Mark's work on the cover of Juxtapoz magazine in 1998. Since then, other living artists have also won my admiration. I love the work of John Currin and Lisa Yuskavage. If they were based on the west coast instead of New York, their work would be called Pop Surrealism. I think Neo Rauch is an absolutely amazing, powerful painter. Outside the realm of painting, the filmmaker Miyazaki is one of the artists I admire most. His films, like Spirited Away and Princess Mononoke are some of my favorites.
Widewalls: Could you reveal some of your future plans and projects?
MP: My husband and I recently moved from Los Angeles to Portland, Oregon, which I am very happy about. I love it here so much. I am vastly enjoying the autumn, my favorite season, which I missed so much living in Southern California. I'm looking forward to settling down here, having a quiet life and painting. I will be having a solo show with Dorothy Circus Gallery in Rome next spring, and also showing at Corey Helford Gallery in Los Angeles late next year.
Dorothy Circus Gallery will celebrate their 10th anniversaty through two exhibitions - in London, opening on October 12th, and in Rome, showing from November 11th, 2017.
Featured image: Marion Peck, courtesy the artist; Marion Peck - Home. All images courtesy Dorothy Circus Gallery.