The comprehension that the body is the central tool in the act of painting has been perhaps for the first time in art history entirely articulated by Jackson Pollock. Although he did not use his actual body in a performative manner by literally leaving palm or foot traces on canvas (as was the case with later artists such as Yves Klein or Carolee Schneemann), this grandmaster played with the notion by introducing the dripping technique, which was a direct effect of the activation of his physical engagement.
In similar fashion, but with a contemporary twist, the paintings of Mark Wallinger are created. Although this renowned British multimedia artist is best known for large-scale public installations, his upcoming solo exhibition titled Upside Down Inside Out Back to Front to take place at Galerie Krinziger will feature his paintings made from 2015 onwards.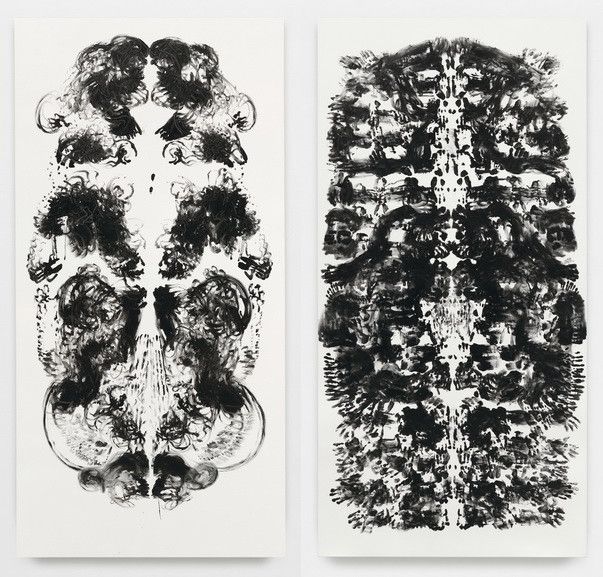 The Traces, Marks, and Hues
Through his artistic practice, Mark Wallinger explores the notions of authority, artifice, illusion, and power, and the paintings are an extension of his recurrent explorations. In order to underline the full extent of his painterly domains, three distinct, but related bodies of work will be displayed; each painting was entirely hand-made and is made according to the artist's bodily proportions.
The first series is titled The id Paintings (2015/2016) and is consisting of black-and-white monochromes, a continuation started with the Self Portrait series shown at Galerie Krinzinger in 2013. These performative works can be observed as particular maps of the artist's gestures, and are a bit reminiscent of the aesthetic of the psychological Rorschach test (symmetrical ink blocs of different shapes and colors).
The following 2017 series is titled The Action Paintings, and the paintings from it represent Wallinger's articulation of self-reflection; how the traces of the gestures are indicative of the artist's presence within the work. The title refers to the term inaugurated by Harold Rosenberg in 1952.
The last and the latest series is The Mirror Paintings from 2018. These paintings are a continuation of the explorations started with the previous series, so they represent Wallinger's fetishized encounter with the canvas. The painterly substance contains the memory of his gesture meaning that surfaces of canvases are insistently sculptural which makes the paintings saturated with the sense of elusiveness.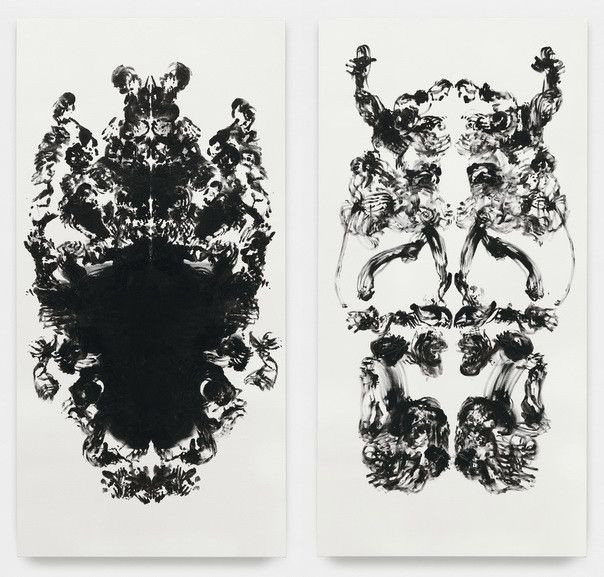 Mark Wallinger at Galerie Krinzinger
The upcoming exhibition entirely devoted to his paintings will be Wallinger's third solo show at this gallery. At the opening scheduled for 30 April, the artist will be present and will speak about his work.
Upside Down Inside Out Back to Front will be on display at Galerie Krinzinger in Vienna from 2 May until 15 June 2019.
Featured image: Mark Wallinger - Action Painting, 2017. Acrylic on canvas, 180 x 180 x 5 cm. Courtesy the artist and Hauser & Wirth © Mark Wallinger. Photo: Alex Delfann. All images courtesy Galerie Krinzinger.