In the history of Mexican art, muralism certainly takes up an important spot, as a means of expression beyond artistic reasons. In contemporary times, many young artists take after their idols such as Rivera and Siqueiros; their murals today, however, can be a little less politically-oriented.
An East Coast Mexican street artist, Victor Quiñonez aka Marka27 salutes the legends of his homeland through large-scale painting, and gets inspired by the rich culture it offers. By mixing street and pop culture, he manages to create unique artworks and to expand on a signature style he calls "Neo Indigenous" - one that is rich with references to the indigenous aesthetics.
But what perhaps marks Marka27's current state of affairs is his involvement in commissions and branding. Over the past months, the artist's murals have been appearing all over the place - from the artwork done for Microsoft headquarters to pieces that now grace the walls of restaurants like Tacos, Tortas & Tequila and Buena Vida in Maryland.
The busy period doesn't stop here. Marka27 has partnered with the City of Boston's Department of Neighborhood Development and Boston Arts Commission to create another mural, before going to Michigan to create the largest Bangladesh-themed artwork in the States. His works can also be found indoors, at a two-man show in Brazil scheduled for September 2018.
For someone who creates murals on such a frequent basis, but who is also a product designer, toy designer, and more, life must be pretty amazing. We caught up with Marka27 to talk about his latest artistic adventures and the way he has been mastered his craft since before "street art" was even a term.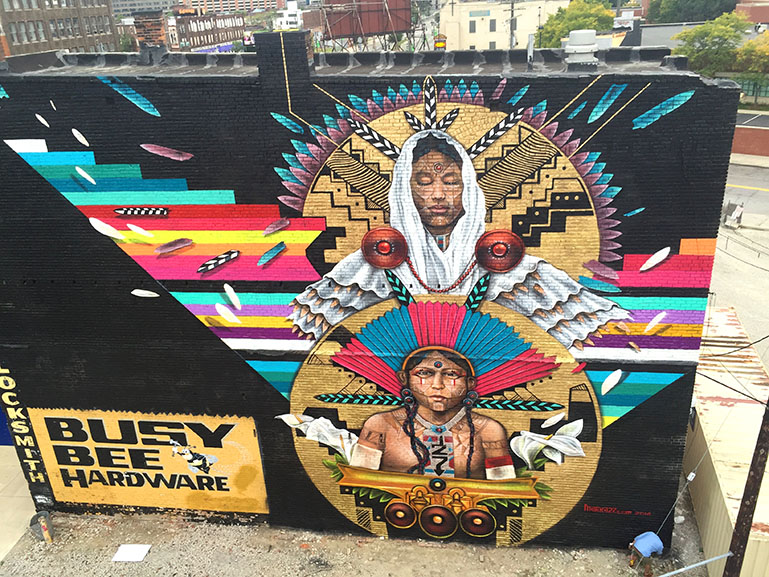 The Neo Indigenous
Widewalls: Let's talk about the "Neo Indigenous". How was it born? Where has it taken you so far?
Marka27: "NEO INDIGENOUS" is a style I've been working on since I was living in Los Angeles back in 2003. It started with my minigods the designer vinyl toys I released with Toy Tokyo and Kidrobot in 2007. It was born from my love of indigenous art forms like Aztec, Mayan, Inca, African etc, also bringing my point of view, style, graffiti and street culture to the mix.
It's also how I best describe the murals and paintings I've been creating for a while now. My work is meant to celebrate culture and expose beauty while combating fear of diversity.
Widewalls: Why is street art the best medium for you to transmit your message?
Marka27: It's funny cause I still feel a certain way about the phrase "Street Art". The street is the voice of the people.
I come from graffiti and came up in an era that had to fight for the opportunity to paint walls. I paint with pride and tremendous weight on my shoulders because of people like Jose Clemente Orozco, Siqueiros, Diego Rivera, and John T. Biggers, Mexican and African American muralists who created work dealing with identity, politics, struggle and love for humanity. Those legends put my ass to shame and I hope to inspire anyone the way they have inspired me.
Widewalls: You work in a variety of other media too. What is your favorite one? Why?
Marka27: I live to create and I love painting canvases because they become very personal by nature. I also like designing products that can be easily accessible and can be shared.
I have to say that large-scale murals at the moment are my favorite medium. I mostly use spray paint for my murals and acrylic latex. It's my favorite medium because of the impact it makes on communities. It's for everyone regardless of status and left for the world to judge.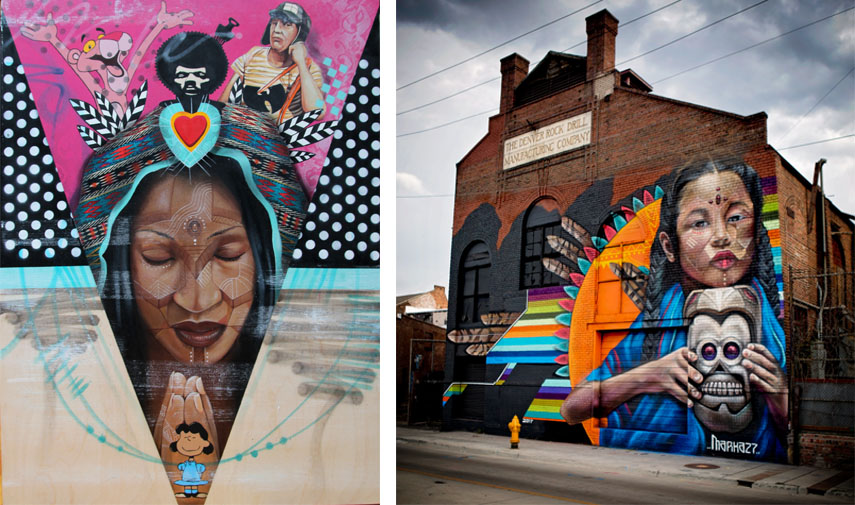 Street Theory
Widewalls: Tell us something about your creative agency, Street Theory. What does it provide?
Marka27: Street Theory is a Creative Agency and Gallery founded by Liza Quinonez and myself, based in Cambridge, MA and Brooklyn, NY. Together, we bring 20+ years of experience in graphic and product design, public art production, artist management, event & exhibition production, and experiential marketing for projects commissioned by private and commercial clients throughout Boston, New York and Los Angeles.
We create authentic, one-of-a-kind experiences for our clients that infuse art and street culture into all aspects of life and work - curating art exhibits, producing events, empowering communities through art, and working with some of today's most talented and influential artists.
We're a lifestyle creative agency that loves working with passionate, like-minded people. Our latest projects have been pretty diverse in scope, from a pop-up gallery in Harvard Square that transformed an abandoned bank into a live experiential art exhibit, to a high-end mural and sculptural installation for Microsoft.
We also curate and produce the mural festival in Boston "The Underground Mural Project" at Underground Ink Block in the South End. Last year's event culminated with "The Underground Get Down," a huge cultural celebration with an attendance of four thousand people from all walks of life. It was an amazing experience to see everyone enjoying good music, art, food, dancing and just feeling good vibes.
The Busy Schedule of Marka27
Widewalls: You've been doing a few commissioned works lately as well. Is the challenge of doing such pieces any different from when you're doing them without a commission? Are you free to choose your own theme/image?
Marka27: Every client is unique. Street Theory as an agency helps separate commercial work from what I consider projects that allow complete creative freedom. I welcome commissions, collaborations, and I'm open to new challenges.
The beauty of working with a network of other amazing artists is being able to pass along and manage jobs that don't necessarily fit my aesthetic but will definitely work for another's.
Widewalls: What are the collaborations you will be carrying out next?
Marka27: I have some murals planned for D.C., Detroit, New York, The Container Yard in L.A and I'm looking forward to a two-artist show with A7MA Gallery in Sao Paulo Brazil.
I'll be showing new original paintings and illustrations alongside Brazilian artist Enivo.
Street Theory is also planning the next Underground Mural Project with Underground Ink Block in Boston later this summer.
Widewalls: What about your body of works outside commissions? What's next for Marka27?
Marka27: I would really like to make more time for travel. I would love to visit places like Peru, Chile, Cuba, Berlin, Barcelona, to name a few.
It's important to stay inspired and exposed to cultures of various types. You have to feed your soul in order to produce with purpose. I've been blessed with opportunities to visit China, Hong Kong, Tokyo, London, Mexico, Montreal, all amazing places for inspiration and hope to show my work internationally beginning with Sao Paulo this summer! I'm a family man and plan on taking my wife and kids to Tulum before the madness begins.
My work and passion mean nothing without my family's love and support. I thank God my family and loved ones for the support and faith they have given me throughout the years.
Thank you WideWalls for allowing me to express myself.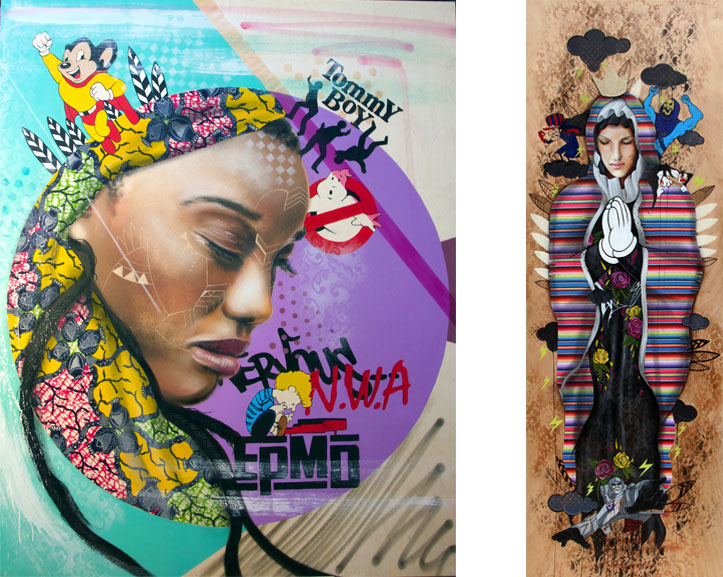 Featured image: Marka17; Richmond Mural Project 2016; Beyond Walls, 2017. Courtesy the artist.