The work of Markus Redl, an artist based in Vienna and Carrara, was always intriguing to the museum-going public. Sure, his popularity can be attributed to the diversity and sheer talent, but a lot of it has to do with the way Redl sees and interprets art:
Art constitutes a self-empowerment to arbitrariness. It establishes its own conventions and can thus point at the characteristics of a standardized environment by diverting from common rules.


Keeping this perspective in mind, Galerie Lisa Kandlhofer organized an exhibition of his works, titling the show Mudras. It will explore the elucidations of arbitrariness that come together in the codes of form and content, tackling main creative pillars of the Austrian artist.
Mudras
The term Mudra derives from Sanskrit, the primary liturgical language of Hinduism, and it means seal (in this case meaning the thing that exists). The upcoming show's title has its origins in India - mudras are a collection of symbolic or ritual gestures in Hinduism and Buddhism and, while some mudras involve the entire body, most are performed exclusively with hands and fingers.
The Mudras show will focus a lot of attention on mudras and the different ways Markus Redl interprets and creatively utilizes them.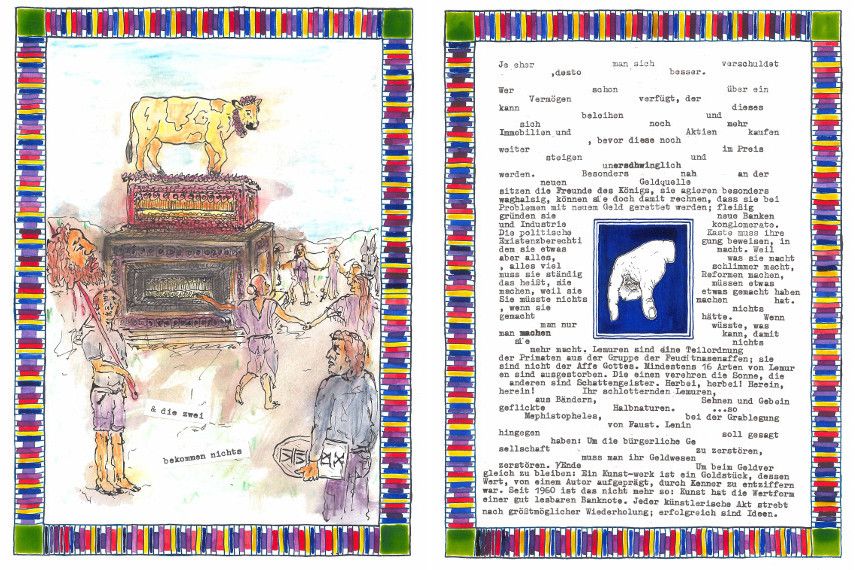 Fourteen Years of Art Making
Mudras will primarily focus on what Markus Redl created during the last 14 years of his career. This diverse selection of works includes drawings, a film, a moving sculpture, text collages, an audiobook created in collaboration with Stefano Bernardin and sculptures made from a variety of materials.
Markus Redl's methods, although drastically evolved over the years, were always based on content and did not pay too much attention to the technique.
As a result, the works on display will be very diverse in terms of their formal language - they range from strictly architectonic to playful and figurative, but all of the artworks reflect their maker's artistic visions and ideals.
Markus Redl - Extended range of view 360 degrees
Markus Redl Art Exhibition at Galerie Lisa Kandlhofer
Always independent from the timing of the art market, it's fair to say that Markus Redl's works are timeless pieces of art that are neither short-lived nor easy to consume. The upcoming exhibition will also feature a publication that comprises the library of stones that Markus Redl has been working on continuously since 2004.
Mudras, a solo exhibition of Markus Redl's pieces, will be taking place between the 30th of November 2017 and the 10th of February 2018 at Galerie Lisa Kandlhofer in Vienna, Austria.
Featured images: Markus Redl - Stein 147 [27Co], 2017, Rosa Portogallo; Mudras & Kapala, 2017, Crayon, paper; Stein 144 [Schuldenschnitt], 2015, bianco carrara marble, white gold; Apostasie - Das Abendland kommt aus dem Morgenland (2), 2015-2016, Ink, typewriter, crayon, paper, 36 pieces; Stein 146, [Hold the Line], Bianco Carrara Marmor, Sammlung Würth; Stein149, [Plan für einen Raum aus Süßigkeiten mit Spiel von LichtundSchatten], 2017, Krastaler Marmor; Apostasie - Das Abendland kommt aus dem Morgenland (1), 2015-2016, Ink, typewriter, crayon, paper, 36 pieces; Four pictures taken at the exhibition. All images courtesy of Galerie Lisa Kandlhofer.