One of the finest European contemporary art fairs, viennacontemporary is coming back to Viennese Marx Halle for its third edition. Taking place at the end of September, the 2017 edition will present a top-quality selection of galleries and a program that provides an interesting mix of artwork both for local aficionados and international collectors. For the third edition, the fair has prepared a comprehensive program and balanced list of exhibitors, bringing together the most relevant galleries from Austria as well as young and renowned spaces from all around the globe. The selection included new discoveries particularly with regard to young art and important artistic positions from Eastern Europe. Establishing an active role in the networking of Vienna's cultural and creative scene, viennacontemporary will underline its significance as a location for the presentation of young and established artists. Alongside well-curated exhibition program, the fair will present its film and video program, talks and discussions, and the art-education program with guided tours on selected subjects.
A part of fair's special presentations, ZONE1 will feature young Austrian artists with solo presentations. Curated by Marlies Wirth from the MAK (Austrian Museum for Applied Arts / Contemporary Art in Vienna), the program will offer a series of innovative projects and present the entire range of young contemporary art production including photography, extended painting, sculpture, installation and performance. We had a conversation with Marlies Wirth to find our more about this year's edition of the fair and what's cooking in ZONE1.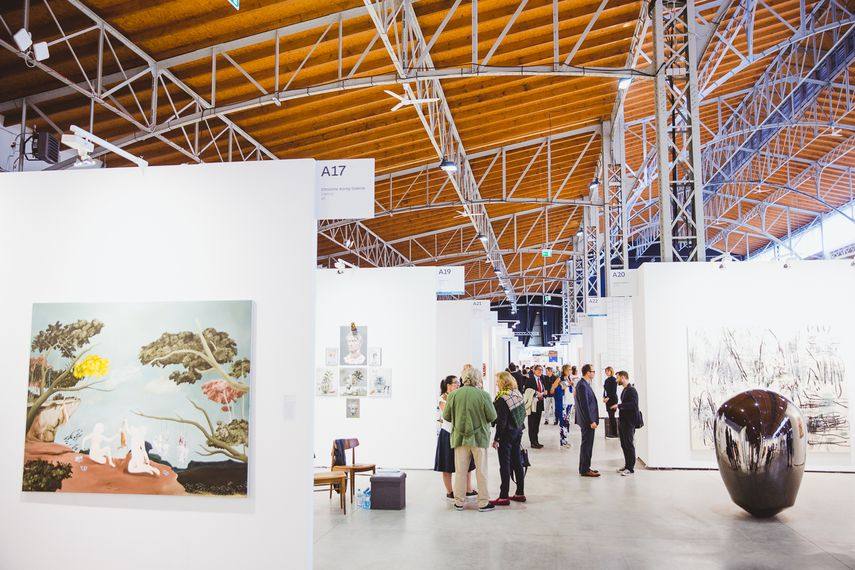 viennacontemporary 2017
Widewalls: Viennacontemporary is coming back for its third edition this year. What has changed since the inception of the fair?
Marlies Wirth: I have the feeling Vienna itself – and also viennacontemprary – has become more confident over the past three years. A lot has changed in the gallery landscape, the way art is presented and the way the Vienna art scene is perceived from an international point of view. This reflects also onto the art fair and its contents – I have the feeling it is becoming ever more precise and focused and there are yet again many new galleries and first-time appearances this year to look forward to.
Widewalls: What sets viennacontemporary apart from other international contemporary art fairs?
MW: It is – in my perception – a very dense but concise art fair, size wise as well as concerning the selection of galleries and special sections. There is no doubt that an art capital like Vienna needs its own art fair to be part of the international art market. With the curated sections – like ZONE1, Solo & Sculpture, Cinema and the high quality Talks programme – or the specific Focus countries (this year: Hungary) and Nordic Highlights (selected galleries from Finland, Denmark, and Sweden) there is also the opportunity to make a real impact for professionals locally and abroad.
Also, the fair coincides and since years cooperates with the special gallery festival "Curated by" (founded by departure, the creative center of the Vienna Business Agency). This makes for very interesting gallery exhibitions guest-curated by international curators – a great extension of the visit to the fair itself. This year's theme is "Language in art" – the presentations will raise the question of the significance of language in contemporary art. The digitalization of all areas of life increasingly confronts us with a verbalization of images and the transformation of language into pictograms. The exhibitions question these trends and examine their relevance in current art production.
Widewalls: Once again, viennacontemporary will present a top-quality selection of galleries. Could you tell us something about this year's exhibitors? Are there some highlights you would like to mention?
MW: In the context of the solo presentations of ZONE1 that I curated, there is, of course, a lot to look forward to! With the opportunity to choose artists who are not Austrians, but were "educated in Austria", I immediately thought of Christian Falsnaes – his performative works play with the interdependence of the artist and the audience. His Berlin gallery, PSM, represents a lot of interesting young artists and has a very exciting and courageous contemporary program. So I am very happy that PSM, Berlin will participate in for the first time at the viennacontemporary upon my invitation.
Also, there are quite a few galleries that will make their debut on this year's edition of viennacontemporary, and I am very excited about that. In the framework of ZONE1 the new "branch" of Christine König Gallery, KOENIG2, directed by Robby Greif, will present the artist Thilo Jenssen and the new gallery Zeller van Almsick (representing Kay Walkowiak) will make the first appearance as well. Outside of ZONE1 the new Viennese gallery Vin Vin, Vienna founded by the Italian and former orchestra conductor Vincenzo Della Corte will show at the viennacontemporary for the first time.
All the different sections and selections sound very promising to me – I am very much looking forward to the presentation of "Solo & Sculpture" (curated by Miguel Wandschneider), specifically to the sculptures by the exciting artist Michael E. Smith (KOW, Berlin) and the "old master" Bruno Gironcoli (Galerie Krinzinger).
I am also very honored to be part of this year's talks program, curated by Kate Sutton. Her theme, Borderline, focuses on the comprehensive changes that European cultural institutions face on a political, social, and cultural level, and I will be discussing changing institutions (biennales, museums, etc.) together with Alanna Heiss, Maja Ciric and Irena Popiashvili.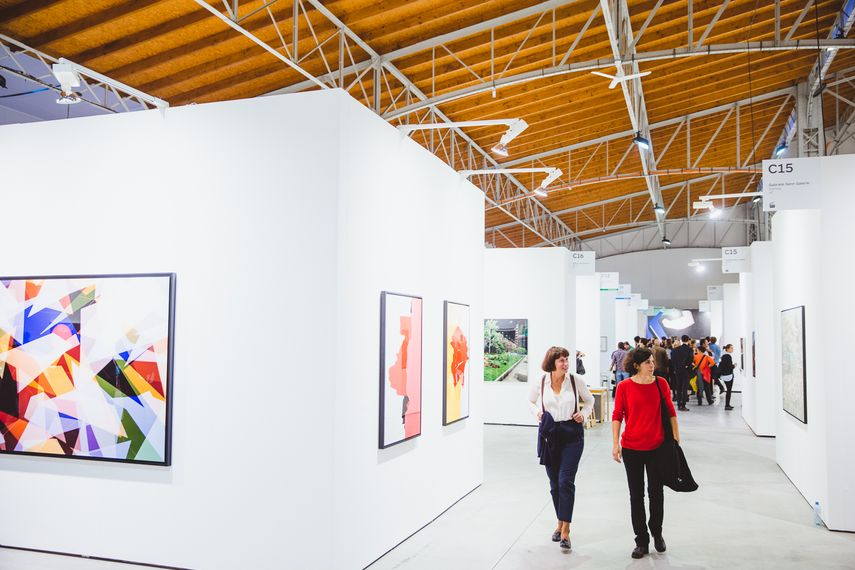 ZONE1 Featuring Young Austrian Artists
Widewalls: An acclaimed format that gives a stage to young Austrian artists, ZONE1 will present the entire range of young contemporary art production. Could you tell us more about this year's curatorial concept behind the selection?
MW: Featuring ten positions of artists below 40, who were born or educated in Austria, this year's ZONE1 selection brings together precise solo showcases to form a multilayered presentation of contemporary artworks on a wide array of different media and topics. Of course the selection reflects also the curator's subjective interests, with themes ranging from self-optimization, information, and data transfer on the internet, matter as information storage for human civilization, expanding the notion of painting and strategies of its spatial experience, or the basic conditions of artistic creation and the political and sociological dimensions of art itself.
Widewalls: A section for discoveries and surprises, ZONE1 will feature ten solo presentations by Austrian artists under 40. What can you tell us about this year's featured artists?
MW: Most of the artists will create new works specifically for their solo presentations at the fair and I am looking very much forward to seeing them become real and tangible.
The artist Sarah Pichlkostner (Galerie Hubert Winter), for example, will continue to work on her fictitious characters, which she developed in the course of her artistic engagement with self-optimization apps. Emerging like an "echo" from the past, a new character will come into play, who, by reflecting on the thought of optimization, arrives at dealing with the emotion of jealousy. I am very excited to see which physical form this concept will take!
With a new, performative installation, media artist Samuel Schaab (unttld contemporary) will be concerned with an inanimate matter as "storage for civilization". The new works, which were specially developed for ZONE1, are arranged in a procedural formation that is constituted by the elements of time and variability. A heavy stone will be shifted around, its movements following the time pattern of a 60-minutes tape recording. Position markers, as used in theater and movie productions, will record the stone's past locations and, towards the end of the fair, result in a "mapping of the unmovable", asserting its territory as a distillate of time.
New works will also be presented by artist Flora Hauser (Galerie Meyer Kainer), the youngest of the bunch, born in 1992. Personal notebooks and texts provide the basis and anchor point of her fine compositions – drawn with colored pencils on oversized canvases – in which she executes informal lines, dots, and subtle image areas in minute detail. Contrary to her texts, which verbalize specific content and efforts of orderliness, the artist's drawing offers a space in which she can "escape into wordlessness". The only words attached to the images are their titles, which enable a contingent narrative moment.
Widewalls: What are the advantages of solo presentation formats in the fast pace environment of an art fair?
MW: Individual presentations offer the opportunity to delve deeper into the body of work of a single artist than on a regular fair booth showcasing only one or two works by the same artist.  Through site-specific installations or several works agglomerated in the solo presentation, the viewer can really engage with the works and get a closer insight into the artistic concept. I consider this to be a very important aspect especially for emerging artists and it is a great opportunity to get noticed.
The Art Scene in Vienna
Widewalls: Could you tell us more about the art scene in Vienna? How do you think viennacontemporary will contribute to its further development?
MW: Vienna has made some major steps over the past years in regard to the art scene – new spaces, often artist-run, and finally also new galleries have opened up or moved to Vienna and widened the spectrum enormously. New generations of artists have come out of the academies and many young artists from abroad chose to study and live in Vienna. An art fair is always a snapshot of the now, in this regard, the galleries and artists have to react to the site and scene they will be showing in and international fair visitors get the opportunity to get a glimpse of the context the art was produced in. With formats like ZONE1 the fair actively helps to promote young and emerging Austrian artists internationally, which is very important. Not only collectors can detect something new at the fair, especially solo presentations are also a great opportunity for curators to engage with the artists and gallerists on an easy but very focused level and get a first impression of what, for example, an installation by the artists could look like in an exhibition.
Widewalls: How do you see viennacontemporary evolve in the future?
While I cannot predict anything I am confident that under the committed leadership of Christina Steinbrecher-Pfandt and Renger van den Heuvel the viennacontemporary will evolve in many ways, like it already proved over the past few years, and will not seize to surprise – in Vienna and beyond.
Featured image: Marlies Wirth, photo by Anastasia Ekhlakova. Images courtesy viennacontemporary.