It's all gone. There are no more human beings on the face of the Earth. They have all been wiped off. How? Why? Well, does it really matter? For sure, it is because of their life-style. They have been polluting the planet for many centuries now. Waste was everywhere. They have been spending Earth's most precious resources - water, air, soil, wood - like there is no tomorrow. And, guess what? That day came - that day when there really wasn't tomorrow. It has all ended for human race, and does it really matter whether it was via great floods, the destruction of ozone layer an consequent destroyed soil, or the everlasting winter? And while there's no such thing as collective responsibility in the world of humans, nature does not follow human rules, and, if pushed too far, it can declare collective responsibility of the human kind for the state of the planet Earth, and simply wipe them off. Martin Wittfooth's incredible paintings gives us warning of this scenario in advance, and that's something that visitors of famous Jonathan LeVine Gallery in New York will be able to see during October and November.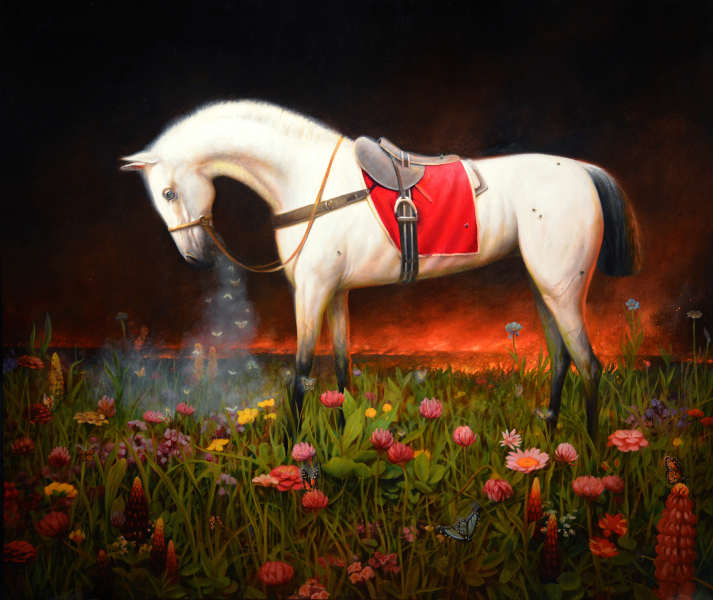 Shamanism Puts Our Egos Away
We've said that a day came when there was no tomorrow for human kind. But, for sure, that wasn't the end of the life itself on the planet Earth. In the long deserted ruins, that were the only witness to human existence, new life is thriving. In the world of Martin Wittfooth, animals are the new-old rulers of the Earth. Not only that, animals are also life-givers: plants, flowers, butterflies simply spring from them and from their environment. Shamanism is an important part of Martin Wittfooth's paintings, in a way that it is a very necessary tool to keep our egos away in our relation with nature - shamanistic practices, including reaching an altered state of consciousness, remove our narcissistic desires that are mainly consisted of material things and objects. In pursuit of these kinds of wishes, we are thoroughly destroying our planet. In Martin Wittfooth's own words, "the reemergence of shamanism appears to be having a great impact on consciousness around the globe by severing individuals' attachments to the ego-driven, ideology-based, monotheistic modality that has shaped so much of the human enterprise over the past millennia".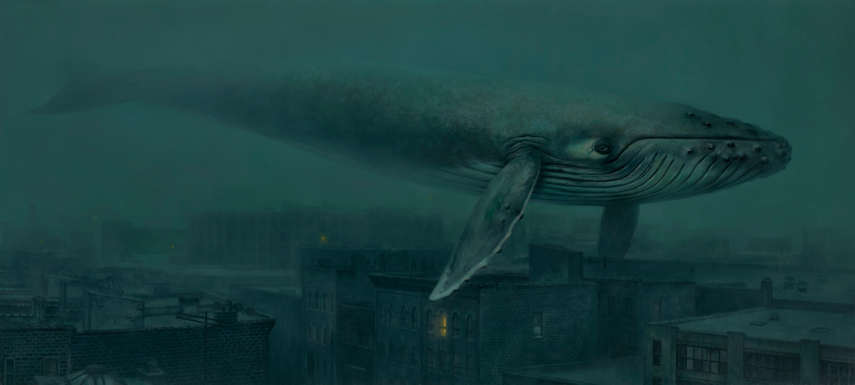 Admiring Old Masters
Although he is depicting post-apocalyptic world, Martin Wittfooth's paintings show great respect to works and techniques of Old Masters. He draws inspiration from 19th century painters and their work, as well as from some even older artists. Wittfooth undergraduate in Illustration in Toronto, and then he went in New York for his Master of Fine Arts program at School of Visual Arts. So, he is actually an illustrator, that just got in love with oil on canvas technique. When he as at the MFA, he realized that, even if he wanted to be an illustrator who paints, he couldn't manage to paint efficiently enough. It was then, when he embraced the idea that he should just let paintings come to him, and be executed on canvas in whatever time was needed. And, luckily for us, he was patient with his paintings and took all the time he and they needed.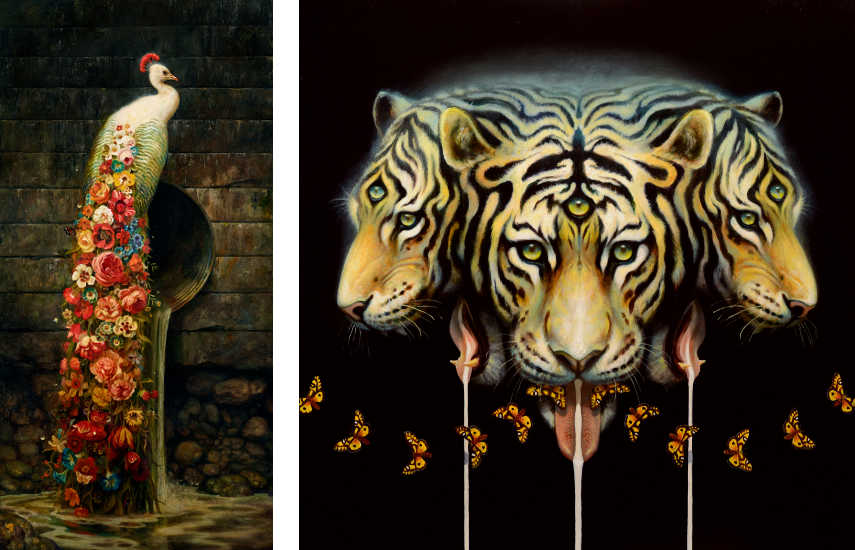 Martin Wittfooth at Jonathan LeVine Gallery
Martin Wittfooth's exhibition at Jonathan LeVine Gallery is named Offering. That's gonna be his first solo show at the gallery, and first solo show in New York City since 2011. Wittfooth was born in 1981 in Canada, raised in Finland, and he currently lives and works in New York City. Wittfooth's solo exhibition Offering will be on display at Jonathan LeVine Gallery from October 17th to November 14th.
Sign up for My WideWalls for FREE and be up-to-date with contemporary and street art.
All images courtesy of Jonathan LeVine Gallery.