Under the current pandemic, various galleries opened online viewing rooms to enable visitors to enjoy and possibly purchase the artworks they like. David Kordansky Gallery in Los Angeles has one of their own, where they are now hosting online exhibitions dedicated to the prominent American painter Mary Weatherford.
Ever since the 1980s when her career started, she has been paying special attention to the notion of the colored field by inserting different layers of meaning into her highly pigmented abstract compositions. From assemblages consisting of organic elements to paintings followed by neon, Weatherford continually searched for new formal possibilities while remaining true to her signature style.
The decision to simultaneously host not one, but two solo exhibitions titled Into Space and Time and The Japan Drawings by the artist is probably rooted in the gallery's desire to show different currents in her more recent production.
Into Space and Time
The first exhibition includes a selection of paintings that reflect Mary Weatherford's wider interests in different fields spanning from mathematics, politics and philosophy, to opera and ballet. By articulating the world as a cosmological phenomenon, the artist examines the flux of images and information that form the human interest in outer space.
Furthermore, this exhibition brings the intersection of Weatherford's interest in science and art-history with a special emphasis on the usage of the color pink.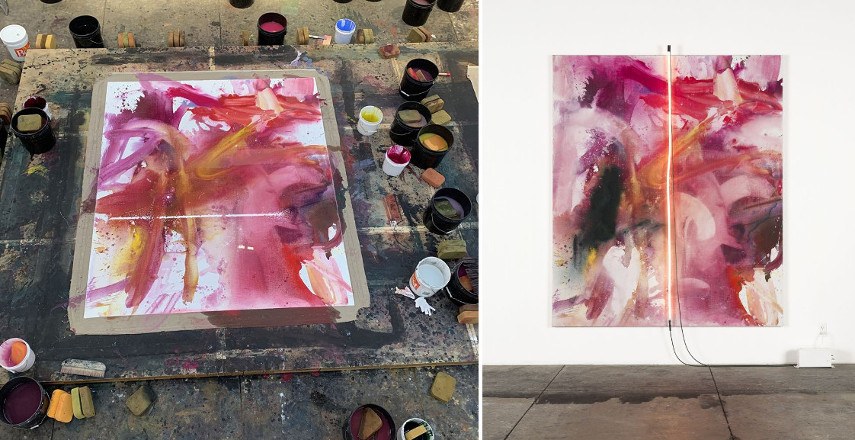 The Japan Drawings
The other show features four groups of works on paper produced by Weatherford in 2019 during a residency at Troedsson Villa in Nikko, Japan. These simplistic, yet vibrant works operate similarly to her paintings, since they represent a synthesis of abstract experimentation and response to a particular context.
The artist was inspired by the examples of both ancient and modern architecture that exist within a residency nearby forest landscape. Thus, her new works on paper reflect the traces of this inspiring environment and general impressions of Japan resulting with variety of moods, color palettes, compositional approaches, and textures.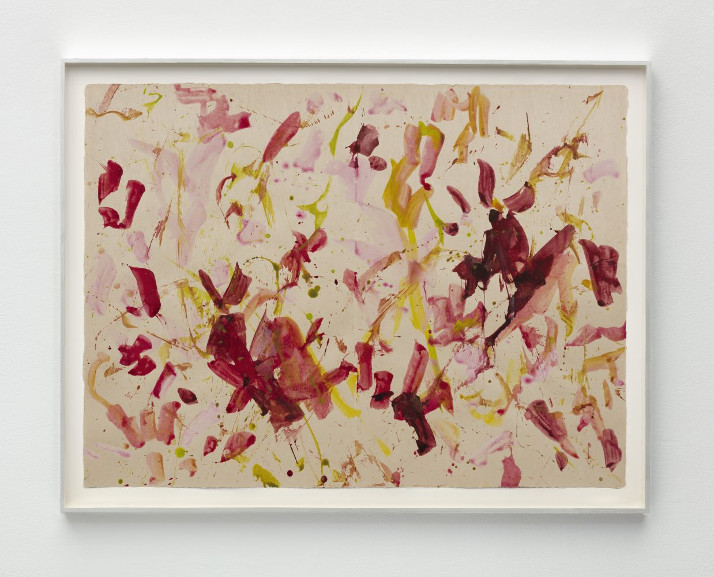 Mary Weatherford at David Kordansky Gallery
Both exhibitions underline Mary Weatherford's unique gestural brushwork and intriguing spatial effects enabling viewers to plunge into her mesmerizing imagery that evokes eternal dualities such as individual and collective imagination, heaven and earth, cultural history, and direct sense perception.
Mary Weatherford: Into Space and Time will be accessible until 28 April 2020 on the gallery's website, while Mary Weatherford: Japanese drawings will be accessible until 19 May 2020 at the same address.
Featured images: Mary Weatherford - Canyon–Daisy–Eden, February 1 – July 12, 2020, Frances Young Tang Teaching Museum and Art Gallery at Skidmore College, Saratoga Springs, New York, Installation view, Courtesy of Frances Young Tang Teaching Museum and Art Gallery at Skidmore College, Photo by Arthur Evans; Shibuya Crossing, 2019. Shellac ink on Gampi Torinoko paper, 22 1/2 x 30 1/8 inches (57.2 x 76.5 cm); framed: 24 3/4 x 32 3/8 x 1 1/2 inches (62.9 x 82.2 x 3.8 cm). All images courtesy of David Kordansky Gallery.