A calligraphy artist and an ambassador of the Contemporary Museum of Calligraphy, Masaaki Hasegawa creates works which engage the viewers to contemplate the meaning, not just read the words. Seeking to liberate the viewer from the limitations that written languages naturally have, Hasegawa aims to push the viewer past their intellectual boundaries while still retaining comprehension of the piece.
While in Spain recently, Hasegawa has reportedly created one the biggest calligraphy artworks in the world. Part of his initiative called Connect People Thru Art Beyond Borders, it covers around 2000 square meters of the rooftop of Museum Zapadores City of Art in Madrid, an art center and experimental and creative space in Madrid which opened in July 2013.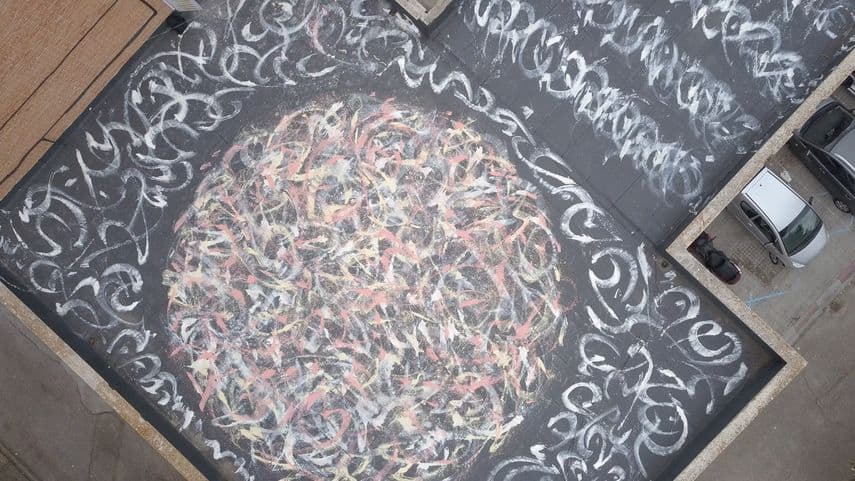 Connect People Thru Art Beyond Borders
For Masaaki Hasegawa, language is not a perfect means of communication and understanding, as there are gaps between translations and meanings. Therefore, he sees art as the potential universal language because it does not require linguistic comprehension but makes use of our senses.
As he seeks to liberate the viewer of understanding from written language, this allows Hasegawa to connect people beyond borders such as nationality, language, culture, religion, generation, and gender. This is exactly the goal of his initiative Connect People Thru Art Beyond Borders.
Technology has changed our lives so dramatically that we can be connected with others whenever and wherever we want. However, the global situation seems to pull people further apart, and this project aims to remove the barriers and borders and create an experience for people to connect through art.
Through this massive mural, the artist wants to demonstrate the importance of art in the 21st century and its potential for connecting people.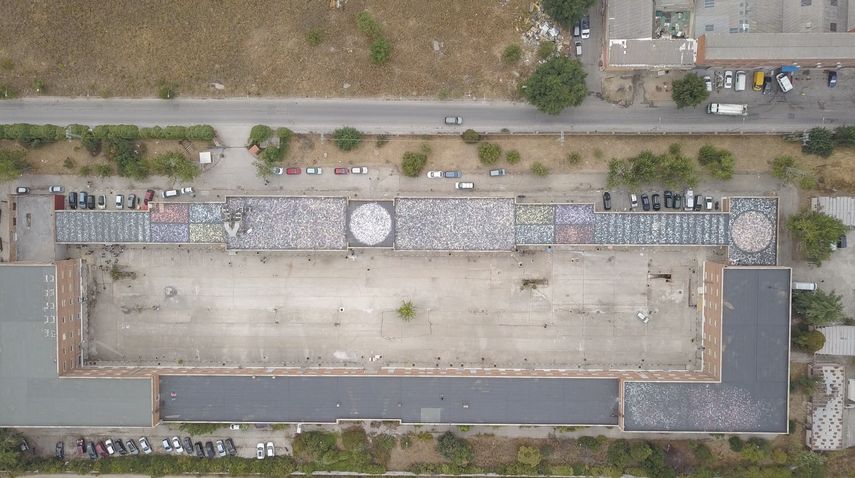 The Mural by Masaaki Hasegawa
Spanning across around 2000 square meters, Hasegawa's mural is among the biggest caligraphy artworks in Europe.
This work is all about co-existence, calling attention to the fact that human beings, while different and unique, all share the same planet. The "Letters" used in this piece are unreadable as such, as they do not belong to any known language. However, these are meant to act as a catalyst to drive understanding of the idea behind the artwork.
The concept of co-existence is highlighted through lines drawn in shapes and colors that look like letters but without the barriers created by existing languages and letters.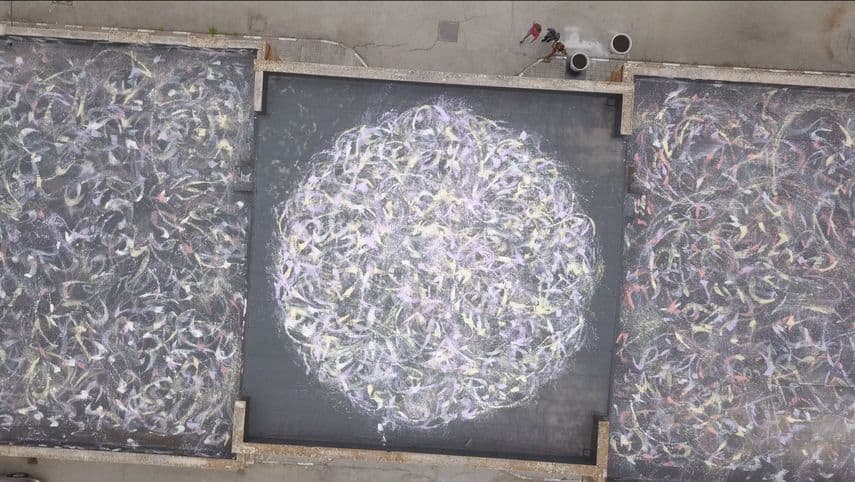 The Location
The artwork by Masaaki Hasegawa is located on the rooftop of Museum Zapadores City of Art at Antonio de Cabezon 70, Madrid Spain 28034, on a new building which was opened in September 2018. A multidisciplinary space, the museum features work at the cross-section of urban art, video art, performance and visual art.
Masaaki Hasegawa - Connect People Thru Art Beyond Borders
Featured image: Masaaki Hasegawa's Artwork. All images courtesy the artist.