With a constant rise of environmental problems troubling our world, more and more artists are turning to environmental and recycled art to help restore the balance disrupted by the industrial production and consumerist society. Sculptor from TaiwanKang Mu-Xiang also known as Master Kang is one of those artists who employ their skills to convey the message about the importance of sustainable development. Every Kang Mu-Xiang sculpture is fashioned from discarded materials, mostly driftwood and metal that are reshaped and remodeled to create meaningful objects. Under his capable hands discarded, raw materials, that were once pure rubbish, turn into rich, organic, humanoid shapes thus highlighting the necessity of cherishing all resources on Earth just as much as we value our own life. Currently his soft and tactale environmental sculptures are on display at Berliner Liste fair, ingeniously composed into a walk-trough installation called Path to Life. Sculptor Kang Mu-Xiang, the craftsman who turned himself into an artist, the star of this year's edition of Berliner Liste and one of the very few Taiwanese artists who gained worldwide acclamation is our artist of the week.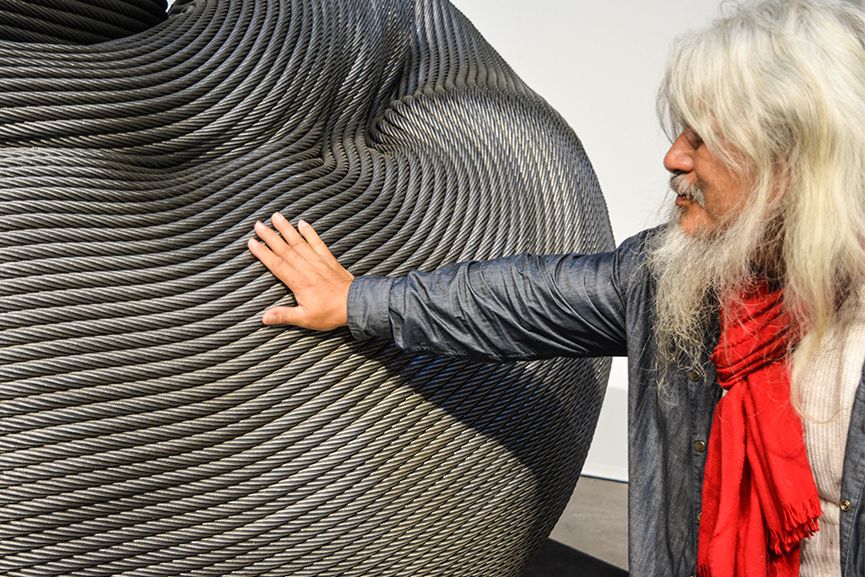 Environmental Sculptor from Taiwan turns Rubbish into Symbols of Life
Kang Mu-Xiang aka Master Kang started woodcarving at the age of 13 in his home in Taiwan and quickly turned himself into an artisan and finally an artist who enjoys challenging traditional concepts and transcending his own limitations. A turning point in his career occurred in 2002 when an abundance of driftwood accumulated alongside the beaches of Turtle Island following the impacts of several typhoons.[1] Instead of discarding the driftwood, local authorities invited Kang Mu-Xiang to use the wood for artistic creation. His yearlong residence at Turtle Island gave him the opportunity to contemplate nature and completely changed the course of his career. Subsequently, his best-known Life series was born, a series composed of numerous depictions of life-related topics such as fetuses, newborn babies or the relationship between a mother and a child. Now, he continues to create depictions of rebirth (that personify the idea of recycling), from metal cables coming from places as diverse and as distant as Japan, China, and even Brazil.
At the ongoing Berliner Liste fair, Kang Mu-Xiang presented a series of his environmentally conscious metal sculptures that depict different periods in a development of a fetus. The artist got his inspiration and the material for his work from the fastest elevator ever made incorporated into one of the biggest skyscrapers in the world, located in Xinyi District in Taipei, Taiwan. The Taipei 101's elevator is capable of transporting visitors "from the fifth floor to the 89th-floor in only 37 seconds"[2] but there's a price to pay for such technological achievement. Due to wear and tear, elevator cables must be replaced every seven years and old cables are usually discarded thus polluting the Earth. At least, that's how it was before Taipei 101 owners invited Master Kang to use these old cables to create a series of large-scale metal sculptures. One of his recycled cable sculptures was recently given to German city of Karlsruheand as a gift and now a few more found their place on this year's Berliner Liste. That's where our Editorial Manager Ana Bambic Kostov caught up with the artist who was kind enough to answer several questions about his work.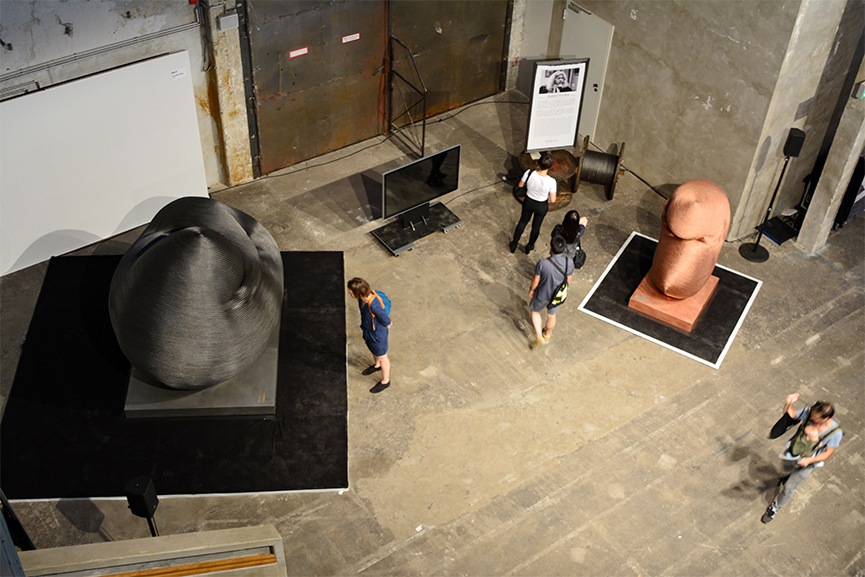 An Exclusive interview With Master Kang at one of the Biggest German Art Fairs
Widewalls: Master Kang, thank you very much for agreeing to do a small interview with us. Welcome to Berlin and to Berliner Liste. We are very happy to see your sculptures here. I would have to ask you to tell us a little bit more about the sculptures you have brought to Berlin. We would like to understand your work better.
Master Kang: The material used for the sculptures comes from the elevator of Taipei 101 which changes every seven years. And because we love the Earth and the environment we wanted to reuse this material. So I made the sculptures out of this material.
Widewalls: Would you call your sculptures environmental? Because I understand that they are very much related to celebrating life.
MK: It's about the environment and art brought together. This is the first time that sculptures are made out of steel elevator wires.
Widewalls: They are very textural. I would like you to tell us a little bit about the importance of texture in your work. Because they are very tactual... I want to touch them.
MK: Steel wires are very hard material and I try to soften it and to make soft forms out of this hard material so that you can actually touch them. Mostly I use hot fire to soften it.
Widewalls: They do look very organic, almost alive...
MK: It can breathe. It's a body of work that can breathe. I see my artworks as a present to the Earth, because a lot of materials which would normally be thrown away or burned... I give them back to the environment. So it's a round circle.
Widewalls: Do you believe that all the discarded materials, the industrial materials that would otherwise be pollution should be used for art?
MK: I hope that all materials that are normally wasted can be used for artworks and given back to the world.
After Berliner Liste, Kang Mu-Xiang's steel cable sculptures will continue to travel the globe and the artist hopes that they will find their new homes at "public places across the globe, regardless of cultural and religious differences".[3]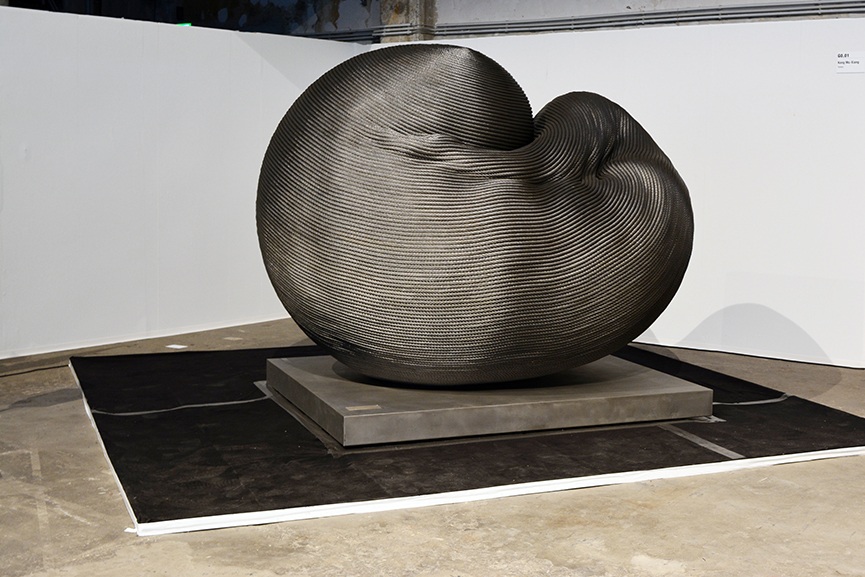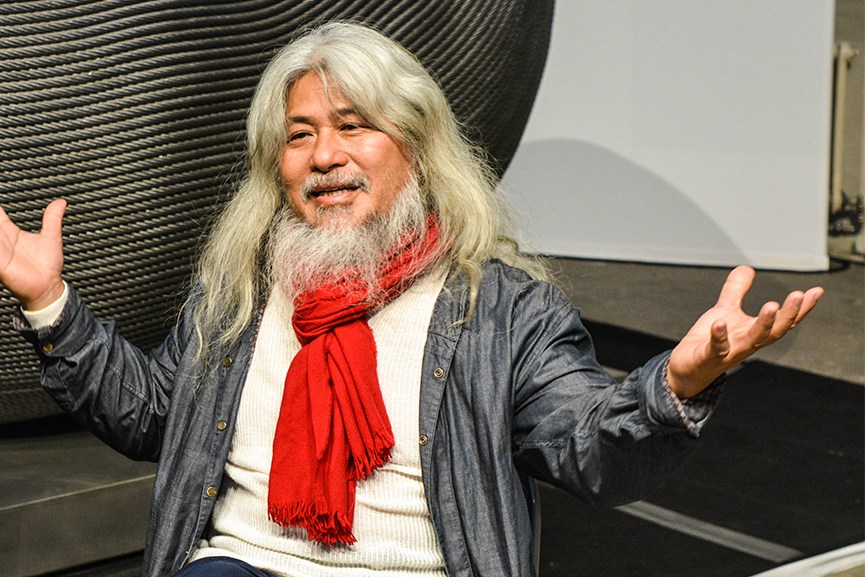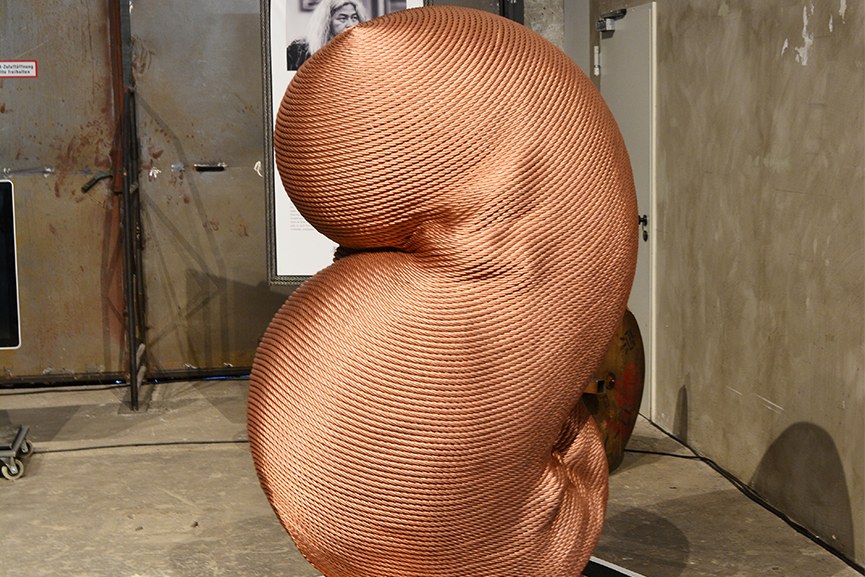 References:
Her K. and Chen K.

Rebirth through Arts

, Taiwan Today, [September 14, 2016]
Anonymous, 

The High-Speed Elevator

, [September 14, 2016]
Clyde J.

Steel Cable Connecting the World, Kang Mu-Xiang Sculptures at Berliner Liste

, [September 14,2016]
Featured images: Master Kang Portait and Master Kang's sculptures. Used with permission.