To coincide with Frieze Art Week 2014, Rook & Raven will exhibit the work of acclaimed Colombian artist, Olga de Amaral, alongside four young, female artists Emilie Pugh, Camilla Emson, Yun-Kyung Jeong and Adeline de Monseignat. Each of these emerging young artists has produced works inspired by the Colombian matriarch, exploring cultural identity and femininity. Titled "Material Identity", the exhibition introduces visitors to the changing cultural landscape of identity seen by the selected group of artists. The inherent delicacy of their works evokes a sense of balance between what is material and immaterial, between form and composition, and the physical and metaphysical.
"Material Identity" opens on October 9 and will remain on display for public viewing until November 3.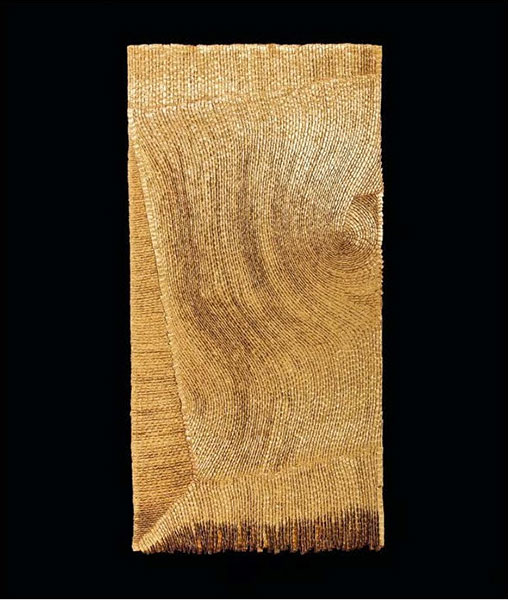 Olga de Amaral
Olga de Amaral (b.1932) is deeply driven by her exploration of Colombian culture and her own identity. Architecture, mathematics, landscape, and socio-cultural dichotomies in Colombia are woven together through the use of fiber. Through a complex system based on artisanal technique, she finds answers to inner questions. Amaral's use of gold, inspired by the interwoven histories of pre-Hispanic and Colonial art, gives her work a presence at once sensual and otherworldly.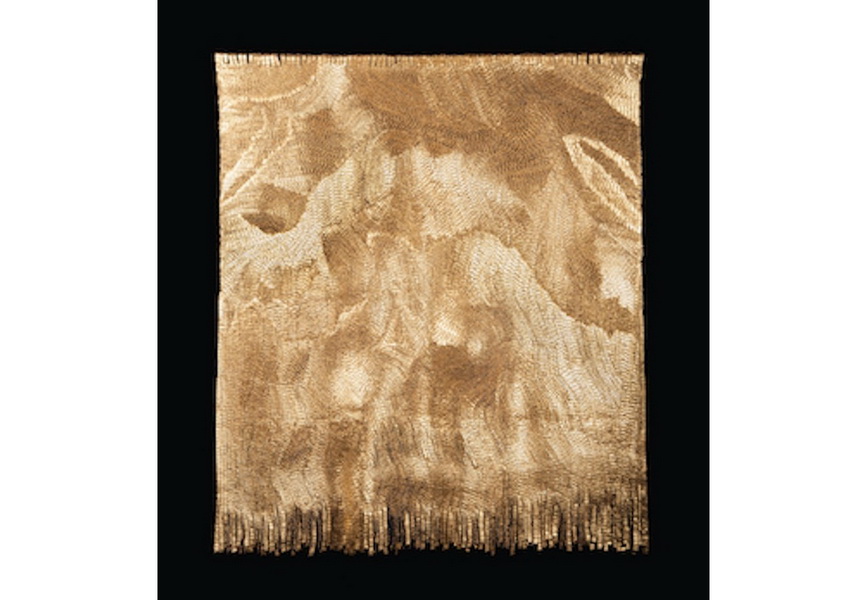 Emilie Pugh
Emilie Pugh (b.1988) employs unconventional methods of mark-making in her work. From burning into paper with a lit incense stick; lighting gunpowder onto drawings; using thread, light and mirrors, as well as more conventional ink drawings with pen or brush, Pugh's multi-layered works on paper express ideas of the material and the immaterial, as she is drawn to the delicate balance between the transitory and the permanent; between form and the void. Pugh's works often begin as an introspective journey – a mapping of internal landscape; tracing colors, following pathways and feeling her way around an unfolding thought or sensation.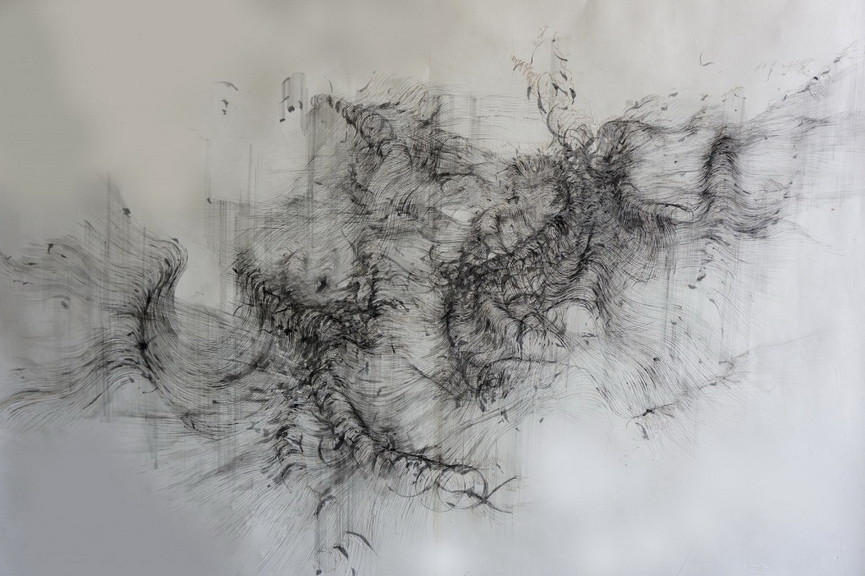 Adeline de Monseignat
In search for a new source of energy, while on an Artist Residency in New York City, Adeline de Monseignat (b.1987) turned to acupuncture. This led to research on ways in which energy moves within the body and how energy attracts bodies to one another: human interaction. Adeline's 'Acupictures' are made with no other medium than energy, translated into light, and recorded on paper: the energy punctures the paper in the same way needles puncture the skin.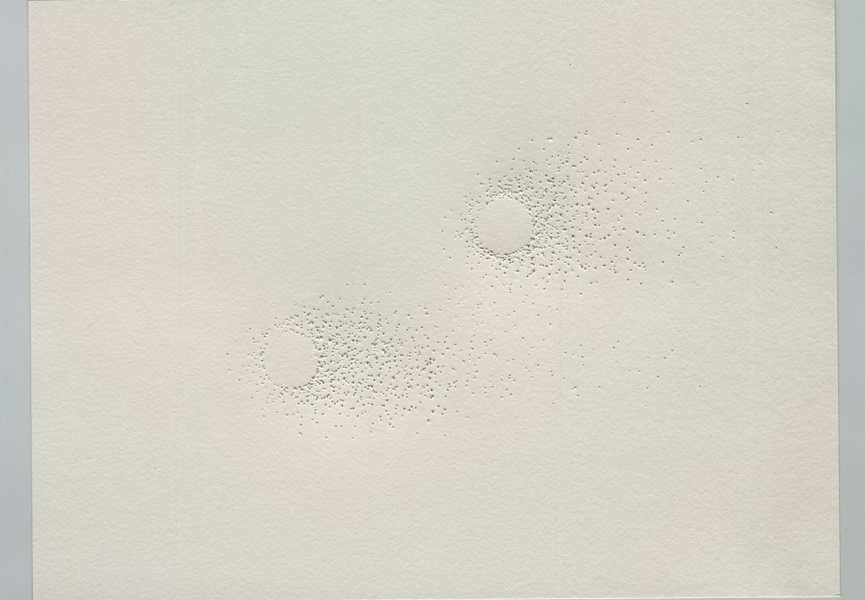 Yun-Kyung Jeong
Yun-Kyung Jeong (b.1981) paintings marry aspects of eastern and western culture, in the pursuit of an imagined and idealized natural Utopia. Through the repetition of a leaf-shaped symbol, signifying the elements as one, the artist attempts to portray the invisible and subtle collisions arising from the conflicts between the countless elements that make up the world. Jeong's paintings have qualities of an optical illusion in their play with depth, combined with a strong sense of perverse three-dimensionality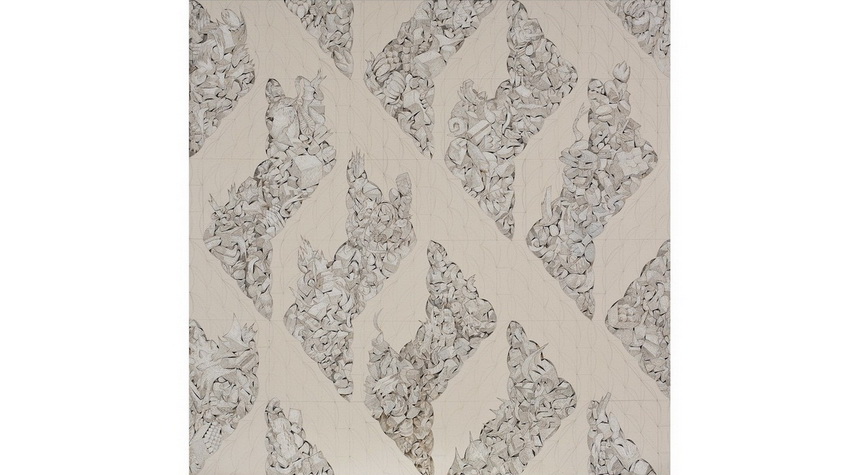 Camilla Emson
Camilla Emson's (b.1985) new series Color Maps is a continuation of her Fibrosis series, where she has explored sewing using an needle she found on residency in India. New Experiential Theory that relates to early life experiences inspires her work. It describes how memories are 'woven into your body, like imprints in your nervous system.' However the plastic nature of the nervous system allows for the development of new pathways throughout life. Color Maps clearly depicts Emson's unique process of creating new maps.