With headquarters in Brooklyn, Math Magazine is a provocative and sexy print quarterly for adults that brings a powerful message of sensual pleasures. Moving away from big-industry porn, it presents a fresh and diversified take on the dirty magazine. It features a variety of dirty photos, stories, poems, and illustrations wrapped up in a minimal and discreet design. Made in collaboration with editors and contributors from all over the world, this independent and female-owned business brings new perspectives on lust, love, and sex. Passionate about finding new sexual narratives, Math Magazine finds inspiration everywhere, from vintage films and Instagram feeds to modern art and cam sites. With a special attention to quality, narrative, playfulness, nuance, passion, and variety, the publication touches upon themes rarely explored in the mainstream media. Celebrating opposition and diversity, it highlights an array of genders, an assortment of bodies, and a variety of beauty types. Maintaining an ethical, diverse and sex-positive attitude, the magazine aims to encourage its readers to explore their sexuality and experiment. Math Magazine celebrates sex, lust, sensuality, and kinks and comes in a well-packaged canvas that can fulfill everyone's desires.
To find out more about this sexy print, we've had a chat with its Editor-in-Chief MacKenzie Peck. In an exclusive Widewalls interview, MacKenzie talks about the decision to start a print publication, the inclusive concept of the magazine, its female perspective, challenges in getting people aroused, the process of producing the content, and much more. Scroll down and enjoy!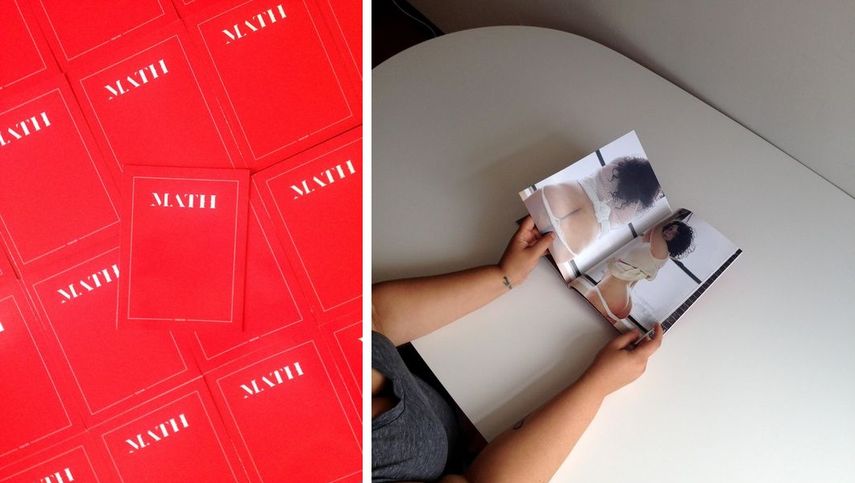 A Fresh Take on a Dirty Magazine
Widewalls: An independent print quarterly for adults, Math Magazine represents a fresh take on the dirty magazine. Can you introduce the concept of your magazine to our readers?
MacKenzie Peck: Math Magazine features artwork, poetry, stories, and photographs that are meant to turn you on. If the publication had a sexual orientation, it would be pansexual, meaning we engage with all genders and sexual preferences. Right now I am excited about finding and producing editorial photo shoots that explore the connection between partners in a way that is compelling, especially by using narratives and visual cues not normally employed in porn.
When reading Math Magazine, one is entering a world that allows for surprise and seduction. We don't play into the shameful and secretive taboos of porn and sexual satisfaction. We aren't looking to shock and we aren't interested in fitting the category of erotica either. Math Magazine is changing the conversation around porn altogether.
We are eager to produce pornographic imagery that doesn't shy away from explicitness yet engages with outside histories and aesthetics in order to revolutionize the form. We hope to show you sex, lust, and desire in a whole new way that opens up new worlds of pleasure. While this publication is full of fantasy, it is a space where you can envision yourself and the people you care about.
Consider the differences between flipping pages and clicking links. As a print-only magazine, we are interested in providing readers a curated space, devoid of the distractions, and full of surprises. Inspired by the online experience, our magazine will not fall into a pattern of the expected. You'll see and read about bodies, kinks, and scenarios you are and aren't into, or maybe that will change. Sexuality is a shapeshifter. We work with a wide array of contributors and focus on sharing a full range of sexual tastes. The idea is that if you're not aroused by something, it will at least encourage consideration, experimentation or empathy for those who are into our cornucopia of pleasures!
WW: With a proliferation of online content, print publications are facing a lot of challenges. How did you decide to start a print publication with such a unique concept?
MP: How does our consumption, interpretation, and application of words and images change when we are clicking through sites versus when we are turning pages? I know I retain more and focus better when I am reading something printed out. I think that's part of why making this print only publication came naturally to me.
Decisions, like this, came intuitively. In a time when it seems everything is public and digital, sitting with a secretly dirty magazine can be a special and uniquely tactile reading experience. As an artist, I am inclined toward the physical manifestation of my ideas. The connection between my college thesis work consisting of very large scale collages and the editorial process is pretty clear -- I enjoy working with various parts to form a larger vision.
I'm finding that our methods of production have a special relationship with online content and apps like Instagram. As a print publication, we are in no way in opposition to tech and the web, in fact, we like to work in collaboration with it. I'd like to believe that the whole "print is not dead" and grassroots campaigning for the superiority of print over web is over. I work to push the limits of print by creating, commonly unacceptable, layouts where we have repeating frames from a porn video or a grid of images like a Tumblr feed.
I am excited about producing and finding imagery that engages with various histories, perspectives, cultures, and industries; especially in ways that are unique to porn including popular alternatives doing innovative work such as XConfessions, Four Chambers, and Adult Magazine. By always engaging with current trends and collaborating with fresh voices, Math Magazine is certainly of this moment. With each new issue, each page turn, we are pushing forward to new conversations and stories unique to all these cultural intersections made possible by the internet and new technology.
We are a part of a larger movement of sexual empowerment, artistically renowned and ethical porn content. So we pull from the past, present, and future, thinking bigger picture. With ever increasing production quality, artistic mastery, these explicit visions should always transcend definition because their message is universal: pleasure and empathy.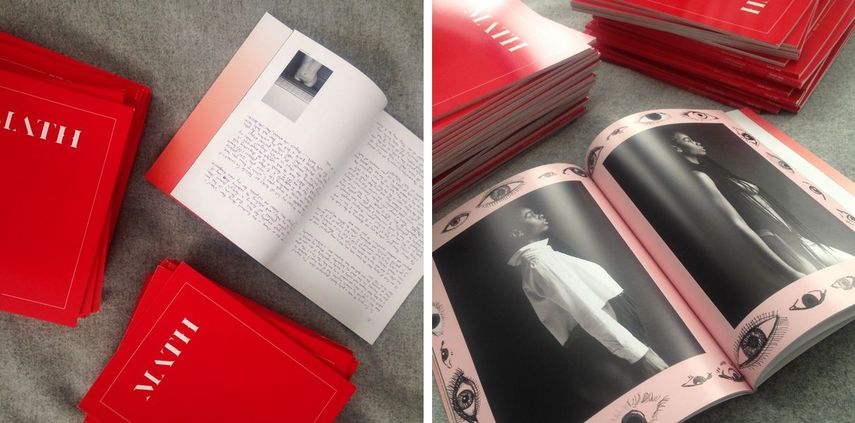 The Inclusive Concept of the Magazine
WW: Math Magazine promotes feminist, queer, and sex-positive and inclusive ideals, while moving away from the negative connotation typically associated with porn. How do you see the role of the magazine in contributing to important social and cultural changes?
MP: Looking at porn doesn't have to feel like this dark and seedy foray into the underground. Math Magazine is promoting openness in communication and learning, guilt free and shame-free pleasure, and a celebratory passion for high caliber quality porn like you've never seen before. We are realistic without sacrificing eroticism and fantasy. We publish hot words and images without feeding into stereotypes or oppressive tropes.
I work hard to represent all types of people in terms of who is producing the content and who is featured in it. From disabled protagonists to queer women of color, I am hustling to maintain real diversity in this publication, as a golden rule - not a brief trend. Voice and visibility is really important right now especially in the case of sex workers, talented and fair porn producers, and an array of bodies you may not often see in porn.
As governments all over the world continue to oppress bodies, Math Magazine is promoting sexual liberation and shame-free, or shame-lite, pleasure. Good porn can be empowering. To see bodies that look like your body, to see people playing with one another in a way that you'd like to have sex is enabling. It feels really good to know what you like and to give yourself permission to enjoy it. Math Magazine is meant to encourage conversation, experimentation, and acceptance.
As the face of a female-owned and operated porn magazine, I join a legacy of sex-positive feminists working to build businesses to fulfill needs unlike anyone else. With the cumulative power of the internet, women are sharing information and finding that many of our needs aren't being met. We are banding together to form coalitions and boost one another up. I am a member of the Women of Sex Tech, led by Cindy Gallop of Make Love Not Porn, and Polly Rodriguez, of Unbound Box. And I am in a group called the Mag Mob, consisting of independent female publishers in Brooklyn. We are able to unite in work and finding those dreaming of a magazine, like ours, that normalizes sex and pleasure.
Imagine being someone, pre-internet, who has a therapist who tells them they can't be gay and their desires are pathological. There are so many people who are still not free. Families, governments, communities still oppress. By approaching sexuality and desire, as we do at Math Magazine, we are contributing to the social acceptance of feminist, queer, sex-positive, and inclusive ideals and opening the conversation in a way that is uncommon to porn. It's a no-brainer and I find it astounding that our content is at all considered rebellious today. All the more reason to keep making it and trying to reach new audiences.
And the internet is no paradise. One's ability to distinguish reality from illusion can be difficult. Although there is a plethora of reliable information about everything from cunnilingus to niche kinks, there's tons of shaming, trolling, misinformation and straight up lies. There are no trolls or comment section in a printed magazine. This is great for our subjects, contributors, and readers who take risks with us. We work hard to maintain a message and a production method that is sensitive, educated, and representative of as many experiences as possible, straight from the people living it.
The safety of the LGBQT community and those in sex work is still a major concern. Censorship is rampant on the websites that empower me to reach the largest audiences. Unlike Facebook, Twitter, or Instagram, my printed publication is safe from suppression and I can do as I please so long as people want to buy it. I am the gatekeeper.
What happens when this position is held by a woman? A woman who wants to represent the rarely seen but often sought, one who understands the impact of the oppressive and limited viewpoint of most media, and one who is a unique voice in a business dominated by male leadership? I take this responsibility seriously and hope that as Math Magazine continues to grow and reach new eyes and the impact is seen more substantially.
WW: In an industry that has been long-dominated by straight, white men and criticized for degradation and objectification, what does the female perspective bring regarding the approach to pornography and its presentation?
MP: Women have been using porn and sex work to gain financial success, notoriety, and personal empowerment for a long time. While we, at Math Magazine, are working to cut down the stigma and open up the conversation about the not-so-sleazy ways that porn is produced we can see generation after generation of liberated woman having a significant stake in the industry.
It is vital that there are more female business owners in the porn industry because right now the vast majority of content is consumed on video, or tube, sites that are owned by MindGeek, formerly known as ManWin, which has a monopoly over the industry. These sites aggregate content, share it for free, and make money off of ads. These sites use pirated material, strong arm studios into paying, and suppress voices speaking out against them because they won't be able to find work with a company not owned by MindGeek.
Women speaking up about making and watching porn helps decrease stigma and vocalize a need for better content. Creating new avenues for finding porn such as Cindy Gallop's Make Love Not Porn and Stoya's TrenchcoatX, we are chipping away at a megalith male-owned porn monopoly. Sex educators and sex workers speaking out about how great making porn actually is, and bloggers explaining why people should pay for their porn are disrupting the industry in meaningful ways. These sources of insight and information are holding people in the industry accountable and I work hard to uphold their high standards.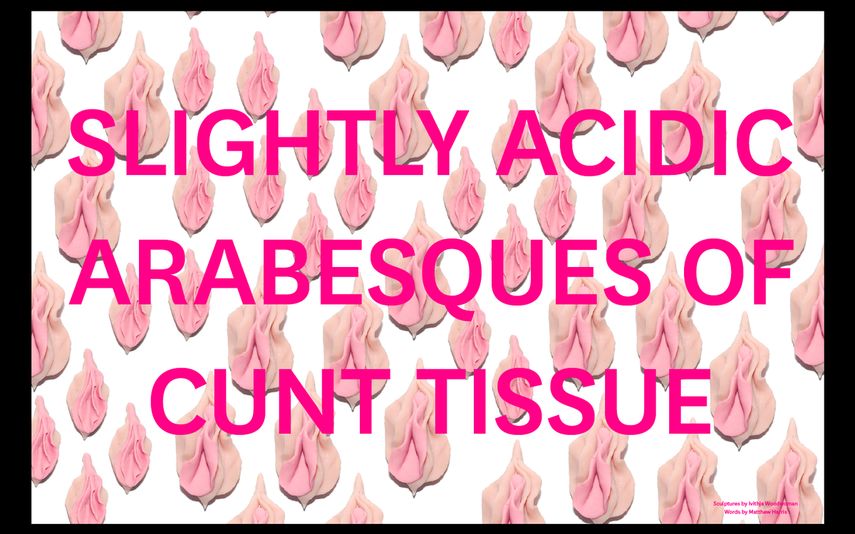 Getting People Aroused
WW: In an era of total access and exposure, is it a challenge to get people aroused while remaining tasteful and smart at the same time?
MP: The thought of engendering the physical and emotional reaction of arousal in a reader with simple words and images on paper is an intimidating task. To put it simply, yes it is very challenging to turn people on. I don't know how successful I am, to be honest.
Sexual psychology is a fascinating and, honestly, overwhelming thing to think about. Sometimes when I'm on a crowded train, I look around and wonder what each person could be into. With such little information to go off and the countless rich inner lives within each of these protagonists, it occurs to me that with all the consideration and research in the world - I've got to just follow my instincts and work with what I've got - otherwise, I'll lose my mind. In other words, you can't please them all but I'll try my damnedest. I consider the magazine to be pansexual, meaning we engage with all genders and sexual preferences, and I want it to encourage a type of openness and understanding in others where if it's not for you, you can see how it could be for someone else.
I spend time thinking about the convergence of what I am able to produce and what I envision for new and interesting printed porn. Several readers have told me that the so-called "gynecological" or brightly lit and straightforwardly portrayed style of most sex acts in porn is boring. I am very excited about using psychology, storytelling, and unusual visual reference points to create really hot material for Math Magazine.
It's easy to find a repeating GIF of penis-in-vagina penetration. If you're looking for a quick fix, the internet has you covered and will likely not have a significant impact on your sex life or fantasies. While, the stories and artwork in Math Magazine digs deeper. Characters, scenarios, and visuals stay with you beyond rubbing one out. They penetrate further.
Unlike porn sites and Tumblr feeds, readers all over the world are finding that Math Magazine and the events we put together garner a sense of community. We aren't a faceless, huge corporation churning out loads of forgettable content. Readers find it refreshing that Math Magazine is essentially me, a 29-year old woman in Brooklyn hustling to make something she had never seen before, who is open about what goes into production and why I do it.
WW: The design of the magazine is as unique as its concept. Can you tell us more about the idea behind this visual identity?
MP: I developed the Math Magazine logotype with Angelina Vierneza, a talented designer in Australia. Rather than fighting the need to censor or use discretion, when looking at a porn magazine, I decided to play into it. The cover of Math Magazine is always a single shade of red with our logo at the top and issue number a the bottom. I had this vision of a young boy in school, slouching in his seat during class with a magazine hidden behind his propped up textbook. At first, I thought it would be called "Chemistry," but thought better of it and went with, "Math."
The cover design was inspired by the authority of TIME magazine and academic journals. There was a brief moment in porn when magazines looked like journals featuring sociological studies. I love playing with secrecy, censorship, and presumed intellectualism. I want to entice the curious and the brave!
By making the cover subtle, more people are able to associate themselves with the brand and can feel a bit better about being seen with a copy of the magazine. I'm a pornographer but I can still say that looking at a picture of people having sex is embarrassing! That's part of the fun too, though, isn't it?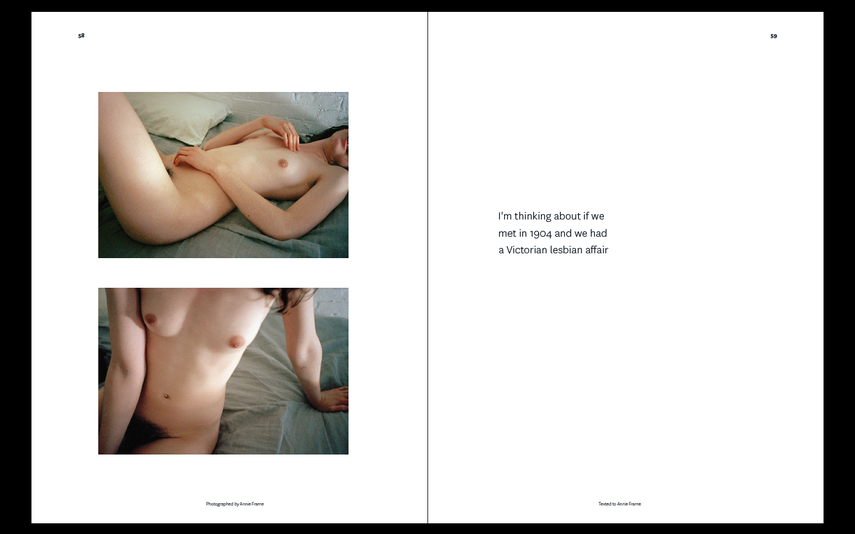 The Working Process
WW: What does the process of producing the content look like? Who are the contributors?
MP: Contributors to Math Magazine are from all over the world and I'm unable to meet many of them, save for a few emails or a phone call. In other cases, I feel a deep sense of connection and friendship that has developed past working together. Contributors are a wide range of voices with backgrounds, lifestyles, fantasies, inspirations, and talents. While I consider myself quite entrenched in a metropolitan, progressive, sexual discourse I am eager to hear from those in other spaces. From a world of vast differences and experiences, I am eager to find common denominators of pleasure, excitement, discovery, generosity, support, and vulnerability.
From the outside, production mostly, literally, looks like me sitting at my laptop at the co-working space Bat Haus in Brooklyn! After a year of business, I have become more in-tune with the repeating cycle of producing each issue. As in life, I find it liberating to recognize, identify, and embrace the different phases of a process. Here's a quick look at the process of producing Math Magazine:
Terror - I'm immobilized by the fear that I won't be able to get enough new, awesome content that fulfills all these ambitious goals of mine, in time to stay on a quarterly schedule.
Organize - As I phase out of the terror, I mindlessly organize notes and references for collaborations with authors and photographers.
Action - Intense and focused action where I find and contact lots of potential contributors and collaborators. Lots of emailing, phone calls, and meetings!
Production - Honing ideas with photographers and models for editorial photo shoots while finding locations and collecting props. I'm editing and collecting submitted pieces that I think will make the cut.
Assemble- These are the first moments of feeling the gratification of the creative process where elements start to fall into place in the new layout.
Shift - The long layout and editorial process begins! All the elements are gradually selected, arranged, changed, and arranged again. I am following my intuition and working to achieve editorial goals and solve design problems.
Finalize - I commit to a final issue, with some intense last minute changes, and write my letter from the editor. I handle administrative responsibilities like formatting files, communicating with the printer, checking on finances, and making sure legal paperwork is all set.
Celebration - After planning a launch party and worrying about whether I'll actually have any magazines in time I'll take a night to celebrate the next issue with friends and readers. It's great to connect with Mathletes and watch the community around Math Magazine grow.
Hustle - Immediately after the launch party I go into shipping mode with several intense days of focused packing and sending to readers all over the world.
Calm - I am usually able to chill for about a week or two. Calm, yes, but with an underlying anticipation of doing it all over again!
WW: How do you see this business evolve in the future?
MP: The future of Math Magazine is one where we reach more populations who might not consider themselves to be feminists, sex positive, or kinky. While I cherish and will forever be indebted to the Mathletes who are living our mission, I am eager to convert and bring new readers into the fold.
February is the month of Math Magazine and this, our first full year, we will celebrate how far we've come and plans for the future. Moving forward, I'm eager to launch a new website that better indulges the needs of our burgeoning community, which also means more real-life events in the Brooklyn area. If February is any indication of our bright future, we'll be doing a lot more out in the world! We've got Speed Dating, film screenings at The Syndicated, and a storytelling event at New Women Space. I'm very excited to build new partnerships while maintaining a beautiful and sexy printed porn quarterly! Keep in touch on our social feeds, email list, and site for updates.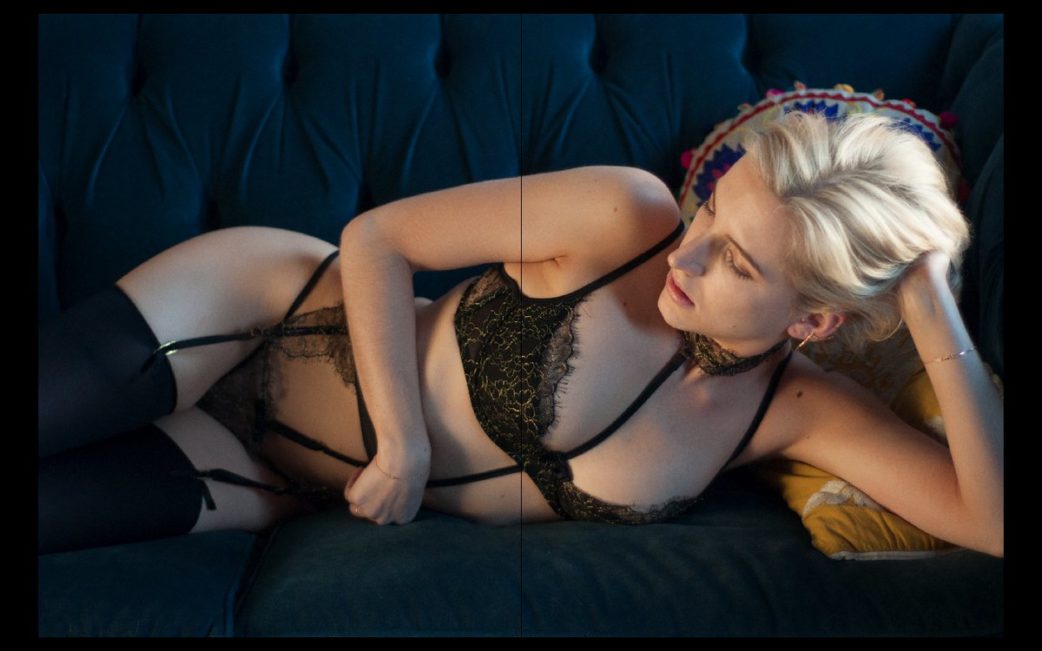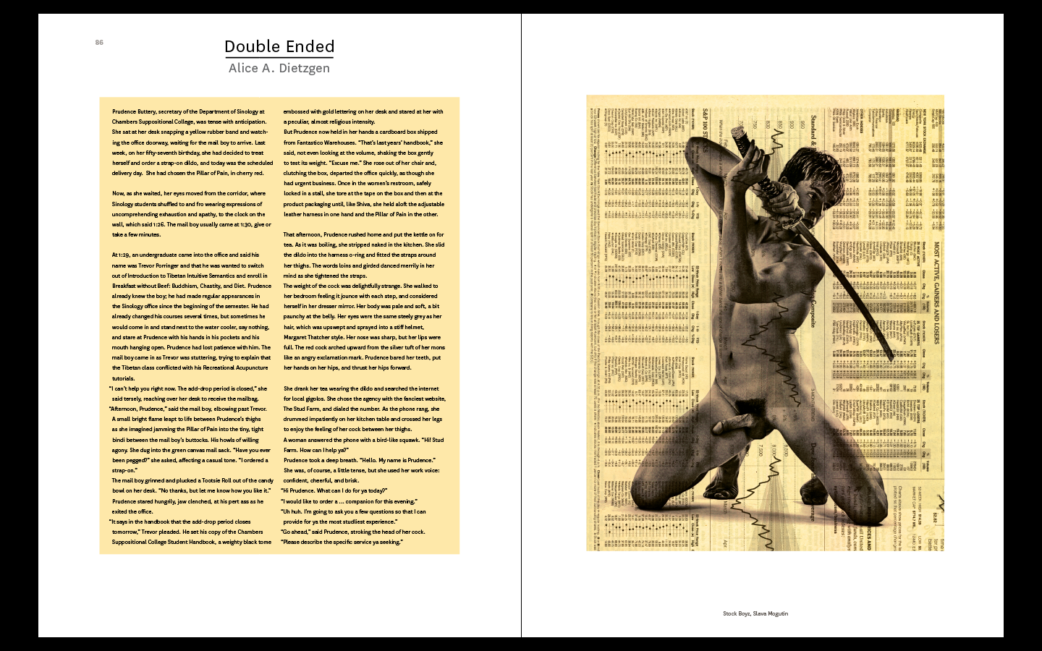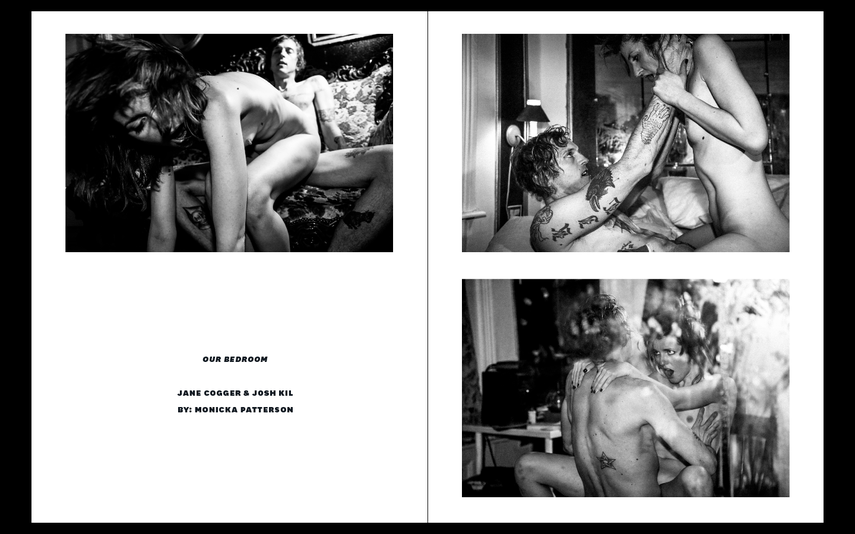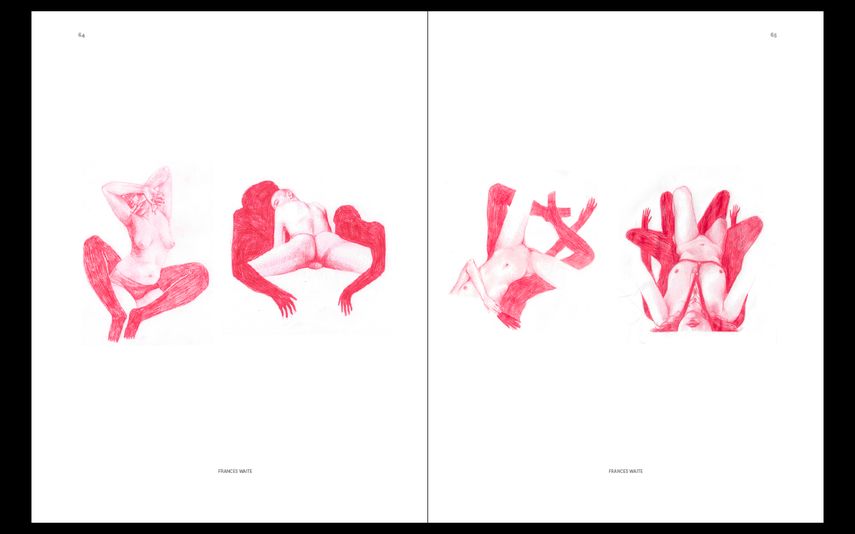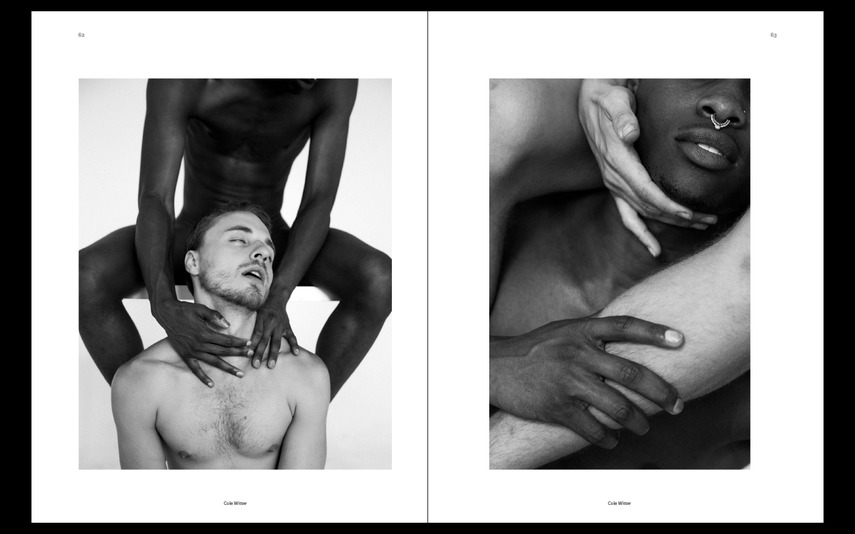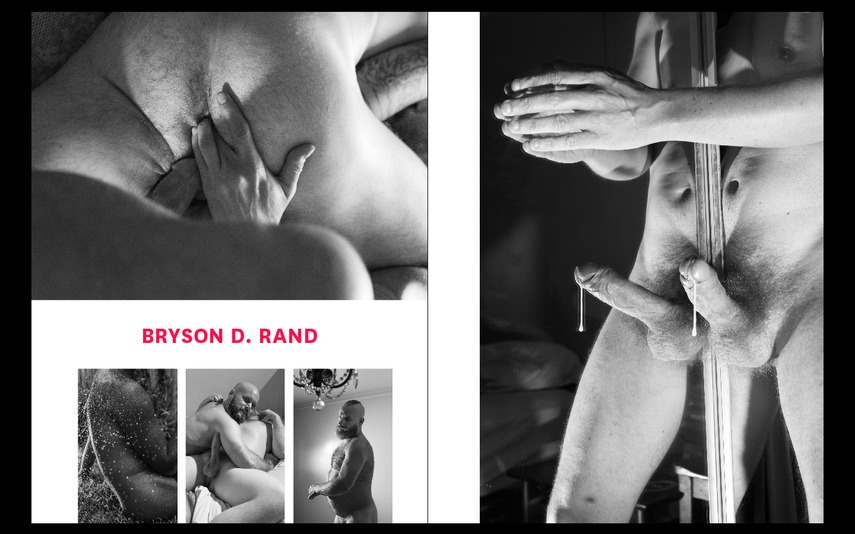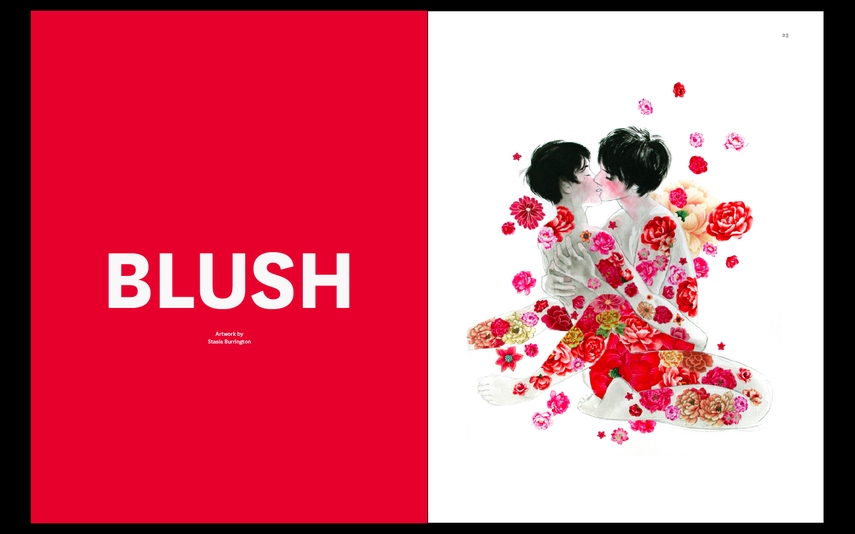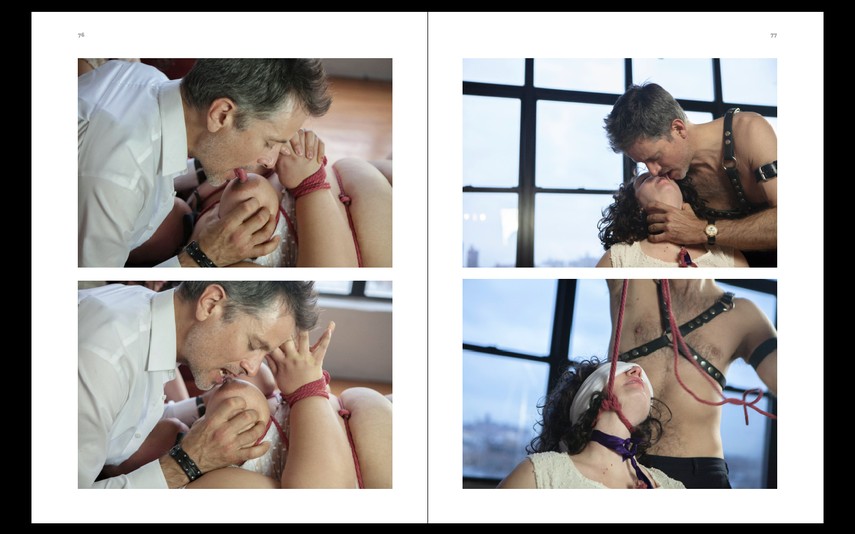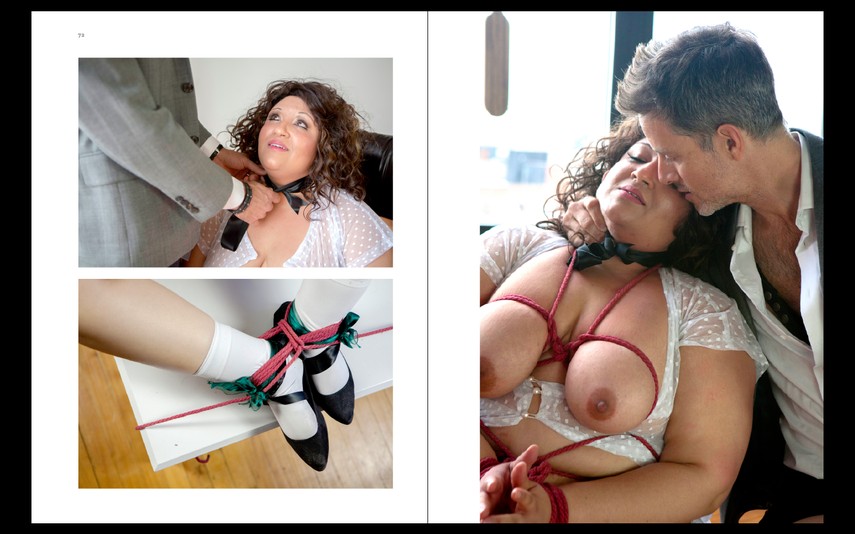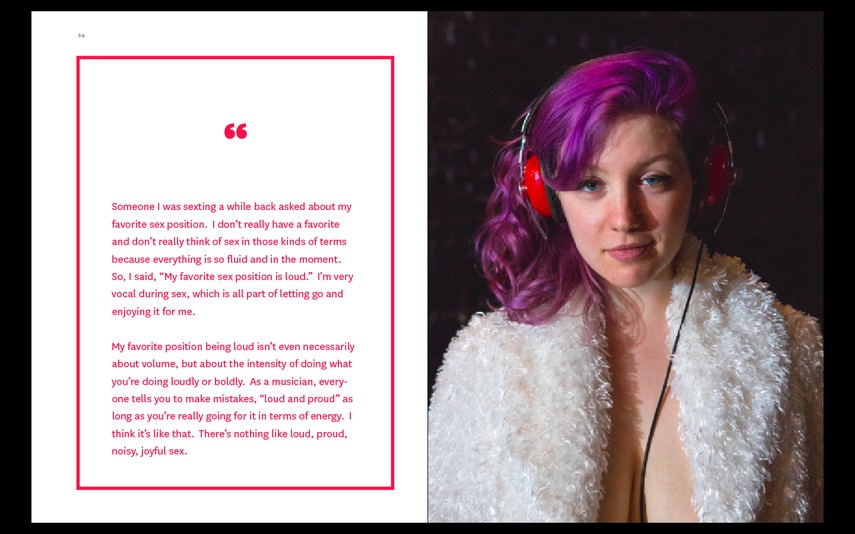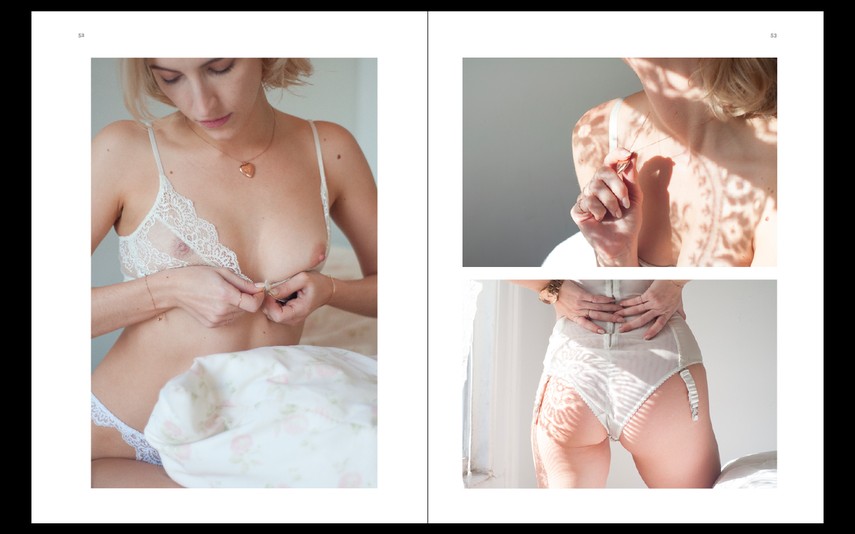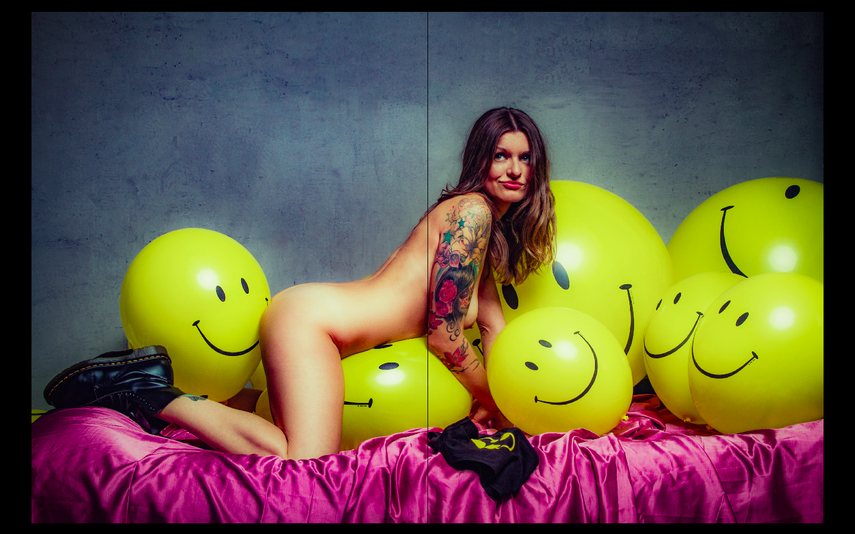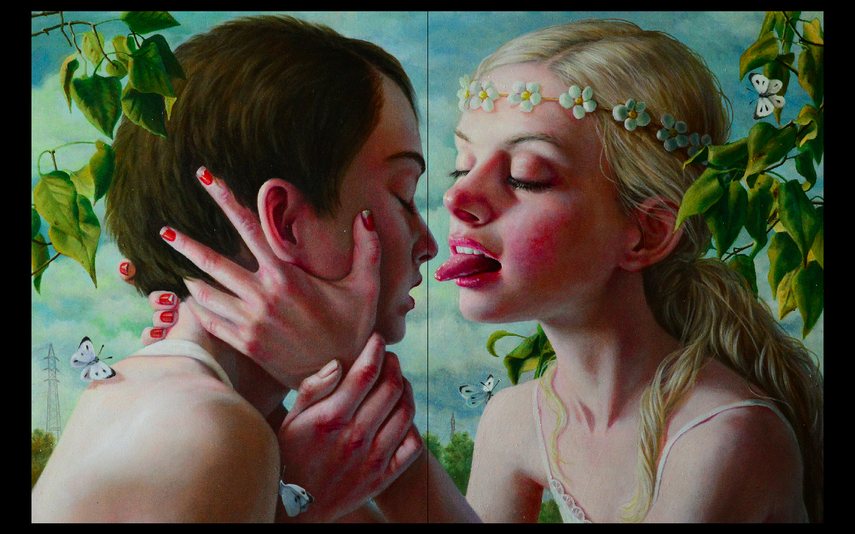 Featured images: MacKenzie Peck, photo by Jonathan Hanson. All images courtesy of Math Magazine.