It is no secret that nowadays, other species are being constantly endangered by human cruelty and selfishness. Animals are being exploited for food, clothes and cosmetic products causing an almost daily extinction of various specimens of mammals, insects, birds, etc. Of course, the situation is much more complex due to climate crisis, so any form of criticality regardless of the discipline is more than welcome.
A good example can be found in the painting of American artist Matthew Grabelsky, whose recent series deals with the mentioned issues in a humorous, yet engaging manner. By capturing everyday scenes of people sitting in the subway wagon and presenting them as animals, the artist underlines both the contemporary alienation and the feeling of captivity, ultimately expressed through the experience of a human animal.
Grabelsky is a rather successful painter who exhibited these surrealistic works throughout the US and is finally about to show them for the first time in Europe within his solo exhibition simply titled Passengers at Dorothy Circus Gallery.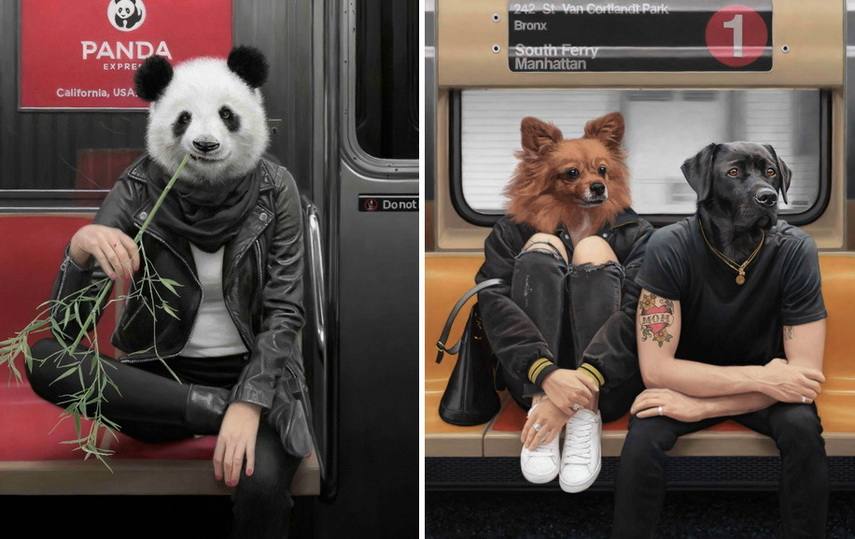 The Painterly Practice of Matthew Grabelsky
After obtaining a diploma in art and art history, as well as in astrophysics, Matthew Grabelsky entirely devoted to painting. In time, he turned into a hyperrealist painter whose imagery reflects the Surrealist influence.
Since the painter was raised in New York City, it's not strange that he decided to set up his recent figurative compositions on the subway. Grabelsky's half human-half animal hybrids are captured as they enjoy newspapers and magazines while riding a train.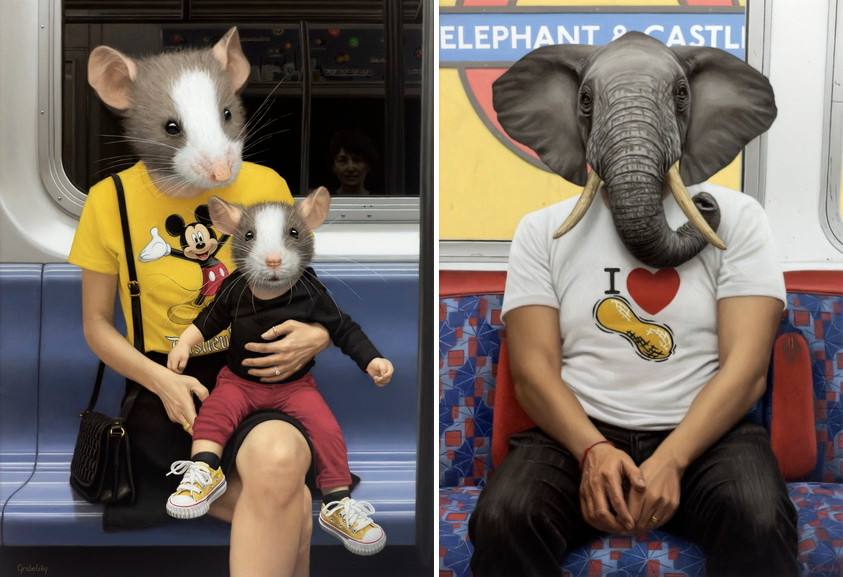 The Animals In Us
The upcoming show will feature five paintings and four oil studies through which Grabelsky explores the symbolic significance of animals in a broader social and cultural context. The works to be presented are twofold - they pose the questions concerning human communication in public space overshadowed by technology, and the meaning of interspecies communication and understanding in a world that's coming to end.
The charming hybrids evoke pleasant emotions; they startle us with their warmth and support our interest in each other in a call for acceptance, care, and peaceful cohabitation.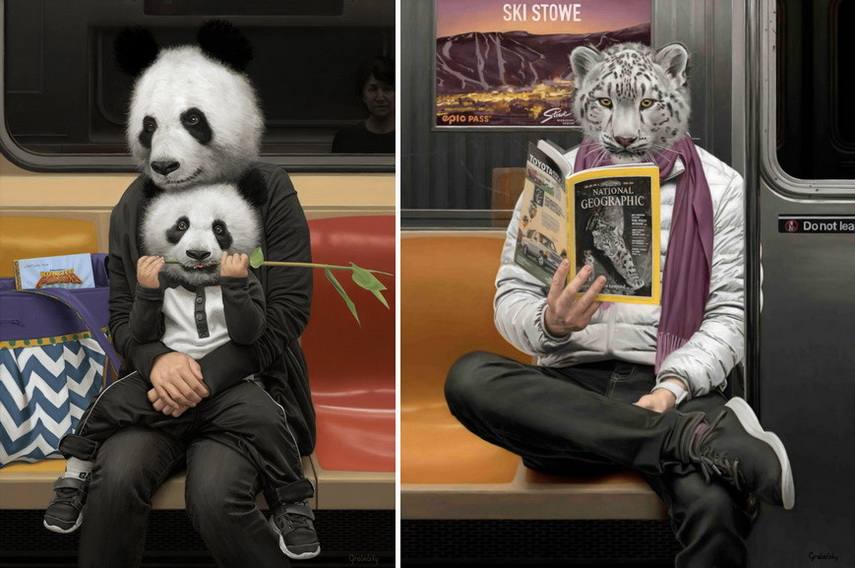 Matthew Grabelsky at Dorothy Circus Gallery
Finally, Passengers refer to the notion of captivity, a state imposed on wild animals, and the way these species are becoming more and more fragile in the light of increasing environmental changes happening on a global scale. By placing these hybrids in public spaces that often reflect the general state of a certain society, Grabelsky also tackles various forms of hate speech and violence expressed towards the socially vulnerable groups.
Matthew Grabelsky: Passengers will be on display at Dorothy Circus Gallery in London from 5 December 2019 until 5 January 2020.
Featured image: Matthew Grabelsky - Show Day, detail. Oil on Canvas, 41 x 51 cm. All the images courtesy the artist and Dorothy Circus Gallery.