When one has established himself as the art world's main prankster over the course of decades, it must be an interesting feeling when the tables turn and the joke is on you.
The Gold Toilet by Italian artist Maurizio Cattelan was reported stolen from The Blenheim Palace this Saturday September 14, after a successful burglary carried out overnight. While as of now the work has not been retrieved yet, a 66-year-old man was reportedly arrested in connection to the heist.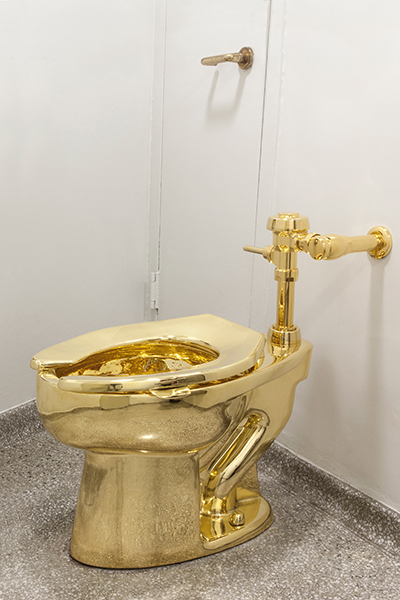 Maurizio Cattelan Gold Toilet Stolen
Thames Valley Police said that the gang, using at least two vehicles, broke in the venue at around 4.50 am local time. It is believed that the 18-carat gold toilet was the only object they stole. In the process, the thieves caused "significant damage and flooding", since the toilet was functioning and was plumbed into the building.
Maurizio Cattelan's exhibition at The Blenheim Palace opened on Thursday, September 12 with the £4.8 million Gold Toilet on view. The visitors were invited to use the fully-functioning seat, but no more than 3 minutes each, as to avoid queuing. The Palace was closed yesterday for investigation, but was reopened to public today, sadly without what is perhaps the highlight of the exhibition.
The 18th century Blenheim Palace in Oxfordshire, UK is Winston Churchill's birthplace, and is a World Heritage Site. Interestingly, Edward Spencer-Churchill, the founder of the Blenheim Art Foundation, speaking last month said he was relaxed about security for the artwork, according to the BBC, saying that "It's not going to be the easiest thing to nick."

Well Done, Lads!, says Cattelan
The Gold Toilet, also known under its formal title America, debuted in 2016 in an exhibition at New York's Guggenheim Museum. It was famously dedicated to Donald Trump and The White House in 2017 by the museum's curator Nancy Spector.
In a statement of his own, Maurizio Cattelan praised the burglary, calling the thieves "great performers."
When this morning I was informed about the robbery I thought it was a prank and it took me a while, after a few checks, to come to the conclusion that it was true and it wasn't a surreal movie where instead of the jewels of the crown, the thieves went away with a b***** toilet. I always liked heist movies and finally I'm in one of them.
Cattelan also asked the gang to "let me know how much you like the piece and how it feels to pee on gold."
Stay tuned for more updates on the story!
Featured image: Blenheim Palace Exterior, Great Courtyard, photo by Pete Seaward.